Octavius
Definition: The Octavius was a supposed three-masted schooner, probably legendary and not actual. The story goes that the vessel was found west of Greenland by the whaler Herald on October 11, 1775.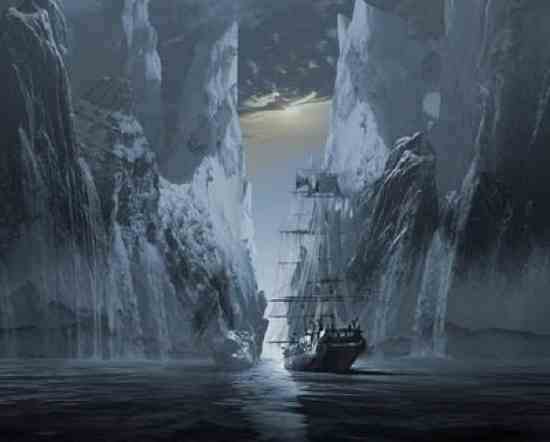 The Octavius was allegedly discovered West of Greenland by a whaler on October 11th, 1775. Crew members of the Whaler Herald boarded the assumed derelict Vessel, discovering the entire crew dead, frozen, apparently at the moment of their death. The Captain was found in his cabin, also frozen at his desk with his pen in hand, still writing in his log. He was accompanied by a dead woman, a child covered in a blanket and a sailor holding a tinderbox. The petrified boarding party left in a hurry, taking only the log back to the Herald. Unfortunately, its frozen state meant that it slipped from its binding and they only recovered the first and last pages. The partly complete entry in the log was dated 1762, meaning the vessel had been in the state they discovered it for 13 years.
The Octavius had left England for the Orient in 1761. The Captain opted to take the treacherous, but much shorter route of the unconquered North West Passage. It is believed the ship became trapped in ice whilst traveling past Northern Alaska. The discovery of the ship meant that the Octavius was the first ship to Navigate the North West Passage, albeit the crew never lived to witness it. The ship was presumed to have broken free of the ice in the winter months and the crew, dead from exposure, drifted with the winds for 13 years. The Octavius was never seen again after this strange encounter.
Collections:
Ghost Ships
Related Categories:
| Mary Celeste | Carrol A. Deering | Baychimo | Eliza Battle | MV Joyita | The Flying Dutchman | Young Teazer | Lady Lovibond | Ourang Medan | Bel Amica | High Aim 6 | Jian Seng | Kaz II | Zebrina | Schooner Jenny | Valencia | The Queen Mary | Flaming Ship of Ocracoke | Great Eastern | Watertown | U.S.S. Hornet | U.S.S. Constellation | Wreck of the Titan |
Resources:
db#586
What are your thoughts?