Kaz II
Definition: The Kaz II, dubbed "the ghost yacht", is a 9.8-metre catamaran which was found drifting 88 nmi (163 km) off of the northern coast of Australia on 18 April 2007. The fate of her three-man crew remains unknown, and the mysterious circumstances in which they disappeared have been compared to that of the Mary Celeste.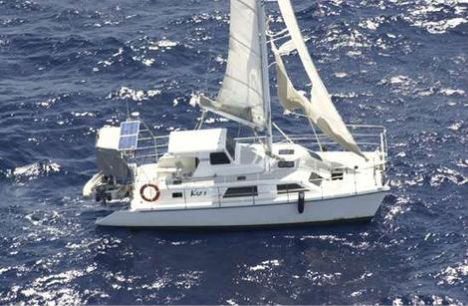 On April 15th, 2007, three men set out on a journey along the coast of Australia - and three days later, their ship turned up drifting toward the Great Barrier Reef with everything perfectly in place. Everything, that is, except for the men themselves, who were missing. Food was set out on the table, a laptop was open and still turned on, all of the boat's emergency systems were fully functional and life jackets hung neatly on their hooks. Since the seas were choppy and none of the men were wearing a life jacket, it has been hypothesized that one of the men fell overboard and the others perished trying to save him.
Collections:
Ghost Ships
Related Categories:
| Mary Celeste | Carrol A. Deering | Baychimo | Eliza Battle | MV Joyita | The Flying Dutchman | Young Teazer | Octavius | Lady Lovibond | Ourang Medan | Bel Amica | High Aim 6 | Jian Seng | Zebrina | Schooner Jenny | Valencia | The Queen Mary | Flaming Ship of Ocracoke | Great Eastern | Watertown | U.S.S. Hornet | U.S.S. Constellation | Wreck of the Titan |
Resources:
db#592
What are your thoughts?