Lady Lovibond
Definition: The Lady Lovibond (sometimes spelled Luvibond) was a schooner that was wrecked on the Goodwin Sands, off the Kent coast of south-east England, on 13 February 1748, and is said to reappear there every fifty years as a ghost ship.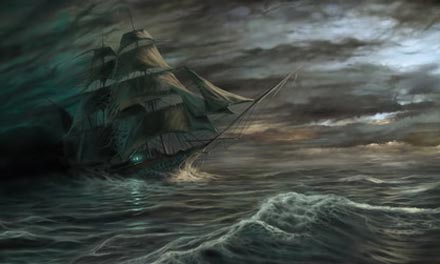 13th February, 1748 - Celebrating his marriage, Simon Reed took his new bride, Annette, aboard his ship, the Lady Lovibond, for a cruise to Portugal. At the time it was considered bad luck to bring a woman onboard. Unbeknownst to Reed, his First Mate, John Rivers, was in love with the Captains wife and paced the deck in an uncontrollable rage. Overcome with jealousy, he attacked the helmsman with a belaying pin, killing him instantly. Rivers took the wheel and steered the Lovibond towards the notorious Goodwin Sands. All souls were lost and the subsequent inquiry ruled a verdict of Misadventure.
50 years later to the day, 2 separate ships witnessed a phantom ship sailing the Goodwin Sands. On the 13th February, 1848, local fishermen saw a vessel wreck on the area and lifeboats were sent out to investigate, with no sign of ship on the sands being found. In 1948, the ghost of Lovibond was seen again by Captain Bull Prestwick and was described as looking real but having an eerie green glow.
Unfortunately, you will have to wait until the 13th February, 2048, for the next sighting, as she is said to appear only once every 50 years: don't forget to mark your calendar. The Goodwin Sands are England's most fertile grounds for ghost ships, and are also the location of the legendary island of Lomea. The Lady Lovibond shares the area with two other phantom vessels: a liner called the SS Montrose and the Shrewsbury, a man-of-war.
Collections:
Ghost Ships
Related Categories:
| Mary Celeste | Carrol A. Deering | Baychimo | Eliza Battle | MV Joyita | The Flying Dutchman | Young Teazer | Octavius | Ourang Medan | Bel Amica | High Aim 6 | Jian Seng | Kaz II | Zebrina | Schooner Jenny | Valencia | The Queen Mary | Flaming Ship of Ocracoke | Great Eastern | Watertown | U.S.S. Hornet | U.S.S. Constellation | Wreck of the Titan |
Resources:
db#587
What are your thoughts?