Robert Bud Marquis
Definition: The story of Robert "Bud" Marquis and how he saw the crash of Flight 401 in the middle of the Florida Everglades.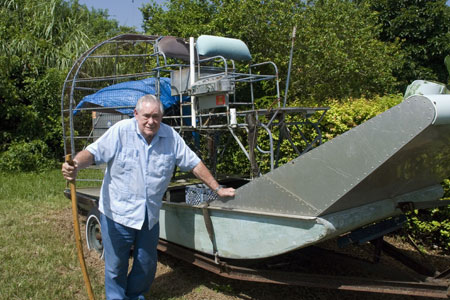 Robert "Bud" Marquis was gigging frogs in his airboat with an out-of-town friend on the serene Everglades when he heard the roar overhead of a large commercial plane.
Marquis looked up and saw an explosion. "It was like a mushroom cloud but it died quickly," he said. "I told my friend: Keep an eye on that spot, and we headed out there."
Some 15 minutes later, Marquis and his friend arrived at a surreal scene.
"There were people screaming for help everywhere, dead bodies floating face down, some naked with just shoes on. I tried to help as many as I could," said Marquis, who still lives in Homestead.
Marquis, 78, a former Everglades game warden familiar with its hidden watery pathways, directed rescuers unfamiliar with the terrain to the crash site and a nearby levee where choppers could land. And he gave hope to the survivors.
"When we heard his airboat, we knew we had been found," Raposa said.
But Marquis could do little. By 12:30 a.m., no one had been airlifted. The crash site proved problematic, reacheable only by airboat or chopper. The only firm ground: Levee 67.
Coast Guard Petty Officer Don Schneck arrived on a chopper out of Opa-locka Airport and took a ride from Marquis into the belly of the crash.
"Everything I saw was a shock, like taking a hit from a cattle prod. The things I came across were eerie," he said, his voice trailing off during a telephone interview from his home Rogers, Ark.
"As I'm walking, I hear a man's voice yelling: I walk over to him. It's a man in a suit, without a scratch on him."
"Are you from the plane crash?" I asked him. "He said, 'Yes.' He just looked so out of place. I told him to stay where he was and wait for help."
Then Schneck came across his first dead victim. "I had to make a decision: I chose to help those who needed it. I kept walking," he said.
Next, Schneck remembers coming up to the cockpit and hearing muffled noises. He found two flight attendants, Adrianne Hamilton and Sue Tebbs. Neither was seriously injured, but they were trapped.
Schneck could hear voices coming from inside the cockpit, which was tipped to a 45 degree angle.
He finally made his way in and found Capt. Loft alive and lying over the control panel.
"I need to get out of here," he told me. He was afraid he was going to drown or the plane was going to blow up.
"I assured him the water was not deeper than where I was standing and he seemed to calm down. I told him help was on the way and to hang on."
Schneck then found Stockstill and determined he had died on impact. He realized there were two men in the hell hole below -- it was Repo and Angelo Donadeo, an Eastern employee who hopped aboard the flight to attend a Grateful Dead concert in Miami.
Repo was in tremendous pain and couldn't be moved. "When I went to help Donadeo, the reaction surprised him. 'Get away from me,' which I did."
Schneck kept looking at the Miami skyline for helicopters.
He made his way back to the pilot. "He looked me straight in the eye and said. 'I'm going to die.' I put both my hands on his forearms and said: 'You're gonna make it.'"
The captain died before rescuers arrived. Other crew members killed: First Officer Stockstill; flight engineer Repo and flight attendants Stephanie Stanich and Pat Ghyssel, 27.
Collections:
Eastern Flight 401
Related Categories:
| Repo, Donald Louis | The Ghost of Flight 401 (TV Movie 1978) - IMDb | Loft, Robert Albin | About Flight 401 | Flight 401 - Possible Explanation | Lockheed L-1011 Cockpit | Lockheed L-1011 Landing Gear Lever | Lockheed L-1011 Inside the Hell Hole | Flight 401 - Flight Log | Ghosts of Flight 401 - 1 | Ghosts of Flight 401 - 2 | Ghosts of Flight 401 - 3 | Ghosts of Flight 401 - 4 | Ghosts of Flight 401 - 5 | Ghosts of Flight 401 - 6 | Official Eastern Air Lines Flight 401 - History, Photos, Survivors and Tribute | The Flight 401 Was A Normal Flight | Johnson, Charles | Flight 401 Normal - Faulty Auto Pilot | Flight 401 - Autopilot indicator | Song - The Ghost of Flight 401 - Lyrics | The Ghost of Flight 401: Mystery Files | Flight 401 - First Response | Flight 401 - Survivors and those who were lost | Raposa, Beverly | Ghosts of Flight 401 - 7 | The Ghost of Flight 401 (TV 1978) - YouTube | Flight 401 - Flight Crew Fatal Photograph | Possible Curse of Seminole Indians | NTSB Crash Report (Flight 401) | Miami International Airport Sighting | Flight 401 Crash Site Hauntings |
Resources:
db#745
What are your thoughts?