The Amber Room
Definition: The story of the Amber Room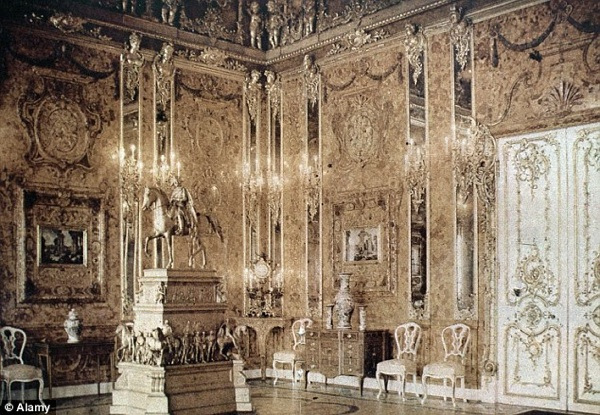 At first you might think something called the Amber Room is a high class gentleman's club. It's actually one of the most sought after lost treasures in history. The room, which is a small space created entirely out of amber panels with gold leaf and mirrors, was built in the 18th century for Friedrich I, the first king of Prussia. It was eventually gifted to Peter the Great, and remained in the possession of Russia until World War II. People who saw the Amber Room often referred to it as the Eighth Wonder of the World.
And then, it vanished. As it turns out, the curators in charge of protecting the Amber Room during the war attempted to hide it under wallpaper due to its fragile state, but that did not stop the Nazis from looting this nearly priceless treasure. It was then brought to Konigsberg Castle in Germany, but in 1944 Allied forces destroyed the city and left the castle in ruin - the Amber Room was lost forever. To this day, no one is entirely sure what happened to the room, though utter destruction seems the likeliest explanation. Still, it has become the subject of popular mythology. It also carries with it a supposed curse, as several people who either possessed or hunted for the Amber Room have met with untimely and very curious deaths.
Collections:
Lost Treasures
Related Categories:
| The Alamo Treasure | Dutch Schultz Treasure | Victorio Peak Treasure | Montezuma Treasure | The Lufthansa Heist | Flor do Mar | Leon Trabuco Gold | Blackbeard Treasure | Treasure of the Knights Templar | Forrest Fenn Hidden Treasure | Treasure At Little Bighorn | Treasure In The Majave Dessert | Mosby Treasure in Virginia | 63 Million Dollars Hidden in Bedford County Virginia | Treasure Of Jean LaFitte | Butch Cassidy Treasure | John Dillinger Buried Treasure | 200 Million Off the Coast of Key West | The Treasure of San Miguel |
Resources:
db#949
What are your thoughts?