River Styx Bridge
Definition: The story of a mysterious train accident, and how it returned.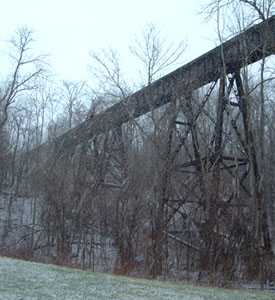 On March 22, 1899, Railroad Engineer Alexander Logan ran Train No. 5 along the Erie Railroad near the River Styx Bridge, traveling at nearly 80 miles per hour. He would never meet his destination. The engine mysteriously jumped its tracks, turned over and crushed the engineer to death. No one knows what caused the train to derail, but most agree that Logan's heroic decision to stay on the train and steer the engine saved the lives of others on board. Witnesses say that when Logan's body was later recovered, his hand was still clutched to the throttle.
Two weeks before this tragic incident, Logan confided to his colleagues that he believed he would die on that engine.
Since that fatal accident, strange events have been reported on and near the River Styx bridge.
Just a few months after the accident, the November 8th, 1899 edition of the Wooster Republican reported that Wayne County Coroner Dr. William Faber and his friend witnessed a phantom train plunge from bridge. The train was covered in flames and Dr. Faber stated that he heard the screams of people coming from inside. When he and his friend approached the site of the wreckage, the train was gone.
Collections:
Hauntings and Legends
Related Categories:
| The Legend of the Bell Witch | Legend of Hells Funnel | Franklin, Ben | The Addison Haunting | Westminster Abbey Haunting | The Haunting at Apsley House | The Haunted Grenadier Pub | The London Tower | Ghosts of the Stanley | The Hollywood Roosevelt Hotel Hauntings | Ghosts of Gettysburg | The Story Behind the Winchester House | The Titanic Exhibit | Tombstone - Arizona | The Ghosts of Waverly Hills Sanatorium | The Ghosts of Eastern State Penitentiary |
Resources:
db#752
What are your thoughts?