John Vinnicum Morse
Definition: John Vinnicum Morse (1853-1912) was known as Uncle John to Lizzie and Emma Borden, being that he was the brother of their biological mother Sarah Anthony Morse Borden.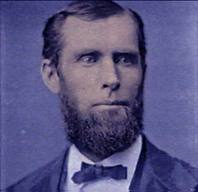 John Vinnicum Morse (1853-1912) was known as Uncle John to Lizzie and Emma Borden, being that he was the brother of their biological mother Sarah Anthony Morse Borden. Sarah had died in 1863 when Lizzie Borden was not yet three years old. John was tall and thin like his brother-in-law Andrew, and was also dour and stern in his business manner, but by all accounts scrupulous. Trained early in life as a butcher by the Davis Family in South Dartmouth, he followed his brother William Bradford Morse out to Minnesota, eventually settling down on extensive farmland in Hastings, Iowa. By the 1870s, he was a relatively prosperous landowner. He was, in fact, able to proudly proclaim at the murder inquest that his real home is in the West, and that he had enough property to live on without working.
Having been in Iowa for almost twenty years, John had had little opportunity to visit his relatives back in Fall River, but when he did, he had plenty of them to choose from in planning his visit. Through his brother's wife Anne Francis Mason Morse, he was related to both the Mason and the Gardner families, providing his niece Lizzie Borden with a healthy crop of cousins. John came back to visit every few years, even spending one entire year before the Centennial living with brother-in-law Andrew. This meant that when Lizzie was attending high school, she may have come home each night to a sitting-room where Andrew and John were to be found reading their newspapers and engaging in banter about real estate, investments and general business.
In 1890 John moved to Warren, Rhode Island with his uncle Charles Morse; then he moved back to South Dartmouth where he lived with William A. Davis, the father of the butchers he had apprenticed under. The old man was now blind and had developed cancer. John was officially in residence with him at the time of the Borden murders.
The literature related to the Borden murders makes much out of John's visit the day before the murders. He was said to arrive mysteriously with no explanation and just the suit on his back. However, John visited with the Bordens frequently in the two years leading up to the murders and it was not uncommon for him to show up for unplanned overnight visits. He was a short train ride away, and didn't always send word ahead when he came to see Andrew. He also kept up a correspondence with Emma, although his contact with Lizzie seemed comparatively distant. A week before the tragedy, Andrew had been in contact with John about a man who qualified to manage the family's Swansea farm. Andrew insisted that John come talk to him in person, and, on the afternoon of August 3rd, 1892, John arrived without luggage or a change of clothes at the Borden home. His arrival occurred just as the couple were finishing their dinner.
There is no reason to doubt that the two men just wanted to catch up on business. At the trial in 1893, John even produced, on the witness stand, Andrew's letter that had called him to Fall River, a document that was promptly appropriated by District Attorney Knowlton, causing it to effectively disappear from history. John had also wanted to do some oxen trading in Swansea and Andrew had asked him to fetch some eggs from their farm while he was over there. He warmly invited his brother-in-law back for supper. John declined, hoping to catch his evening meal with another relative in Swansea. He hurried to Kirby's stables and went about his business across the river, returning around 8:45 in the evening, just as Andrew was settling down with his newspapers in the sitting room.
As the two men talked, Lizzie Borden returned from her unusual conversation with her friend Alice Russell, but they did not see her come in, instead just hearing the door close and footsteps race up the stairs in a retreat to Lizzie's bedroom. The two men continued their conversation, and there has been speculation that Lizzie, whose room was just over the sitting-room, could have heard their talk through the open windows. This speculation has led some to theorize that Lizzie thus heard some secret business to which she was not supposed to be privy, and which provoked in her a murderous rage that led to a pre-meditated act of violence. If such was the case, she may not have heard any conversation of great consequence, but could have misinterpreted or exaggerated the importance of some business matters between Andrew and John. Either way, by 10 o'clock p.m., the two men had retired to their respective bedrooms with John settling down in the guest room in the northwest corner of the house. This was to be the same room in which Abby was to be found slaughtered the next afternoon.
By all accounts, John V. Morse was the first to awaken on the morning of August 4th, coming down to the dining room at 6 a.m., before the appearance of even the maid. Shortly after 7 o'clock, he was having breakfast with Andrew and Abby. John's goal that morning was to visit his niece and nephew, the children of his brother William, who coincidentally were visiting from Minnesota and were staying at 4 Weybosset Street with his second cousin Lydia Emery. Sometime around 8:45 a.m., John took off on foot for the Emery house, arriving to find that Annie, his niece, had been taken ill and was indisposed. His visit to Weybosset Street, however, provided him with an airtight alibi, for it was while he was there that the murders of Abby and Andrew occurred. By the time John had left the Emery house at 11:20 a.m. to return to Andrew's for dinner, the bodies of Abby and Andrew were already being examined by the first policemen to arrive at the crime scene. John, having decided on taking a street car back, arrived shortly before 12 noon.
What transpired when John arrived at the Borden house has been the subject of much debate. There were several dozen people gathered in the street, having heard that a murder had occurred, and that Mr. Sawyer was on guard duty at the side door. John, claiming that he did not witness anything unusual about the house, strolled into the backyard and plucked some pears from the arbor, returning casually to the side-door while he munched on the fruit. It was only when he talked to Mr. Sawyer and the maid Bridget, who was huddled on the stairs just inside the door, that he registered recognition of anything out of the ordinary. He was shown the bodies, and subsequently aided the police in their search of the house. He even speculated with a police officer over whether the killer had hid himself in the house the evening before, and raised the memory of an old unsolved murder.
In light of John's "mysterious" appearance at the house the day before; the apparent conspiratorial nature of his business talks with Andrew; his personal habit of wearing the same suit two days in a row; his background as a trained butcher; and his casual stroll to the pear tree while the house crawled with on lookers and policemen, there was much to fire the public imagination and cast some suspicion on John V. Morse. Did he know more than he did? Was his visit to the Emery house merely a convenient alibi that also enabled the killer to do his business without interference? Was he in collusion with Lizzie, or with both sisters simultaneously, in a plot to eliminate the Bordens? Was he, as some have suggested, in communication with an illegitimate son of Andrew's? There was even a rumor started that he spent the night of the murders sleeping in the guest room where Abby's blood still stained the floor, contributing to his image as a ghoulish fiend.
Much of the suspicious discussion about John V. Morse unexpectedly visiting at the Borden house, of his late-night discussion with Andrew, of his "perfect" alibi (it is said he even had the number of the street car he took from Weybosset Street memorized), has been sensational and speculative, and the attendant facts have been repeatedly dissected and analyzed from every angle; but in fact John's story did check out. His account of his activities on both Wednesday and Thursday was thoroughly consistent with his statements made to the police, during his newspaper interviews, and during his remarks at the inquest, the preliminary hearing and the trial itself. John V. Morse, despite his personal peculiarities, his Western ways, his strict business manner and his general dour appearance, seemed like a straight shooter who just happened to be at the wrong place at the wrong time.
John V. Morse returned to Fall River in June of 1893 to testify at the trial, but then withdrew to Hasting, Iowa, where he died in 1912.
Collections:
The Borden Murders
Related Categories:
| Borden Murders and Trial | Borden, Lizzie | Lizzie and Emma Borden - After the Murders | ONeil, Nance | Borden, Andrew | Borden Folk Rhyme | Borden, Abby | Sullivan, Bridget | Churchill, Adelaide | Borden, Emma | Lizzie Borden Alibi | Bowen, Seabury | Russell, Alice | The Lizzie Borden Trial or The Lizzie Borden Case | | Fourteen Reasons to Believe Lizzie Murdered Her Parents | Lizzie Borden - Net Worth | Hauntings at the Borden House | Hauntings at the Borden House - 2 | Tattered Fabric: Fall River's Lizzie Borden | Lizzie Borden : Warps & Wefts | Murder in the Well | LIZZIE BORDEN Documentary | Lizzie Borden Bed and Breakfast |
Resources:
db#812
What are your thoughts?