Abby Durfee Gray Borden
Definition: Abby Durfee Gray Borden (1828-1892) was the second wife of Andrew Jackson Borden, and for nearly three decades, the stepmother of his children Emma and Lizzie.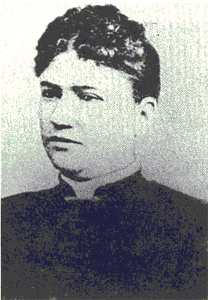 Abby Durfee Gray Borden (1828-1892) was the second wife of Andrew Jackson Borden, and for nearly three decades, the stepmother of his children Emma and Lizzie. Although there are many popular perceptions of Abby as having been a mean step-mother who had a tempestuous relationship with her stepdaughters; that her marriage to Andrew was loveless and abusive; and that she was a fantastically overweight woman and a borderline agoraphobic who could barely walk down the street or climb stairs, all of these have little basis in fact. A clear-headed appraisal would be more likely to produce a woman who married late in life, to a man who provided well and who maintained a respectable home; yet a woman who did in fact struggle to earn the trust and respect of her husband's children. While overweight, she was hardly the obese recluse of legend. Abby Borden maintained contact with friends and family (her half-sister Sarah Whitehead lived around the corner on Fourth Street), venturing from the house on a daily basis to shop for groceries. The extent to which she got along with her stepdaughters is a matter of much speculation, but there is little evidence that the resentment and lack of cordiality between them was any more pronounced than that often present in other households with stepchildren. Undoubtedly, the fact that Abby was brutally murdered at home, and Lizzie accused of the crime, fed fuel to the rumors that they hated each other.
Abby married Andrew on June 6, 1865, when Lizzie was five years old, and Emma fourteen. The older sister may have had a deeper sense of unease at the union, being that she remembered her own mother very well. The family continued to live on Ferry Street with Andrew's father, Abraham, but in 1873, they moved to their own home at 92 Second Street. There Andrew and Abby proclaimed their own home and exercised dominion over the children. There is no evidence that there were troubled relationships within the family in the 1880s; they must have all considered the situation to be convenient, since Andrew's business had flourished, and he was well-invested in Fall River mill stock and real estate. Abby could even boast that her husband was erecting an office building downtown that was to be named after himself, a sign that while he was not in the league of some of the more illustrious family members, like Richard or Jefferson Borden, he was an enviable success and a shrewd businessman.
By 1890, Andrew was nearing semi-retirement, and the girls were all mature women. If tensions arose in the household, it may have been due to the sisters' growing awareness that their adult lives were now irrevocably bound to Abby. While the girls did take charge of cleaning their own rooms and the guest chamber, Emma testified that Lizzie seemed to attend to chores as she saw fit, a sign that the household tasks and the domestic help were generally managed by Abby. To reach the age of thirty, as Lizzie did the year she went on a grand tour of Europe, and to still be cleaning bedrooms and ironing handkerchiefs for her father and stepmother, must have given Lizzie a sense of despair: she had little reason to expect that her life would ever become exciting. It is uncertain whether Abby strove to please Lizzie or to share any interests, but the claim from a dress-maker at the criminal trial that Lizzie called her stepmother a "mean old thing" may (or may not) have been more than a rant by a frustrated girl. Only the fact that Abby was murdered and Lizzie accused of the crime leads us to think otherwise.
By 1890, Andrew was nearing semi-retirement and had evolved into a bit of an anachronism, the tall lanky undertaker with the string tie walking in his Prince Albert jacket through the streets, collecting rents and checking up on his investments. Abby remained at home, running the household, and shopping daily for the groceries. It was around this time that a series of real estate transactions created a rift in the family, the extent of which is undetermined. When Andrew bought Abby a share in her half-sister's house on Fourth Street, the girls were resentful that he didn't provide them with any property. Shortly after, he deeded them the Ferry Street house in which they had grown up. While the rents from this property were more lucrative than those from the Fourth Street house, the sisters eventually sold the property back to him for $1,500 each. According to Emma's testimony, she subsequently did not have cordial relations with her stepmother. The state of Lizzie's relations with Abby is what has long been in dispute, and there is evidence either way.
In the days leading up to the murders, Abby, like others in her family, took sick, and she made an attempt on the morning of August 3rd to visit with Doctor Bowen across the street. Andrew did not improve his reputation for stinginess by refusing to see the doctor himself, claiming that he did not want to spend his money there. The sickness may have been caused by improperly-kept food, particularly some mutton that had made several cycles of left-overs that week. Abby endured the stomach illness without medication, although John Morse did testify that Andrew, at least, was taking some physic for his condition, a remedy that he may or may not have shared with his wife.
Abby helped to entertain John Morse the evening of August 3rd, and went to bed at approximately 10 p.m. before Andrew and John had finished their talk in the sitting-room. Abby was present at breakfast the next morning, sitting in the dining room with the two men, and ringing a servant's bell to summon Bridget as needed. She was last seen ascending the front stairs of the house at approximately 9:30 a.m., claiming that she was going up to clean up the guest room, which had been occupied the night before by John Morse.
While Abby was working on the guest room, an unknown person entered the room with a hatchet and struck her on the side of the head, cutting her just above the ear. The forensics on the wound suggested that Abby was turned and facing her killer at the time of the attack. Either way, she spun around towards the east wall and fell down upon her face, causing several contusions on her nose and forehead. The killer then, most likely, straddled her back, as she lay between a bed and dresser, and delivered nineteen direct hits to the back of the head.
Abby had been lying in the upstairs room for some time when her husband was killed at approximately 11 a.m. There is little doubt in anyone's mind that whoever killed Abby Borden also killed Andrew Borden, but if it were anyone other than Lizzie, then the killer must have either left the house for the interval between the murders, or have hid in the house effectively enough to avoid detection by Andrew, Lizzie and Bridget for up to ninety minutes.
After the discovery of Andrew's body, Lizzie was asked where she thought Abby was, and she replied with an odd story. She claimed that Abby had told her that a note had arrived announcing that someone was sick, and that she should come immediately. Lizzie believed Abby to be out of the house, but Mrs. Churchill and Bridget Sullivan walked up the front stairs, and, from their lateral viewpoint on the staircase, saw Abby's body on the guest room floor.
Abby's body was photographed that afternoon. Her body was then removed to the dining room where she lay with her husband throughout the night, each corpse being held for the performance of an autopsy. There was a funeral for them on Saturday, August 6th, at the family plot in Oak Grove Cemetery, but, rather than an immediate internment, the bodies were stored in a holding vault pending further examination. Even after the bodies were interred, the skulls were kept for exhibits at the trial. Today, Abby, along with her skull, resides with her stepdaughters Emma, little Alice who died, Lizzie, Sarah Borden (Lizzie's mother), and her only husband, Andrew, all in Oak Grove Cemetery.
Like her husband, Abby Borden was the victim of a violent and brutal crime, suffering much at her death; yet various writers and students of the crime have cast a negative veil upon her, characterizing her as a mean and terrible stepmother who stood by while her husband abused the children, and who opportunistically positioned her family to benefit from Andrew's wealth. In reality, Abby may have struggled earnestly to heal the breaches between the father and his daughters, like many who have shared the unenviable role of becoming a stepmother in a broken and grieving family.
Collections:
The Borden Murders
Related Categories:
| Borden Murders and Trial | Borden, Lizzie | Lizzie and Emma Borden - After the Murders | ONeil, Nance | Borden, Andrew | Borden Folk Rhyme | Sullivan, Bridget | Morse, John | Churchill, Adelaide | Borden, Emma | Lizzie Borden Alibi | Bowen, Seabury | Russell, Alice | The Lizzie Borden Trial or The Lizzie Borden Case | | Fourteen Reasons to Believe Lizzie Murdered Her Parents | Lizzie Borden - Net Worth | Hauntings at the Borden House | Hauntings at the Borden House - 2 | Tattered Fabric: Fall River's Lizzie Borden | Lizzie Borden : Warps & Wefts | Murder in the Well | LIZZIE BORDEN Documentary | Lizzie Borden Bed and Breakfast |
Resources:
db#810
What are your thoughts?