Borden Folk Rhyme
Definition: The popular skipping-rope-rhyme.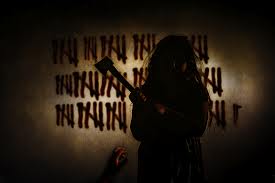 The case was memorialized in a popular skipping-rope rhyme:
Lizzie Borden took an axe And gave her mother forty whacks.
When she saw what she had done,
She gave her father forty-one.
Folklore says that the rhyme was made up by an anonymous writer as a tune to sell newspapers. Others attribute it to the ubiquitous, but anonymous, "Mother Goose". In reality, Lizzie's stepmother suffered 18 or 19 blows; her father, 11 blows.
Collections:
The Borden Murders
Related Categories:
| Borden Murders and Trial | Borden, Lizzie | Lizzie and Emma Borden - After the Murders | ONeil, Nance | Borden, Andrew | Borden, Abby | Sullivan, Bridget | Morse, John | Churchill, Adelaide | Borden, Emma | Lizzie Borden Alibi | Bowen, Seabury | Russell, Alice | The Lizzie Borden Trial or The Lizzie Borden Case | | Fourteen Reasons to Believe Lizzie Murdered Her Parents | Lizzie Borden - Net Worth | Hauntings at the Borden House | Hauntings at the Borden House - 2 | Tattered Fabric: Fall River's Lizzie Borden | Lizzie Borden : Warps & Wefts | Murder in the Well | LIZZIE BORDEN Documentary | Lizzie Borden Bed and Breakfast |
Resources:
db#809
What are your thoughts?