Damascus Cemetery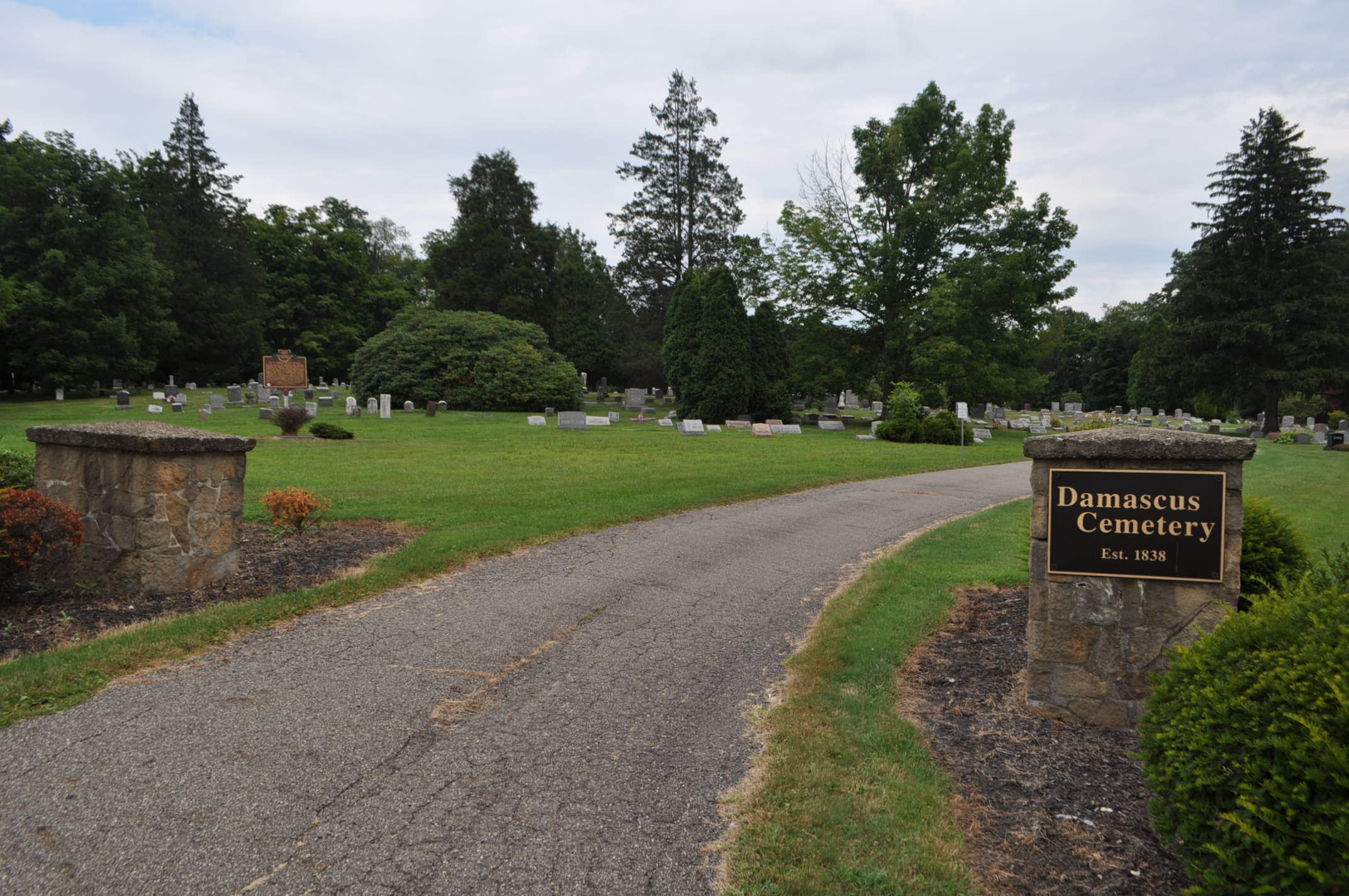 Photo by:
Marianne Donley
Location submitted by:
sdonley
on 08/03/2017
DBA Approved: Y
Larger Map
PANICd#: 1935

The cemetery was established in 1838 and is 7.6 acres in size.
100 Mc Cann Rd
Damascus , OH 44460
Open to the public: Yes
https://www.findagrave.com/cgi-bin/...
Lat: 40.9001664
Lon: -80.95253459999998
Database Summary:
Demographic Rank: 5
History: 1
Stories: 1
Claims: 1
Evidence: 0
Resources: 1
Retrievals: 6317
Vistor Rating: 0.0
Votes: 0
History
History information is some background and history about the location. This is meant to be a basic summary. Below the history records you will find sources in which you can click on to find out more information. There may be multiple history records per location.
---
The cemetery is located on the east side of Valley Road / McCann Road (Township Road 405) about 0.1 mile south of its intersection with Salem-Alliance Road (US 62 / Ohio State Route 173). The cemetery was established in 1838 and is 7.6 acres in size.
In 2001-2002, all of the remains from the Friends Burying Ground, Lot 17, next to the Damascus Friends Church were moved from that cemetery and re-interred in this cemetery.
The cemetery is located in Butler Township, Columbiana County, Ohio, and is # 2040 (Damascus Cemetery) in "Ohio Cemeteries 1803-2003", compiled by the Ohio Genealogical Society.
The cemetery is registered with the Ohio Division of Real Estate and Professional Licensing (ODRE) as Highland Cemetery with registration license number CRC.0000981312.
The U.S. Geological Survey (USGS) Geographic Names Information System (GNIS) feature ID for the cemetery is 1807413 (Damascus Cemetery).
Added by: sdonley on 07/29/2019 DB#:438
Source(s):
https://www.findagrave.com/cemetery/2165605

---
Stories
Stories are just that. Stories and personal accounts that have been reported about the location.
---
Marianne took part in the archeological relocation of the graves from the Friends Burying Ground to this new location at the Damascus Cemetery under the direction of Professor White from YSU. On August 15, 2015, Shawn and Marianne traveled to the cemetery to see the new re-internment location. While at the new location, they conducted and Ovilus session. The following video is the audio from that session, as well as, photographs Marianne took when she participated within the project.
Added by: sdonley on 07/29/2019 DB#:1440
Source(s):
https://www.youtube.com/watch?v=EWTtO-XuYps

---
Paranormal Claims
Here are the paranormal claims for this location. These have been found through Internet research, reports from members, or reports from personal interviews. To add a claim, please contact PANICd.com, and we will review and add your information.
---
| | | | |
| --- | --- | --- | --- |
| Claim # | Added | Added By | Claim |
| 2903 | 07/29/2019 | sdonley | Investigators received EMF and Ovilus readings while at the cemetery. |
Paranormal Evidence
Paranormal evidence is based on claims that have been reported for this location. There can be several types of evidence; however, we have grouped them based on media type for better organization. Here you will find evidence that are logs, audio, video, or photographic.
To add evidence for a claim, you must submit it to PANICd.com for approval to be entered into the database.
---
No Evidence Reported Yet!
Additional Resources
This is a collection of Internet resources for this location. This section will house links to other websites that contain information related to history, claims, investigations, or even the location's website.
---
Vindy.com
Added: 08/03/2017 By: sdonley
Newspaper article about the 118 Quakers that were moved to this cemetery.