O.C. White's Pub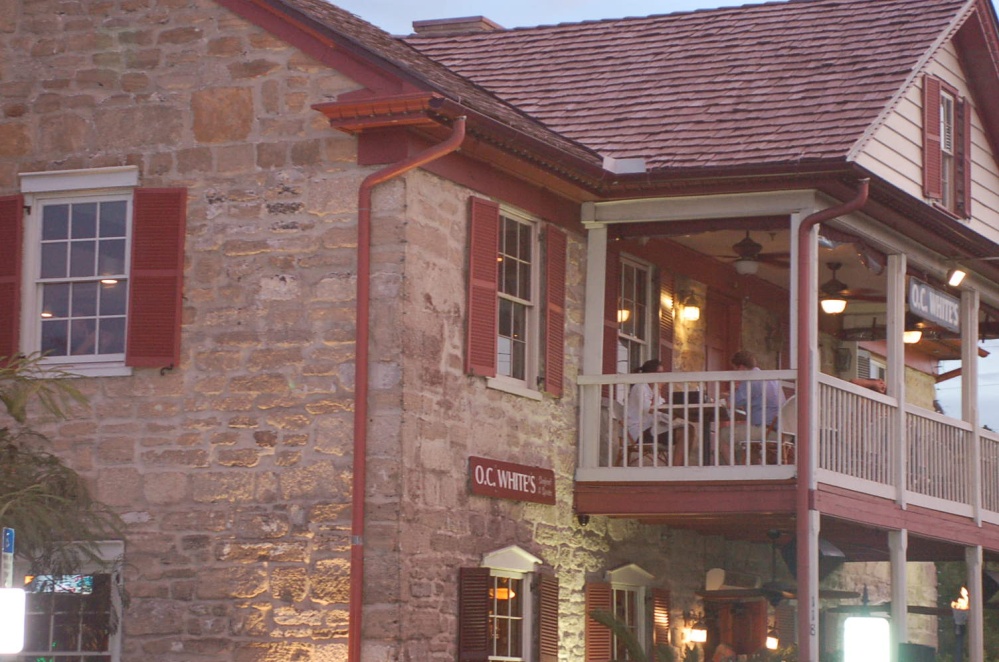 Photo by:
Marianne Donley
Location submitted by:
sdonley
on 02/16/2015
DBA Approved: Y
Larger Map
PANICd#: 1526

O.C. White's has a History dating back to 1790, originally constructed by Don Miguel Ysnardy a prominent St. Augustinian.
118 Avenida Menendez
St. Augustine , FL 32084
Phone: (904) 824-0808
Open to the public: Yes
http://www.ocwhitesrestaurant.com/
Lat: 29.8912206
Lon: -81.3106115
Database Summary:
Demographic Rank: 6
History: 2
Stories: 1
Claims: 13
Evidence: 0
Resources: 2
Retrievals: 6395
Vistor Rating: 0.0
Votes: 0
History
History information is some background and history about the location. This is meant to be a basic summary. Below the history records you will find sources in which you can click on to find out more information. There may be multiple history records per location.
---
O.C. White's has a History dating back to 1790, originally constructed by Don Miguel Ysnardy a prominent St. Augustinian. The building is associated with significant aspects of the history of St. Augustine, the Nation's oldest city. The House served as one of the first hotels in St. Augustine. The building was eventually bought by the Worth family and remained that way for generations.
In 1904 the Worth Mansion was bought by a local cigar maker, then bought again in 1948 by George L. Potter, the one time owner of Potter's Wax Museum. In 1961 the building was moved to its present location and replicates the Worth House as it appeared in the mid-nineteenth Century.
Added by: sdonley on 08/12/2017 DB#:326
Source(s):
http://www.ocwhitesrestaurant.com/location-and-his...

---
This large, 3 story white coquina brick restaurant, O.C. White's Seafood and Spirits, makes its home in this revised 1791 structure, renovated to look like Margaret Worth's 1800s mansion. While enjoying a view of the bay, patrons of O.C. White's Seafood and Spirits can enjoy delicious fish, lobster, salads, and beef. A delicious Sunday Brunch also brings in a crowd!. On most nights, O.C. White's Seafood and Spirits offers live music. The nights we were there, a guitarist was playing and occasionally singing out on the patio, in the front area!
There are three floors, all hardwood, with mid 19th century windows. As the visitor walks into the front door, there are tables for patrons on the left, and a lovely wooden bar sitting on the right. The kitchen is located right off this room. There is another large room off this front room, also used for dining. Between the two rooms, there is a central staircase leading up to the second floor, that at one time must have been where the bedrooms were located. It is now a lovely, open room, for diners. Somewhere on the second floor, there is a stairway up to the third floor, where the office is located.
The original structure was built in 1791 in the Spanish Colonial Style by prominent St. Augustine mover and shaker, Don Miguel YsNardy; a lovely home that was suitable for a successful merchant ship owner and ambitious building contractor. It proudly sat on the west side of Marine Street, where O.C. White's parking lot now is located. He lived there for only eight years. It was sold in 1799 and transformed into one of the first St. Augustine hotels. Various owners bought this now commercial property through the first half of the 1800s.
In the early 1850s, this hotel was bought by the widow of war hero and distinguished military man, General William Worth. Mrs. Margaret Worth renovated this hotel back into a private home, modernizing it to fit into the architecture of the time. When her husband had died of cholera in 1849 in Texas, she moved back to Florida, choosing St Augustine to start her life over as a single widow. The Worth family was originally from New York, but General Worth was stationed in Florida, before he was transferred to Texas.
Margaret must have loved her new home, and she lived there by herself for a time. Margaret's daughter, Mary, and her husband, Col. John T. Sprague, eventually moved in with Mrs. Worth, just after the ending of the Civil War, in 1865, probably to make sure she wasn't hassled by the reconstruction forces in charge of the city of St. Augustine.They lived with her until she died in 1869. The mansion remained in the Worth family until the turn-of-the-century. In 1904, a local cigar maker bought the property. In 1948, the structure was once again sold, this time to George L. Potter, whose claim to fame was being the "one time owner of Potter's Wax Museum". Perhaps his museum was located in the home itself.
Thirteen years later, in 1961, George Potter moved the entire structure, brick by brick to its current location, to the lot across the street. It now sits facing the bay, and there was room for a very nice patio/barbecue pit in front of the mansion. It was renovated back to its 1850s decorative style, when the Worth family lived there, probably losing the improvements made by the various owners of this structure, over the years.
In the early 1990s Dave White, a businessman, bought the Worth Mansion with the dream of opening up a fish restaurant and pub, and perhaps doing some remodeling so that the structure would better suit a restaurant. In a short time, he transformed the old Worth Mansion into a seafood restaurant. Just before he opened, a mysterious fire exploded in a waiter's storage closet that had nothing flammable stored there. Damage occurred on the second and third floor, as well as blowing out the windows on both floors. The investigation that followed couldn't find what caused the fire.
Added by: sdonley on 08/12/2017 DB#:327
Source(s):
http://www.hauntedhouses.com/states/fl/oc-whites.h...

---
Stories
Stories are just that. Stories and personal accounts that have been reported about the location.
---
Mrs. Worth we believe haunts this restaurant. It is known in town as The Worth Mansion. She lived here in the late 1800s and we have copies of letters (courtesy of the Historical Library on Aviles Street) she wrote to her husband General Worth (Fort Worth, Texas-he's famous). The day we found the letters we also found this picture of Mrs. Worth with her son-in-law Colonel T. Sprague. Mrs. Worth passed away we presume in the home and The Worth Mansion passed down to her son-in-law as her daughter by law wasn't allowed to acquire property because she was a woman.
When our family first bought the building in the 1990s one night very late after the building was locked up we heard outside the office (used to be located in the back of the 2nd floor large party dining) footsteps walking across the second floor dining room and a man and woman having a conversation. The door opened to the balcony and shut. Immediately we opened the office door and thought surely someone got in. The balcony door was locked. We unlocked it then looked and no one was on it. Then searched the entire building and all doors and windows were locked. Little did we know that was only the start of it.
There are so many stories to tell but one more infamous story would be a picture that is in the St. Augustine Library. One day when OC himself was washing his hands in the men's bathroom, looked up in the mirror to see a man standing behind him with what he said was a tall top hat. He said excuse me and got out of the way and the man vanished. The doors are pretty heavy in the men's bathroom so there is no way that fast someone could disappear. For years we all thought it was an Abe Lincoln hat. When we showed him the picture he shouted, "That's him! That's him in the tall top hat!" Well that's a bowler hat we told him but nevertheless it is Colonel T. Sprague Mrs. Worth's son-in-law.
Added by: sdonley on 08/12/2017 DB#:1282
Source(s):
http://www.ocwhitesrestaurant.com/hauntings/

---
Paranormal Claims
Here are the paranormal claims for this location. These have been found through Internet research, reports from members, or reports from personal interviews. To add a claim, please contact PANICd.com, and we will review and add your information.
---
| | | | |
| --- | --- | --- | --- |
| Claim # | Added | Added By | Claim |
| 2515 | 08/12/2017 | sdonley | Though the owner's third floor office looked like "charcoal" after a fire, a picture of the original Worth Mansion, and an elaborate light fixture were completely unscorched, as if something had protected them. |
| 2516 | 08/12/2017 | sdonley | While boarding up a window from the inside, the owner heard a startling, loud voice of an upset female unseen presence in close proximity. |
| 2517 | 08/12/2017 | sdonley | In the third floor office, an unseen male presence who likes to keep the living company, makes his presence known by his ripe aroma. |
| 2518 | 08/12/2017 | sdonley | In the third floor office, when about to unlock the office, the door suddenly opens up by itself by a helpful entity, thought to be Mrs. Worth. |
| 2519 | 08/12/2017 | sdonley | In the third floor office, after locking the door, and going downstairs, staff have heard that same door slam shut! |
| 2520 | 08/12/2017 | sdonley | In the third floor office, keys left on the office desk have been known to disappear, but then reappear in an hour or so. |
| 2521 | 08/12/2017 | sdonley | In the third floor office, closing up for the night, the owner and others would hear footsteps walking around the second floor, and then proceed to come up the stairs to the office. |
| 2522 | 08/12/2017 | sdonley | Two patrons who were sitting at an upstairs table, and three waiters, watched in amazement as two salt shakers danced around the table, several times. |
| 2523 | 08/12/2017 | sdonley | All the table candles were always put out during the closing routine. Imagine the surprise of the opening staff when all the candles were found lit on the tables upstairs! Someone was trying to help! |
| 2524 | 08/12/2017 | sdonley | Throughout the building, clothes and purses are moved around by unseen energy. |
| 2525 | 08/12/2017 | sdonley | Beads left hanging on one wall decoration move to other pieces of decor. |
| 2526 | 08/12/2017 | sdonley | A waiter was coming down the stairs with some trays, when she was zapped in the stomach by a shock, like from a buzzer, causing much alarm. |
| 2527 | 08/12/2017 | sdonley | Pots and pans seem to have a mind of their own in the kitchen. |
Paranormal Evidence
Paranormal evidence is based on claims that have been reported for this location. There can be several types of evidence; however, we have grouped them based on media type for better organization. Here you will find evidence that are logs, audio, video, or photographic.
To add evidence for a claim, you must submit it to PANICd.com for approval to be entered into the database.
---
No Evidence Reported Yet!
Additional Resources
This is a collection of Internet resources for this location. This section will house links to other websites that contain information related to history, claims, investigations, or even the location's website.
---
HauntedHouses.com Records
Added: 02/16/2015 By: sdonley
Find the haunted O.C. White's Pub at HauntedHouses.com.
General William Jenkins Worth
Added: 08/13/2017 By: sdonley
Wikipedia entry for General William Jenkins worth. His widow Martha, bought this building and made it into the Worth Mansion in the mid 1800s.