Mound Cemetery Marietta Ohio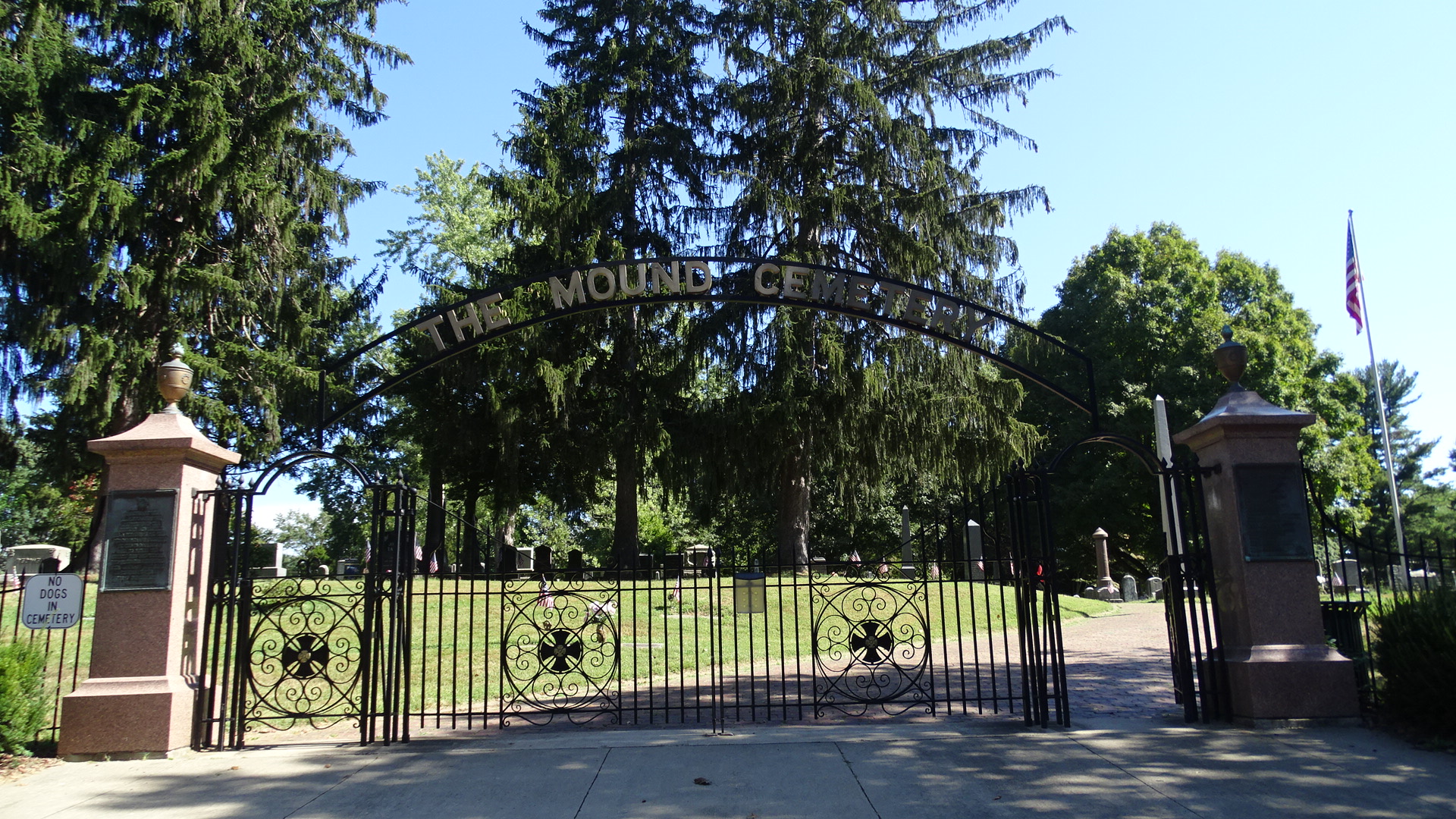 Photo by:
Marianne Donley
Location submitted by:
sdonley
on 10/19/2019
DBA Approved: Y
Larger Map
PANICd#: 2112

Mound Cemetery in Marietta, Ohio, is a historic cemetery developed around the base of a prehistoric Adena burial mound known as the Great Mound or Conus.
514 Cutler St
Marietta , OH 45750
Open to the public: Yes
Lat: 39.419740
Lon: -81.450900
Database Summary:
Demographic Rank: 0
History: 1
Stories: 1
Claims: 2
Evidence: 0
Resources: 3
Retrievals: 5562
Vistor Rating: 0.0
Votes: 0
History
History information is some background and history about the location. This is meant to be a basic summary. Below the history records you will find sources in which you can click on to find out more information. There may be multiple history records per location.
---
The city of Marietta was developed in 1788 by pioneers from Massachusetts, soon after the American Revolutionary War and organization of the Northwest Territory. Many of the founders were officers of the Revolutionary War who had received federal land grants for military services. Among high-ranking officers buried at the cemetery are generals Rufus Putnam and Benjamin Tupper, who were founders of the Ohio Company of Associates; as well as Commodore Abraham Whipple and Colonel William Stacy. The cemetery has the highest number of burials of American Revolutionary War officers in the country.
Added by: sdonley on 08/08/2022 DB#:573
Source(s):
https://en.wikipedia.org/wiki/Mound_Cemetery_(Mari...

---
Stories
Stories are just that. Stories and personal accounts that have been reported about the location.
---
A mysterious blue ball of light has been seen near the mound and a ghostly soldier has been occasionally spotted.
Added by: sdonley on 08/08/2022 DB#:1569
Source(s):
https://www.ohioexploration.com/cemeteries/moundce...

---
Paranormal Claims
Here are the paranormal claims for this location. These have been found through Internet research, reports from members, or reports from personal interviews. To add a claim, please contact PANICd.com, and we will review and add your information.
---
| | | | |
| --- | --- | --- | --- |
| Claim # | Added | Added By | Claim |
| 3286 | 08/08/2022 | sdonley | A mysterious blue ball of light has been seen. |
| 3287 | 08/08/2022 | sdonley | A ghostly solider has been occasionally spotted. |
Paranormal Evidence
Paranormal evidence is based on claims that have been reported for this location. There can be several types of evidence; however, we have grouped them based on media type for better organization. Here you will find evidence that are logs, audio, video, or photographic.
To add evidence for a claim, you must submit it to PANICd.com for approval to be entered into the database.
---
No Evidence Reported Yet!
Additional Resources
This is a collection of Internet resources for this location. This section will house links to other websites that contain information related to history, claims, investigations, or even the location's website.
---