Library of Congress - Jefferson Building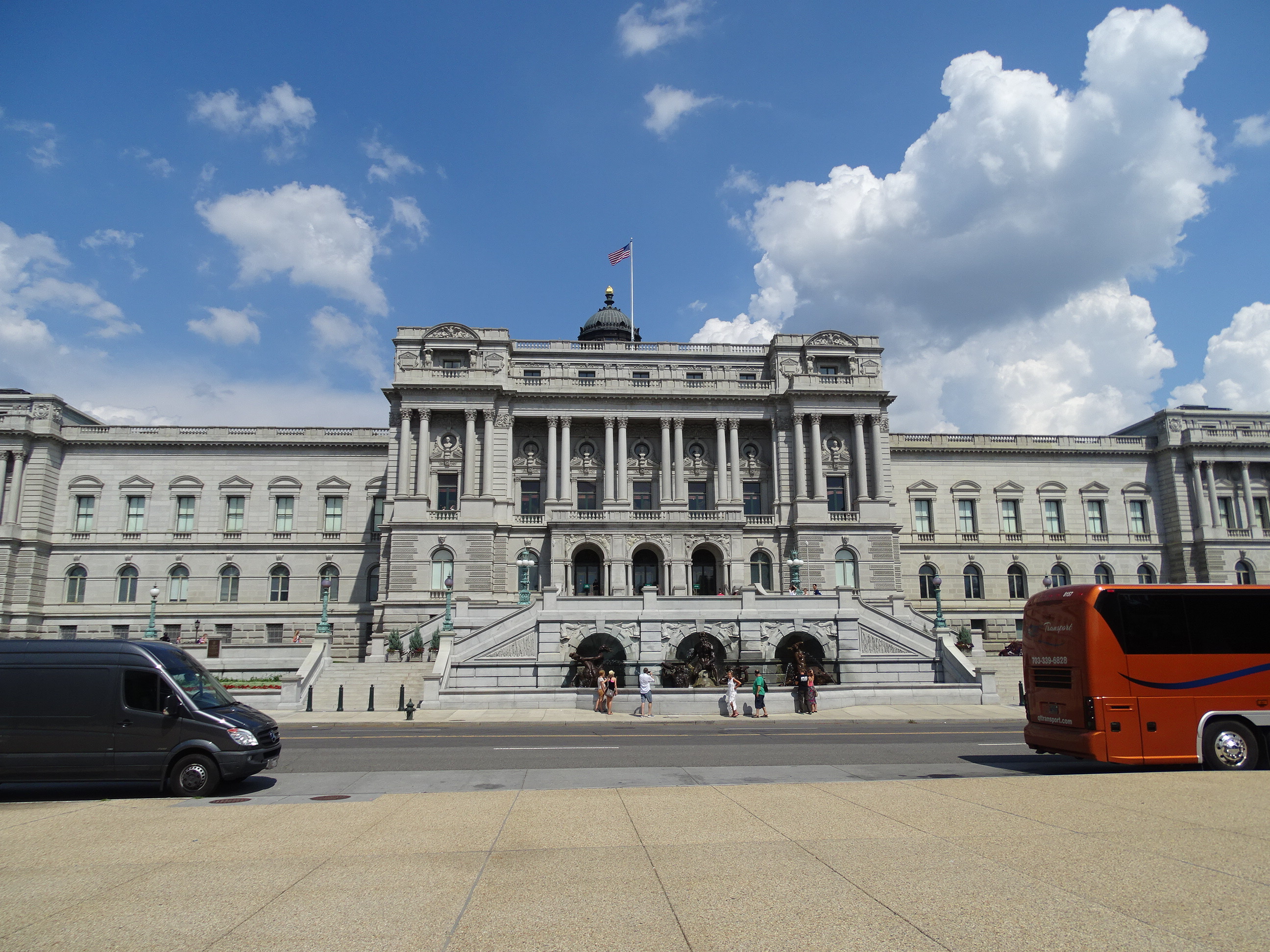 Photo by:
Marianne Donley
Location submitted by:
sdonley
on 07/26/2017
DBA Approved: Y
Larger Map
PANICd#: 1872

The oldest of the three United States Library of Congress buildings, the Thomas Jefferson Building was built between 1890 and 1897.
10 First Street SE
Washington , DC 20540
Phone: (202) 707-8000
Open to the public: Yes
Lat: 38.8865337
Lon: -77.0058922
Database Summary:
Demographic Rank: 6
History: 1
Stories: 1
Claims: 6
Evidence: 0
Resources: 2
Retrievals: 6586
Vistor Rating: 0.0
Votes: 0
History
History information is some background and history about the location. This is meant to be a basic summary. Below the history records you will find sources in which you can click on to find out more information. There may be multiple history records per location.
---
Needing more room for its increasing collection, the Library of Congress under Librarian Ainsworth Rand Spofford suggested to the Congress that a new building be built specifically to serve as the American national library. Prior to this the Library existed in a wing of the Capitol Building. The new building was needed partly because of the growing Congress, but also partly because of the Copyright Law of 1870, which required all copyright applicants to send to the Library two copies of their work. This resulted in a flood of books, pamphlets, maps, music, prints and photographs. Spofford had been instrumental in the enactment of this law.
After Congress approved construction of the building in 1886, it took eleven years to complete. The building opened to the public on November 1, 1897, met with wide approval and was immediately seen as a national monument. The building name was changed on June 13, 1980 to honor former U.S. President Thomas Jefferson, who had been a key figure in the establishment of the Library in 1800. Jefferson offered to sell his personal book collection to Congress in September 1814, one month after the British had burned the Capitol in the War of 1812.
Added by: sdonley on 07/26/2017 DB#:288
Source(s):
https://en.wikipedia.org/wiki/Thomas_Jefferson_Bui...

---
Stories
Stories are just that. Stories and personal accounts that have been reported about the location.
---
The Library of Congress is a lesser known haunted building on Capitol Hill. It does have its share of ghosts however. The most told ghost story is the police officer who resides in the stacks. He has been seen in both his uniform as well as his casual clothes. He has helped several people exit the stacks when they have become lost in the miles and miles of books. According to the description of the man (and his name, as he tells people) he was a sergeant who died several years ago. This occurrence is well known among many library employees.
Other occurrences in the library's main building include doors opening by themselves, constant banging on the steps, and a mysterious dark haired man.
One of the strangest recent events happened about three years ago when some painters were doing some work in the north corridor on the second floor. The area was closed to the public, and the workers needed get a cart by two heavy curator cases. One case moved about a foot, all by itself, allowing the workers to get the cart through.
Added by: sdonley on 07/26/2017 DB#:1243
Source(s):
http://www.dchauntings.com/id9.html

---
Paranormal Claims
Here are the paranormal claims for this location. These have been found through Internet research, reports from members, or reports from personal interviews. To add a claim, please contact PANICd.com, and we will review and add your information.
---
| | | | |
| --- | --- | --- | --- |
| Claim # | Added | Added By | Claim |
| 2386 | 07/26/2017 | sdonley | An apparition of a police office has been seen in and out of his uniform. |
| 2387 | 07/26/2017 | sdonley | Employees have hard the apparition say his name. |
| 2388 | 07/26/2017 | sdonley | Door have been reported to open by themselves. |
| 2389 | 07/26/2017 | sdonley | Banging has been heard on the steps. |
| 2390 | 07/26/2017 | sdonley | An apparition of a mysterious dark haired man has been seen. |
| 2391 | 07/26/2017 | sdonley | A heavy case was reported to move by itself. |
Paranormal Evidence
Paranormal evidence is based on claims that have been reported for this location. There can be several types of evidence; however, we have grouped them based on media type for better organization. Here you will find evidence that are logs, audio, video, or photographic.
To add evidence for a claim, you must submit it to PANICd.com for approval to be entered into the database.
---
No Evidence Reported Yet!
Additional Resources
This is a collection of Internet resources for this location. This section will house links to other websites that contain information related to history, claims, investigations, or even the location's website.
---
Wikipedia Entry
Added: 07/26/2017 By: sdonley
Wikipedia entry for this location.
Visiting the LOC
Added: 07/26/2017 By: sdonley
This page describe how you can visit this location and the tours that are available.