Evergreen Cemetery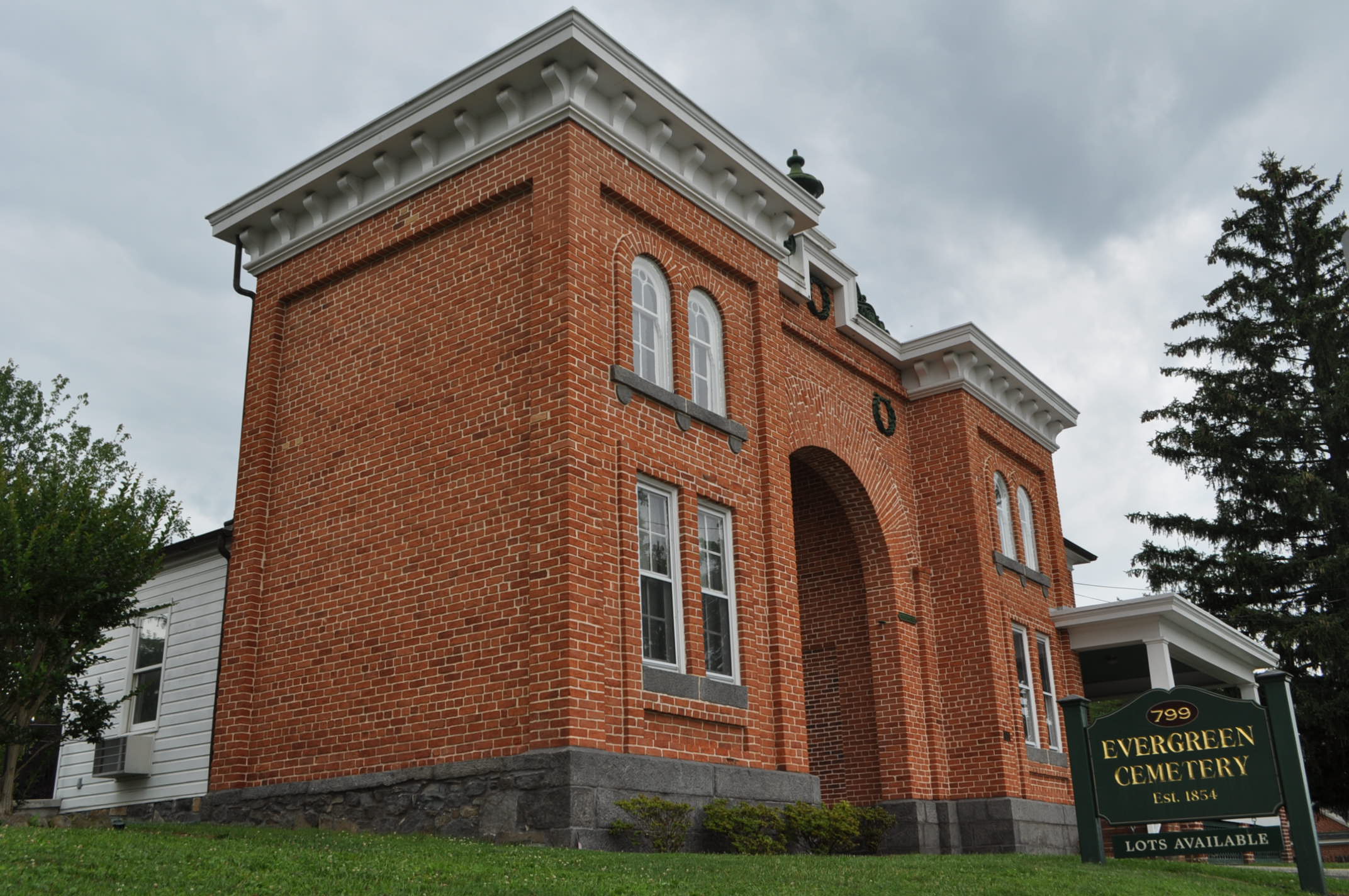 Photo by:
Marianne Donley
Location submitted by:
sdonley
on 08/03/2017
DBA Approved: Y
Larger Map
PANICd#: 1917

Evergreen Cemetery occupies a hill just south of Gettysburg Borough, between Baltimore Pike and Tanneytown Road.
799 Baltimore St
Gettysburg , PA 17325
Phone: (717) 334-4121
Open to the public: Yes
http://www.evergreencemetery.org/
Lat: 39.821440
Lon: -77.229600
Database Summary:
Demographic Rank: 6
History: 1
Stories: 1
Claims: 4
Evidence: 0
Resources: 11
Retrievals: 9543
Vistor Rating: 1.0
Votes: 1
History
History information is some background and history about the location. This is meant to be a basic summary. Below the history records you will find sources in which you can click on to find out more information. There may be multiple history records per location.
---
Evergreen Cemetery occupies a hill just south of Gettysburg Borough, between Baltimore Pike and Tanneytown Road. The Ever Green Cemetery Association of Gettysburg was chartered in 1853. It remains a private cemetery to this day. Many founders of the Borough of Gettysburg are interned within this cemetery.
Philadelphia architect Stephen Decatur Button designed the cemetery's gatehouse in mid-1855, and its cornerstone was laid by Reverend Samuel Simon Schmucker on September 1. Local masons George and Henry Chritzman constructed the brick building in less than 3 months,[2] at a cost of $1,025. The gatehouse served as the cemetery's office, and as the residence of its caretaker.
Added by: sdonley on 08/11/2019 DB#:541
Source(s):
https://en.wikipedia.org/wiki/Evergreen_Cemetery_g...

---
Stories
Stories are just that. Stories and personal accounts that have been reported about the location.
---
With all that occurred on the property during the beginning of July 1863 it is not surprising that Evergreen Cemetery is host to tales of paranormal happenings. There have been claims from visitors to the site that they have seen figures resembling that of soldiers of the Civil War. People conducting investigations at the location have reported capturing electronic voice phenomena (EVP). These EVPs have included what sounds like voices calling for help. If you go for a visit to Evergreen Cemetery make sure that you pay attention to your surroundings. There just may be someone out there looking to get your attention. Perhaps, they may be a spirit from a battle fought long ago on a hot summer day in 1863.
Added by: sdonley on 08/11/2019 DB#:1536
Source(s):
http://www.liparanormalinvestigators.com/haunted-p...

---
Paranormal Claims
Here are the paranormal claims for this location. These have been found through Internet research, reports from members, or reports from personal interviews. To add a claim, please contact PANICd.com, and we will review and add your information.
---
| | | | |
| --- | --- | --- | --- |
| Claim # | Added | Added By | Claim |
| 3193 | 08/11/2019 | sdonley | Apparitions of soldiers have been seen throughout the cemetery. |
| 3194 | 08/11/2019 | sdonley | People have reported the feeling of being watched. |
| 3195 | 08/11/2019 | sdonley | Strange lights from within the cemetery and by the road have been witnessed at night. |
| 3196 | 08/11/2019 | sdonley | Investigators have reported EVPs within the cemetery. |
Paranormal Evidence
Paranormal evidence is based on claims that have been reported for this location. There can be several types of evidence; however, we have grouped them based on media type for better organization. Here you will find evidence that are logs, audio, video, or photographic.
To add evidence for a claim, you must submit it to PANICd.com for approval to be entered into the database.
---
No Evidence Reported Yet!
Additional Resources
This is a collection of Internet resources for this location. This section will house links to other websites that contain information related to history, claims, investigations, or even the location's website.
---
Wikipedia Entry
Added: 08/11/2019 By: sdonley
Wikipedia entry for this location.
Evergreen Cemetery in Gettysburg, Pennsylvania - Find A Grave Cemetery
Added: 08/11/2019 By: sdonley
Explore this cemetery for graves, information and tombstones for names in Evergreen Cemetery in Gettysburg, Pennsylvania, a Find A Grave Cemetery.
Trip Advisor
Added: 08/11/2019 By: sdonley
Information about the location, see link for details.
Evergreen Cemetery
Added: 08/11/2019 By: sdonley
Information about the location, see link for details.
Five Little-Known Facts About Gettysburg's Other Cemetery
Added: 08/11/2019 By: sdonley
Information about the location, see link for details.
Evergreen Cemetery Gatehouse (Gettysburg)
Added: 08/11/2019 By: sdonley
Information about the location, see link for details.
The story of Evergreen Cemetery, with its distinctive Gettysburg gatehouse, set to music
Added: 08/11/2019 By: sdonley
Information about the location, see link for details.
Gettysburg Museum of History
Added: 08/11/2019 By: sdonley
Information about the location, see link for details.
Gettysburg's story at Evergreen Cemetery | Local News | gettysburgtimes.com
Added: 08/11/2019 By: sdonley
Spangler, Culp, McPherson, Weichert, Schwartz, Trostle, Tipton, Wade, and, of course, Gettys.
The Gatehouse: Entrance to Evergreen Cemetery
Added: 08/11/2019 By: sdonley
Information about the location, see link for details.
The Angel of Gettysburg: Elizabeth Thorn: 1863 | Mrs Daffodil Digresses
Added: 08/11/2019 By: sdonley
In honor of the 150th Anniversary of the Battle of Gettysburg, a story of an ordinary woman thrown into extraordinary circumstances and how she rose to the occasion: Elizabeth Thorn, known today as The Angel of Gettysburg.  A Woman's Courage at Gettysburg. Mrs. Peter Thorn, of Gettysburg, lived in the house at the entrance of the…