Buckley House Restaurant, Marietta Ohio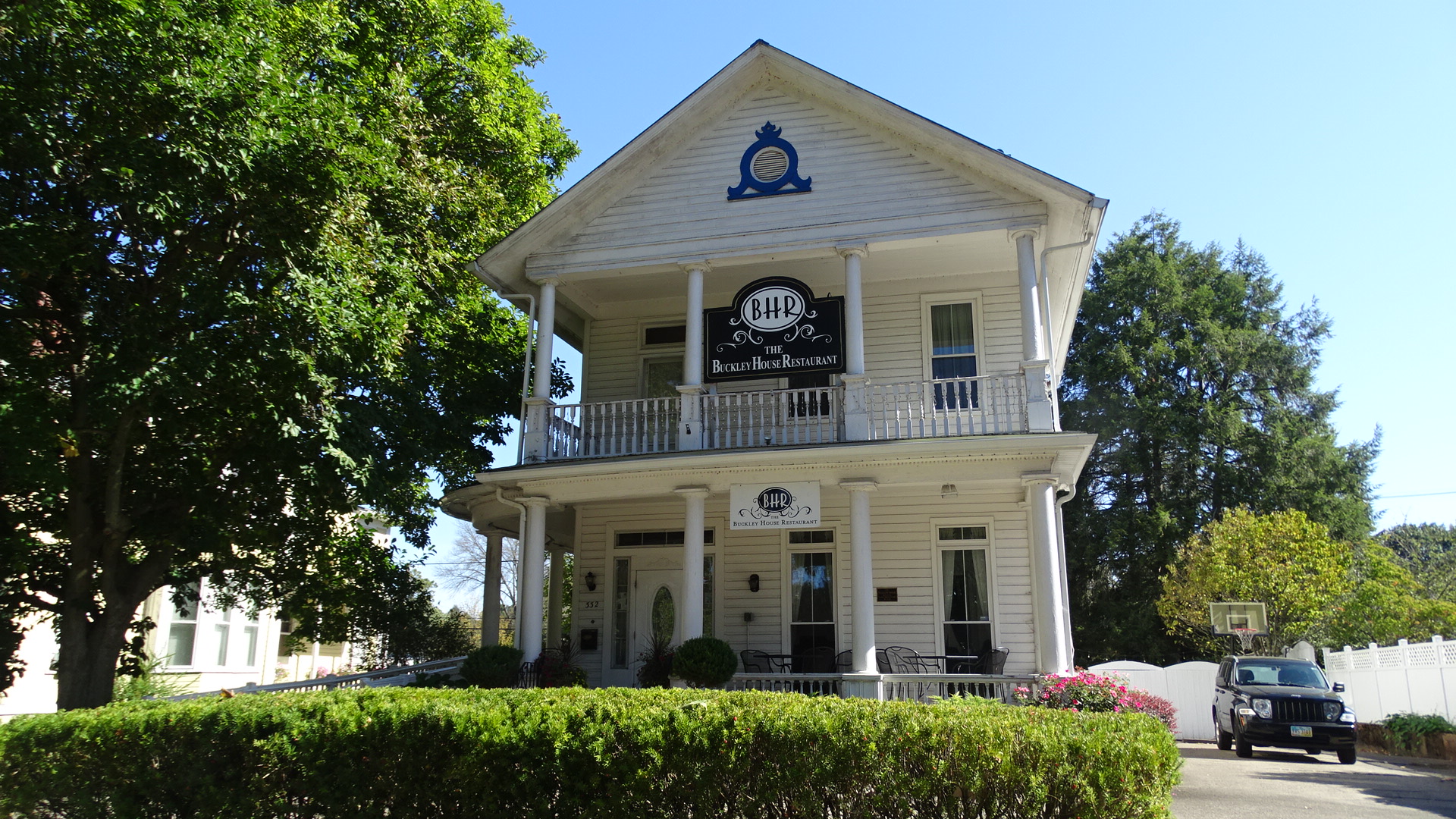 Photo by:
Marianne Donley
Location submitted by:
sdonley
on 10/19/2019
DBA Approved: Y
Larger Map
PANICd#: 2107

The Buckley House, now an elegant restaurant, was built as a private residence in 1879 for Maria Woodbridge, a pious spinster and wealthy pillar of Marietta society.
332 Front St
Marietta , OH 45750
Phone: 740.374.4400
Open to the public: Yes
Lat: 39.416320
Lon: -81.457440
Database Summary:
Demographic Rank: 0
History: 2
Stories: 1
Claims: 2
Evidence: 0
Resources: 1
Retrievals: 7093
Vistor Rating: 0.0
Votes: 0
History
History information is some background and history about the location. This is meant to be a basic summary. Below the history records you will find sources in which you can click on to find out more information. There may be multiple history records per location.
---
This location is currently closed; therefore, there is no active website for the location. The historical marker reads: Built 1879, former residence of Maria M. Woodbridge, granddaughter of Dudley Woodbridge, first merchant and early judge.
Added by: sdonley on 08/08/2022 DB#:575
Source(s):
https://www.hmdb.org/m.asp?m=20173

---
The Buckley House at 322 Front Street was built in 1879 for the Woodbridge family, descendants of Marietta's first storeowner. The Victorian house is named for oil producer Jerry Buckley, who lived there with his wife Lillie from 1900 to 1955. A legendary love story involving the Buckley House influenced rumors of a ghostly apparition haunting the property. Now a restaurant, the house has also been a bed and breakfast.
Added by: sdonley on 08/08/2022 DB#:576
Source(s):
https://mariettaohio.org/wp-content/uploads/2016/0...

---
Stories
Stories are just that. Stories and personal accounts that have been reported about the location.
---
For more than a century people have heard odd sounds and experienced deeply unsettling feelings on the second floor of the Buckley House. Read the complete story about this location on the following blog post.
Added by: sdonley on 08/08/2022 DB#:1571
Source(s):
https://www.hiddenmarietta.com/single-post/2017/12...

---
Paranormal Claims
Here are the paranormal claims for this location. These have been found through Internet research, reports from members, or reports from personal interviews. To add a claim, please contact PANICd.com, and we will review and add your information.
---
| | | | |
| --- | --- | --- | --- |
| Claim # | Added | Added By | Claim |
| 3289 | 08/08/2022 | sdonley | Odd sounds have been heard from the second floor. |
| 3290 | 08/08/2022 | sdonley | Deeply unsettling feelings have been felt on the second floor. |
Paranormal Evidence
Paranormal evidence is based on claims that have been reported for this location. There can be several types of evidence; however, we have grouped them based on media type for better organization. Here you will find evidence that are logs, audio, video, or photographic.
To add evidence for a claim, you must submit it to PANICd.com for approval to be entered into the database.
---
No Evidence Reported Yet!
Additional Resources
This is a collection of Internet resources for this location. This section will house links to other websites that contain information related to history, claims, investigations, or even the location's website.
---
Marietta's Haunted Hotels & Restaurants
Added: 07/28/2022 By: sdonley
Part of the fun of exploring Marietta is staying in, eating or having drinks in a historic building. Many of these wonderful structures date from the early 1900s. A few are even older. Building owners go to great lengths to preserve period details and to recreate the charming atmosphere of the past. A few locations, however, have a bit more historic authenticity than their owners intended. These buildings are haunted. The Buckley House, now an elegant restaurant, was built as a private residence