Toledo Yacht Club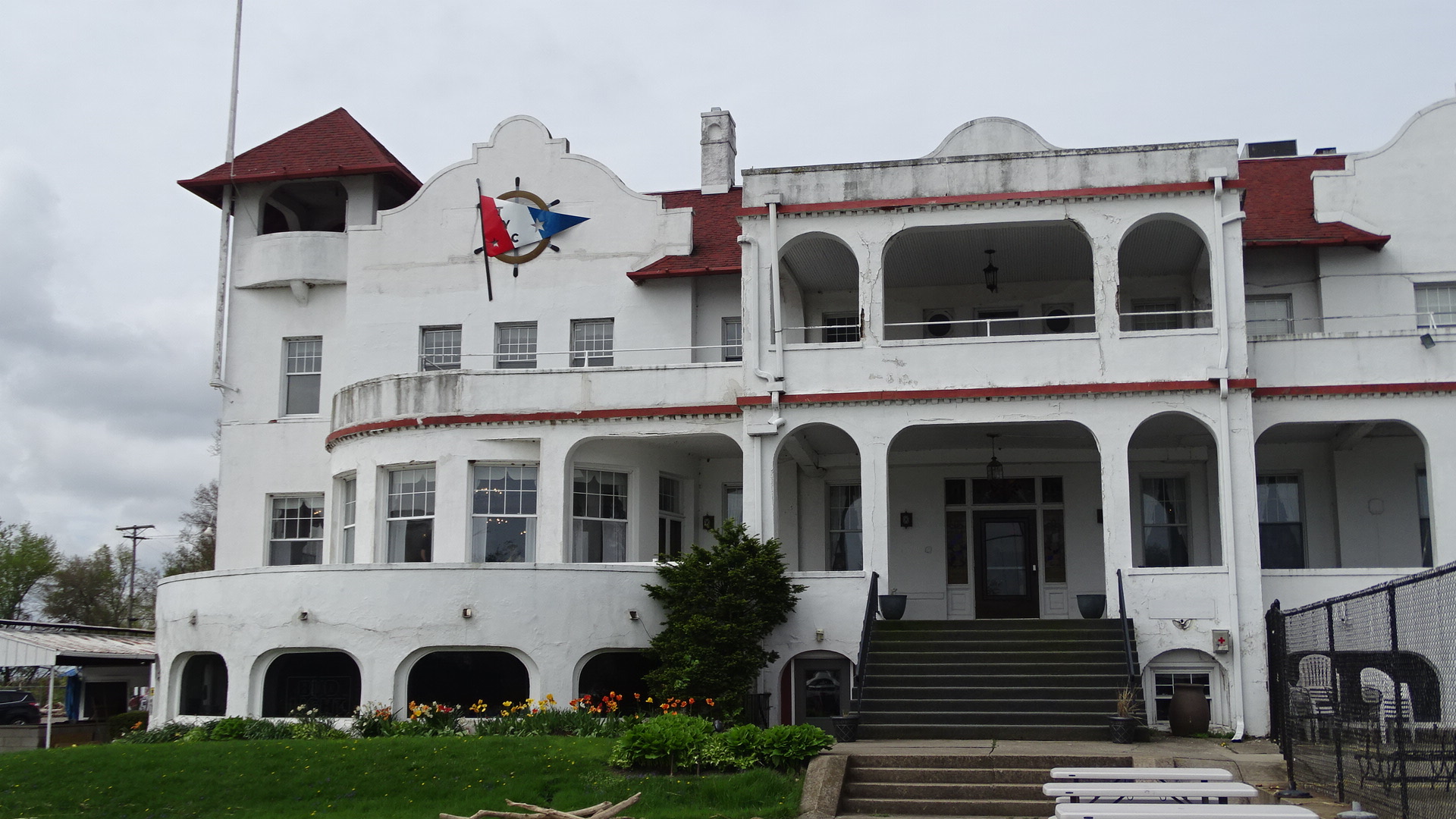 Photo by:
Marianne Donley
Location submitted by:
sdonley
on 05/29/2019
DBA Approved: Y
Larger Map
PANICd#: 1992

The Toledo Yacht Club is a private yacht club in Bay View Park, in Toledo, Ohio, located on the Maumee River, at the western end of Lake Erie.
3900 Summit St
Toledo , OH 43611
Phone: (419) 726-3485
Open to the public: Yes
https://mi6657.wixsite.com/toledo-y...
Lat: 41.693540
Lon: -83.472890
Database Summary:
Demographic Rank: 6
History: 1
Stories: 1
Claims: 6
Evidence: 0
Resources: 2
Retrievals: 6173
Vistor Rating: 0.0
Votes: 0
History
History information is some background and history about the location. This is meant to be a basic summary. Below the history records you will find sources in which you can click on to find out more information. There may be multiple history records per location.
---
The Toledo Yacht Club is among the oldest yacht clubs in North America. The Toledo Yacht Club was founded in 1865 with the name of Toledo Boat Club when two rowing clubs, the Undines and the Naiads, joined together and turned their attention to sailing.
The Toledo Yacht Club was incorporated on October 3, 1885. In 1904, the club readopted the name Toledo Yacht Club.
The first club house was erected in 1878 on Gard Island near the mouth of the Ottawa River.
In 1890, a more elaborate structure with sleeping rooms and a second floor was built.
In 1896, a rival club, the Ohio Yacht Club, unsuccessfully attempted to take over the Toledo Yacht Club's Gard Island lease. Later that year, the two clubs merged under the name Toledo Yachting Association, maintaining city quarters in the Neptune Building in Toledo, Ohio.
When Bay View Park was developed, a 25-year lease was granted to the Toledo Yachting Association, and a wood frame club house was erected at the present site of the club in 1903.
In 1906, fire completely destroyed the club and all of its historic contents. By 1908, a new steel reinforced concrete Spanish style clubhouse was built on the site. This historic building still remains basically the same, and was listed on the National Register of Historic Places on December 12, 1976.
Added by: sdonley on 08/04/2019 DB#:514
Source(s):
https://en.wikipedia.org/wiki/Toledo_Yacht_Club

---
Stories
Stories are just that. Stories and personal accounts that have been reported about the location.
---
There are several claims of activity at this location. On the third floor, several members claim to have heard a toilet in one of the restrooms flush of its own accord. Also on the third floor, a bluish colored "mist" was spotted in a side hallway. The witness was standing in a long hallway which runs perpendicular to the shorter hallway where said mist traveled. According to the witness the mist moved from out of a side storage room down the short hallway towards the ballroom. On the first floor, footsteps have been heard traveling across the floor. There are also reports of shadowy figures peering over the stairway banister on the third floor. Perhaps the most intriguing claim of paranormal activity occurred on the first floor at the yacht club's bar. One evening a bartender was performing her duties as usual. At the time the bar area was somewhat "dead" (no pun intended). As her back was turned to the bar she heard someone complain about their Manhattan cocktail. When she turned around she found that no one was at the bar. According to several people associated with the club, one member, deceased at the time of this incident, was known for complaining quite vociferously about his Manhattans.
Added by: sdonley on 08/04/2019 DB#:1511
Source(s):
https://fringeparanormal.wordpress.com/2013/07/02/...

---
Paranormal Claims
Here are the paranormal claims for this location. These have been found through Internet research, reports from members, or reports from personal interviews. To add a claim, please contact PANICd.com, and we will review and add your information.
---
| | | | |
| --- | --- | --- | --- |
| Claim # | Added | Added By | Claim |
| 3115 | 08/04/2019 | sdonley | The toilet on the third floor has been known to flush on its own. |
| 3116 | 08/04/2019 | sdonley | A bluish colored "mist" was spotted in the side hallway. |
| 3117 | 08/04/2019 | sdonley | Footsteps are sometimes heard on the first floor. |
| 3118 | 08/04/2019 | sdonley | Shadow figures have been seen peering over the railing. |
| 3119 | 08/04/2019 | sdonley | Strange voices and sounds have been heard. |
| 3120 | 08/04/2019 | sdonley | An unseen patron was heard complaining about a drip at the bar. |
Paranormal Evidence
Paranormal evidence is based on claims that have been reported for this location. There can be several types of evidence; however, we have grouped them based on media type for better organization. Here you will find evidence that are logs, audio, video, or photographic.
To add evidence for a claim, you must submit it to PANICd.com for approval to be entered into the database.
---
No Evidence Reported Yet!
Additional Resources
This is a collection of Internet resources for this location. This section will house links to other websites that contain information related to history, claims, investigations, or even the location's website.
---
Wikipedia Entry
Added: 08/04/2019 By: sdonley
Wikipedia entry for this location.
Toledo Yacht Club Paranormal Investigation Report
Added: 08/04/2019 By: sdonley
JRR Tolkien once said "Not all who wander are lost."  Some believe that the spirits of their deceased comrades wander the halls of the Toledo Yacht Club.  Perhaps the draw of peaceful waters maintains its strong grasp on a sailor's soul after he passes. Follow the Fringe team as they set sail on a voyage...