Independence Hall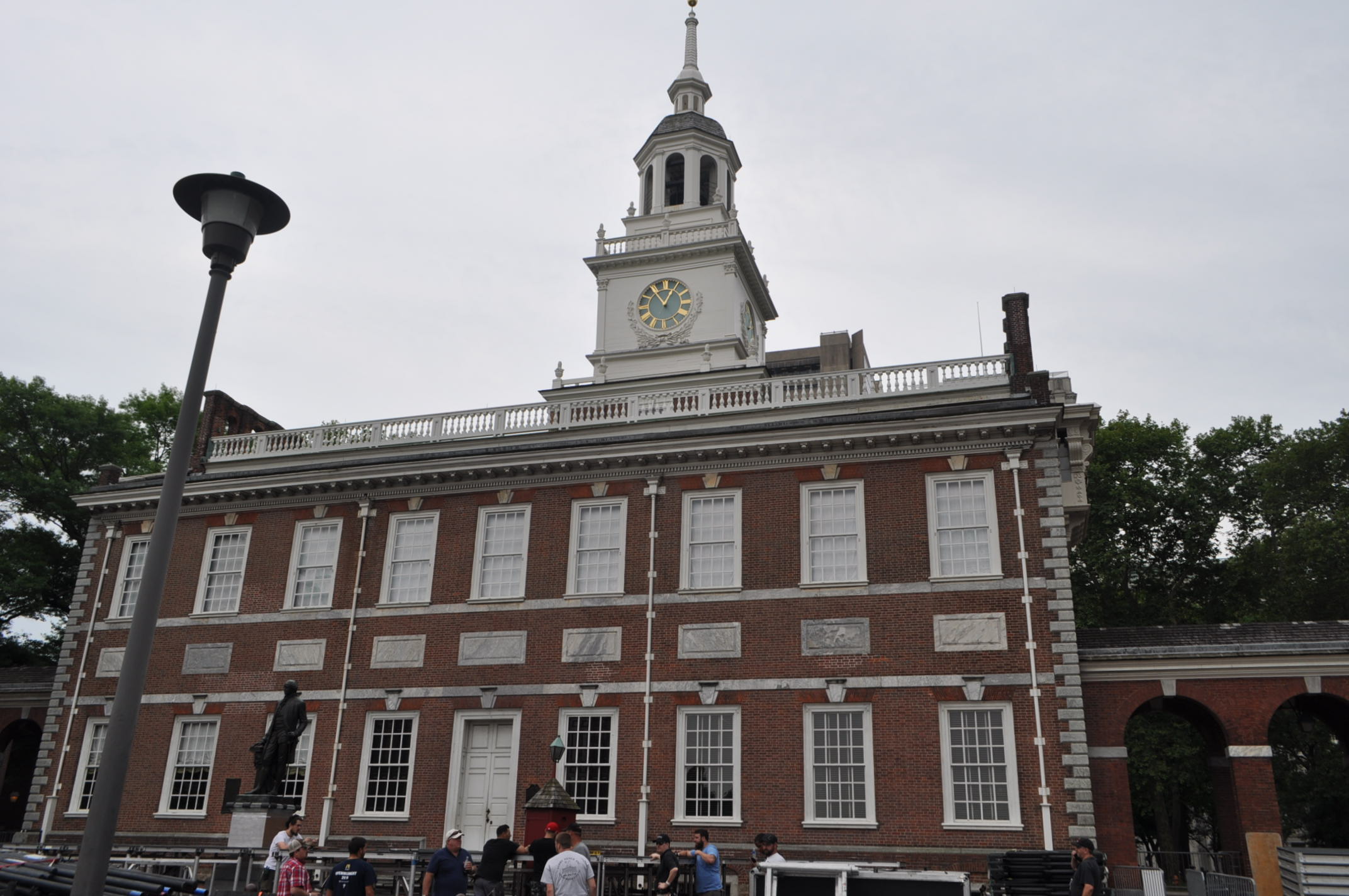 Photo by:
Marianne Donley
Location submitted by:
sdonley
on 02/16/2015
DBA Approved: Y
Larger Map
PANICd#: 1365

Originally known as the Pennsylvania State House, its name was changed to Independence Hall in 1732.
520 Chestnut Street
Philadelphia , PA 19106
Phone: (800) 537-7676
Open to the public: Unknown
http://www.nps.gov/inde/index.htm
Lat: 39.94885379999999
Lon: -75.1499665
Database Summary:
Demographic Rank: 6
History: 1
Stories: 1
Claims: 3
Evidence: 0
Resources: 1
Retrievals: 7084
Vistor Rating: 0.0
Votes: 0
History
History information is some background and history about the location. This is meant to be a basic summary. Below the history records you will find sources in which you can click on to find out more information. There may be multiple history records per location.
---
Originally known as the Pennsylvania State House, its name was changed to Independence Hall in 1732. This beautiful building is a fine example of Georgian architecture, and is a magnificent two-three story brick building complete with a clock and bell tower! Construction of this building began in 1730, the most "ambitious" building project in the 13 colonies! It was built in stages as the provincial Pennsylvania government paid as they went, under the watchful eye of Andrew Hamilton. It took 21 years to complete, but it was paid for in full. There were renovations over the years. In 1830, Greek revival architect John Haviland. 120 years later, the National Park Service renovated Independence Hall back to its original 1776 Georgian architecture.
It makes one tingle when one realizes all the history which took place in Independence Hall. For Independence Hall truly was the birthplace of the United States.
It was the meeting place for the Second Continental Congress.
In the Assembly Room: George Washington was appointed commander in chief of the Continental Army in 1775.
In the Assembly Room: Declaration of Independence was adopted on July 4, 1776. * The design of the American flag was agreed upon in 1777.
In the Assembly Room: The Articles of Confederation were adopted in 1781 * The U. S. Constitution was drafted in 1787.
Added by: sdonley on 02/19/2015 DB#:250
Source(s):
http://www.hauntedhouses.com/states/pa/independenc...

---
Stories
Stories are just that. Stories and personal accounts that have been reported about the location.
---
Considering all the history connected to this building, it is no wonder that it attracts entities who were involved in its history. Many signers of the Declaration of Independence faced hardships because of their courage to do so. Other incidents which happened here have also resulted in a variety of hauntings.
Ben Franklin - Ben was a very talented man, an enlightenment intellectual, who earned his fame as a statesman, "through his subsequent diplomatic services in connection with the relations of the colonies with Great Britain, and later with France."
In 1775, he was chosen by Pennsylvania to be their delegate to the Second Continental Congress. In 1776, he was a member of the Committee of Five that drafted the Declaration of Independence, and made several small changes to Thomas Jefferson's draft. He was busy in life, involved with a lot of activities, societies and organizations.
Benedict Arnold - It was 1780 and Benedict Arnold wasn't a happy camper. He had married a lady who was a loyalist sympathizer, and was putting pressure on him to find a way to end the war with the colonies still being under England. He had serious issues with the Continental Congress and the military, was suffering from mounting personal debt, and was facing untrue corruption charges filed by the Pennsylvania civil authorities, due to personal quarrels with the council president of the state, Jerry Reed, who was determined to ruin Arnold. At his court martial, Benedict Arnold was ultimately cleared of all civil charges but was found guilty of two trivial charges and it was recommended that he receive a reprimand from Washington, himself. "Washington, who considered Arnold the victim of persecution, couched the reprimand in such terms as to convert it into eulogy, and soon afterward offered Arnold the highest command under himself in the northern army for the next campaign."
In 1780, the war wasn't going well for Washington's troops; conditions for the patriots was pretty dire, and men had been deserting to the British lines averaging more than 100 a month. Benedict Arnold was still angry about his treatment and acted on a plan he had been thinking about. First step was to be assured through a loyalist contact that Lord North, would introduce the liberal terms already offered by the British in 1778, which conceded everything that the Americans had demanded in 1775, would be re-offered in negotiations if the colonies would only come back to the British empire. Second step was to switch to the dark side of the force and put into action his plot to give the British control of the Hudson River, which was foiled. He escaped and became a Brigadier General in the British force and was rewarded with a paltry sum of $6,000 sterling. He wound up in England, where he got a mixed reception. He started a business with two of his sons in New Brunswick, forever banished from America as a black hearted traitor. His last years were embittered by remorse. His name in American culture has since been linked to the word, treason, and his reputation was ruined by his own actions. It is a shame that such a brave, courageous military leader met such a sad end.
Added by: sdonley on 02/19/2015 DB#:1200
Source(s):
http://www.hauntedhouses.com/states/pa/independenc...

---
Paranormal Claims
Here are the paranormal claims for this location. These have been found through Internet research, reports from members, or reports from personal interviews. To add a claim, please contact PANICd.com, and we will review and add your information.
---
| | | | |
| --- | --- | --- | --- |
| Claim # | Added | Added By | Claim |
| 2180 | 02/19/2015 | sdonley | A National Park ranger reported that something set off the security alarm, and when he searched to see what did it, he saw an apparition of a man dressed in 18th century clothing. |
| 2181 | 02/19/2015 | sdonley | An apparition of Ben Franklin has been reported. |
| 2182 | 02/19/2015 | sdonley | An apparition of Benedict Arnold has been reported. |
Paranormal Evidence
Paranormal evidence is based on claims that have been reported for this location. There can be several types of evidence; however, we have grouped them based on media type for better organization. Here you will find evidence that are logs, audio, video, or photographic.
To add evidence for a claim, you must submit it to PANICd.com for approval to be entered into the database.
---
No Evidence Reported Yet!
Additional Resources
This is a collection of Internet resources for this location. This section will house links to other websites that contain information related to history, claims, investigations, or even the location's website.
---