Hog Alley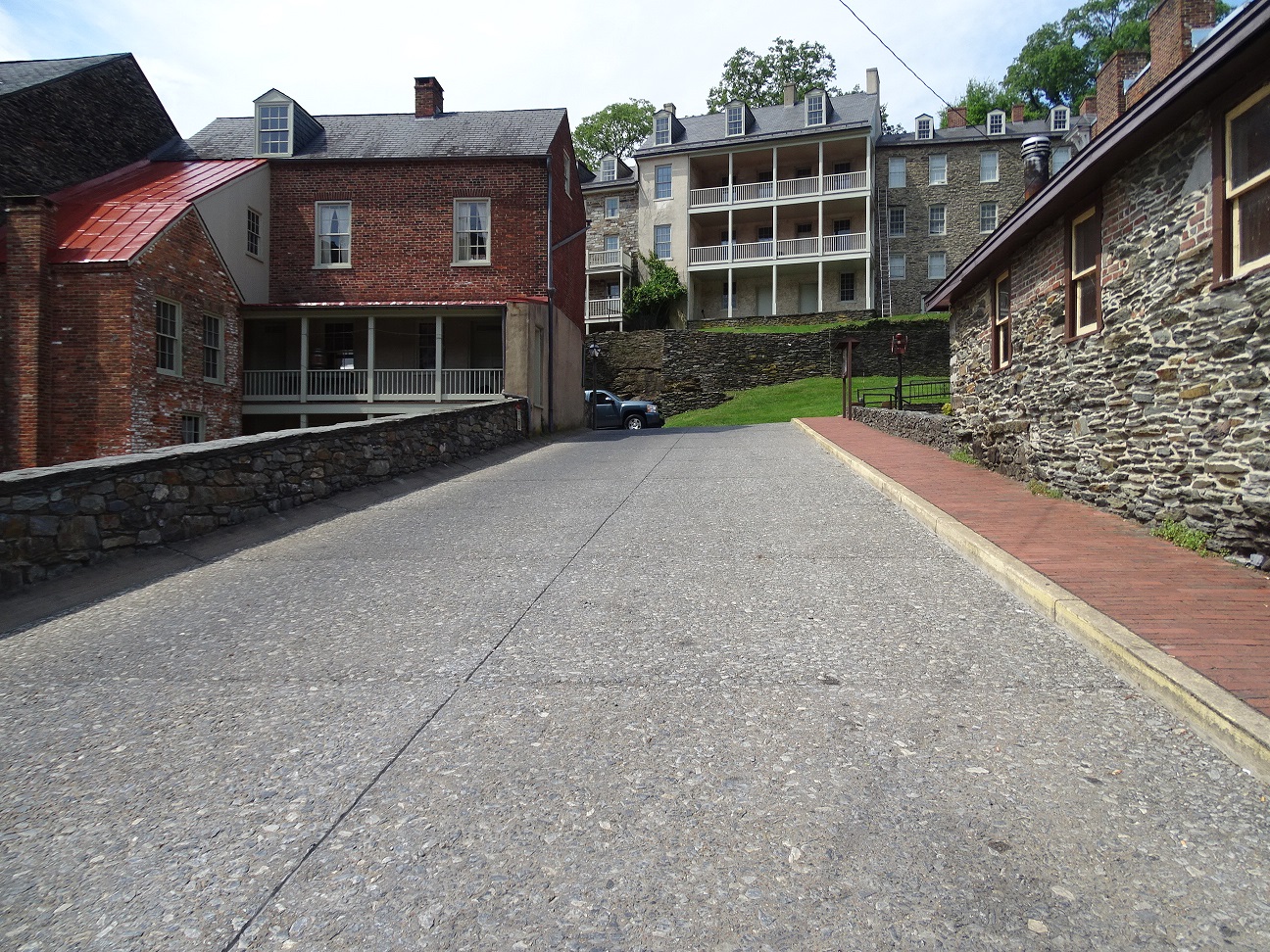 Photo by:
Marianne Donley
Location submitted by:
sdonley
on 07/27/2017
DBA Approved: Y
Larger Map
PANICd#: 1878

This is the location where the remains of Dangerfield Newby was thrown after his death and he was eaten by the hogs.
Hog Alley
Harpers Ferry , WV 25425
Open to the public: Yes
Lat: 39.3234674
Lon: -77.73058730000002
Database Summary:
Demographic Rank: 4
History: 1
Stories: 1
Claims: 2
Evidence: 0
Resources: 1
Retrievals: 6575
Vistor Rating: 0.0
Votes: 0
History
History information is some background and history about the location. This is meant to be a basic summary. Below the history records you will find sources in which you can click on to find out more information. There may be multiple history records per location.
---
Hog Alley didn't get its name in a very pretty way.
During the John Brown raid, the first raider killed was a black man by the name of Dangerfield Newby. Dangerfield had been freed by his white father, but he had a wife and seven children held in slavery in Warrenton, Virginia. His wife's master had told him that for the sum of $1,500 he could buy his wife and his youngest baby, who had just started to crawl. Dangerfield earned that amount of money and went back to Warrenton to purchase his wife and baby, only to have his wife's master raise the price. The free black man then joined John Brown in the hope of freeing not only his wife and youngest baby, but his entire family.
There were a lot of guns in Harpers Ferry, since they were made in the town and stored in the 22 building armory complex near the train tracks. There was little ammunition for the guns, however, and townspeople would fire anything they could find for their guns. One man was shooting 6 inch spikes from his powder loaded gun.
When John Brown raided the town in October of 1859, it was one of those spikes that hit the throat of Dangerfield Newby. He was killed instantly.
The people of Harpers Ferry, frustrated and angered by John Brown and his raiders, took the body of Dangerfield Newby and stabbed it repeatedly with their rusty knives. They left the mutilated body in the alley to be eaten by the hungry hogs.
Some night, if you are walking down Hog Alley and see a man dressed in baggy trousers and an old slouched hat with a terrible scar across his throat, you will know you have met Dangerfield Newby. He is still roaming our streets, trying to free his family.
Added by: sdonley on 07/27/2017 DB#:294
Source(s):
http://wesclark.com/jw/newby.html

---
Stories
Stories are just that. Stories and personal accounts that have been reported about the location.
---
One of the ghosts reportedly seen at Harpers Ferry is of Dangerfield Newby, known for being part of the raid on Harpers Ferry. Defending the town when there was little ammo, one Harpers Ferry resident fired 6-inch-spikes from his rifle on the raiders. One of the spikes struck Newby in the throat and killed him. The residents repeatedly stabbed his body and cut off his limbs. They left him in an alley for hogs to eat. People say Newby still walks the streets. He is known by the scar across his throat, baggy trousers and a slouched hat.
Added by: sdonley on 09/03/2017 DB#:1299
Source(s):
http://www.onlyinyourstate.com/west-virginia/harpe...

---
Paranormal Claims
Here are the paranormal claims for this location. These have been found through Internet research, reports from members, or reports from personal interviews. To add a claim, please contact PANICd.com, and we will review and add your information.
---
| | | | |
| --- | --- | --- | --- |
| Claim # | Added | Added By | Claim |
| 2407 | 07/27/2017 | sdonley | People have witness a man dressed in dark clothing walking the alley late at night. |
| 2408 | 07/27/2017 | sdonley | People have photographed a dark shadowing figure walking along the alley. |
Paranormal Evidence
Paranormal evidence is based on claims that have been reported for this location. There can be several types of evidence; however, we have grouped them based on media type for better organization. Here you will find evidence that are logs, audio, video, or photographic.
To add evidence for a claim, you must submit it to PANICd.com for approval to be entered into the database.
---
No Evidence Reported Yet!
Additional Resources
This is a collection of Internet resources for this location. This section will house links to other websites that contain information related to history, claims, investigations, or even the location's website.
---