Warned by Guardian Angel
Definition: Christmas Ghost Story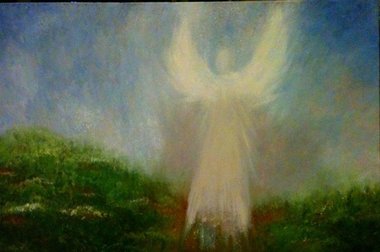 It was just a few days before Christmas, 1991, and I had some last minute Christmas shopping to do. Working full time and being a full-time mom, this was a rare chance to get out and have some time to myself. It was dusk, and the weather was overcast and chilly. I entered the store with a real Christmas spirit. I browsed here and there. Looking down at my ragged purse, I realized that perhaps I should splurge and buy myself a new purse. I decided that since I was there to shop, I may as well buy myself a new purse.
After about five minutes of browsing, I noticed a man. He did not bring attention to himself, rather something brought my attention to him. He was a young adult, dark-skinned, tall, with a head of long, dark, curly hair. He was really good looking with a well-defined jawline, high cheekbones and a great complexion. He was wearing a long, tan-colored trench coat. He was standing in front of me about 10 feet away. He seemed interested in the purses also.
I resumed looking at every purse in the aisle when out of nowhere - and totally unexpected - a voice boomed in my head: "Look up, you are being followed!" Instinctively, I looked up without hesitation. There was the same man, standing several yards in front of me, still looking at purses. Of course this unsettled me, so I decided to leave the purse aisle. I went to a couple of other departments in the store, but the same guy was never more than 20 feet away from me.
He was unlikely store security. The man was tracking me alright, but for ominous reasons. Unbeknownst to this man, I had been alerted to his presence by that voice.
By now my Christmas spirit was fading, and I decided to check out. As I approached the check-out counters, there stood the same young man, reading a paperback book from the book racks. I paid for my goods and headed for the front exit lobby doors.
As I approached the front exit, I saw this same individual again. He was in the store lobby, pacing back and forth! I was immediately reminded of how a lion acts in a cage at the zoo. And now I knew this person was just as deadly. A people greeter was standing just a few feet from the exit doors. I told her, "That young man in the trench coat in the lobby has been following me through the store. Can you please get someone to walk me to my car?" She said, "Yes, I'll be right back." I just stood there because I did not want my stalker to realize I was "onto him."
I looked to my right. The canteen was there, and maybe I could waltz over and look at the menu. I was starting to get hungry. As I started to walk toward the canteen, my skin crawled. There in the canteen area, sitting at a table, glaring right at me, was my would-be stalker. His eyes met mine for about three seconds. They were full of hate.
A guardian angel had thwarted whatever evil plan he had for me, and he was pissed. He walked back into the store while I stared at the floor, and then set down at the canteen to maintain an innocent demeanor. But the glare in his eyes gave it away. He knew I had been warned by a guardian angel - and I knew that he knew it. - Tonja Earles
Collections:
Christmas Ghost Stories
Related Categories:
| A Call From Beyond | Automatic Drawing - A Christmas Ghost Story | Christmas Church Ghost | Christmas Eve and Ghost Stories | Christmas Ghost Caress | The Christmas Visitor | Santa Stuffs The Stockings | Santa and and Elf | Santa at the bedroom door | Poltergeist - It Started One Christmas | Haunted Christmas | Bakers Dozen | Eavesdropper | Yule Log - Used for ghost stories | St. Lukes - A Christmas Mass | Spinning a Winters Tale | Mothers Christmas Present | The Pushy Ghost | Hark the Harold Angels Sing | Seaside Ghost | The Lost Ghost | Christmas Phone Call from Heaven | The Golden Feather |
Resources:
db#556
What are your thoughts?