Radiation and Microwave Field Theory
Definition: The radiation theory is supposedly a ghost will give off some kind of radiation.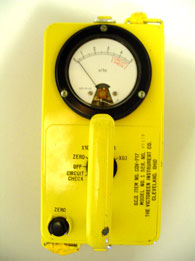 The radiation theory is supposedly a ghost will give off some kind of radiation. There are three kinds of radiation:
Alpha Particles: Helium nuclei, generally emitted from heavy elements such as uranium and thorium. Alpha particles only travel a few inches in the air, and can be stopped by a piece of paper. Outside the body, they are mostly harmless, as outer layers of dead skin completely block them. But if ingested, they can cause massive cellular and DNA damage, due to the fact that they blast a very small area with very high levels of radiation.
Beta Rays: Electrons moving at extremely high (often relativistic) speeds. They are more penetrating than alpha particles. They can pass through light elements, such as paper and aluminum (but only small thickness). Outside the body, they can cause damage to the eyes and skin. Inside, they can cause major damage, much like alpha particles.
Gamma Rays (X-Rays): Electromagnetic waves, similar to light, but at a much higher energy. X-rays are identical to gamma rays. They are much more penetrating than alpha or beta radiations. High energy gamma rays can pass through several inches of metal. They can cause damage to all parts of the body, due to the ability to penetrate skin, tissues, bones, and organs.
The meters to detect radiation is called a Geiger Counter. Depending on what Geiger Counter you use the paranormal readings should occur at 1.5 r/hr to 3.5 r/hr. Also if the needle moves back and forth, that could also mean that there is paranormal activity in the area.
Collections:
Paranormal Theories
Related Categories:
| Temperature Change Theory | Stone Tape Theory | EVP History | EVP Classifications | EVPs Where Do They Come From | EVP - White Noise Theory | Air Ion Theory | Shadow Figures and Shadow Beings | Theory behind Limestone Quartz and Magnetite | Energy Loss Theory | Video Camera Tips for Paranormal Investigations | Solar and Geomagnetic Activity Theory | Electro Magnetic Field Theory - EMF | Compass and EMF Theory | Bermuda Triangle Theory | Renovation Theory | Franks Box Theory | Motion Sensor Theory | Strobe Light Theory | The Phillip Experiment | Alternate Light Spectrums Theory | Relative Time to Object Theory |
Resources:
db#991
What are your thoughts?