The Old Red Museum of Dallas County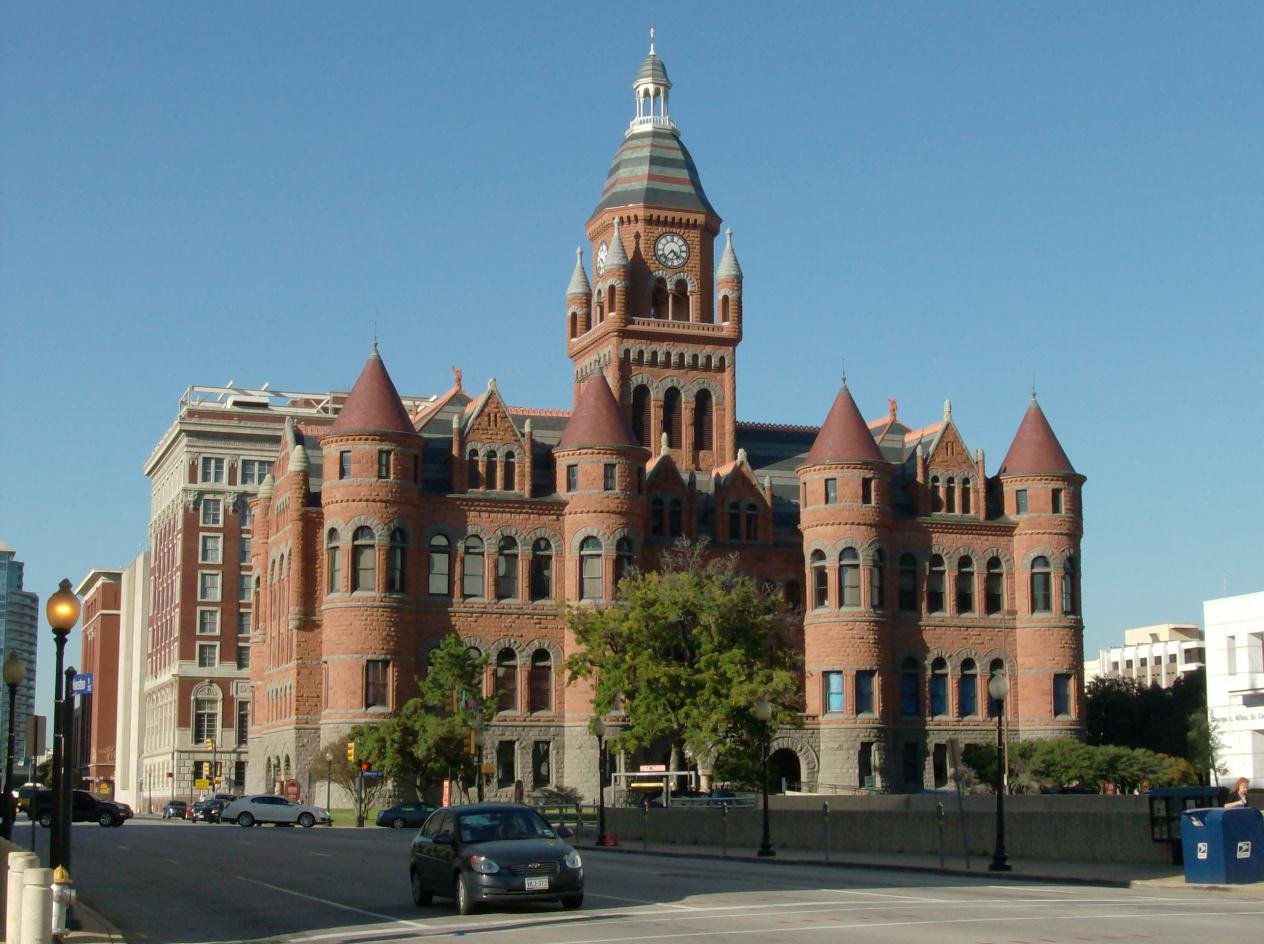 Photo by:
Marianne Donley
Location submitted by:
sdonley
on 11/05/2012
DBA Approved: Y
Larger Map
PANICd#: 1267

Built in 1892, the beautifully restored Old Red Courthouse contains some of Dallas County's most fascinating historical artifacts.
100 S. Houston Street
Dallas , TX 75202
Phone: 214-745-1000
Open to the public: Unknown
Lat: 32.778725
Lon: -96.8076428
Database Summary:
Demographic Rank: 6
History: 1
Stories: 1
Claims: 3
Evidence: 0
Resources: 0
Retrievals: 6576
Vistor Rating: 0.0
Votes: 1
History
History information is some background and history about the location. This is meant to be a basic summary. Below the history records you will find sources in which you can click on to find out more information. There may be multiple history records per location.
---
Dedicated to inspire and educate visitors about the rich and varied cultural, economic, political and social history of the Dallas County Area, the Old Red Museum of Dallas County History & Culture serves as a symbol of Dallas heritage. Built in 1892, the beautifully restored Old Red Courthouse contains some of Dallas County's most fascinating historical artifacts. There is a special exhibit gallery located on the first floor, while the second floor of Old Red is filled with exhibits, 41-touch screen computers, an educational learning center and four mini theaters.
The Old Red Museum is located at a crossroads of activity in downtown Dallas-adjacent to the JFK Memorial and Dealey Plaza, a National Historic Landmark District, across the street from a replica of Dallas founder John Neely Bryan's cabin and just a block from The Sixth Floor Museum and the historic West End of Dallas. The space is stimulating for any kind of visitor, including students, local Dallasites or anyone looking to learn more about the history of Dallas County. There is always something new to discover!
Added by: sdonley on 02/01/2015 DB#:210
Source(s):
http://www.oldred.org/about-us/

---
Stories
Stories are just that. Stories and personal accounts that have been reported about the location.
---
Through our research, we found many claims of the Courthouse being haunted, but none were specific. The museum staff stated the same thing - that visitors to the museum often cited second-hand stories about a friend of a friend claiming to have a paranormal experience in the building, but no employees had ever encountered anything.
Fact and Myth: A common belief around Dallas is that quite a few executions had taken place in this building. In reality, all hangings took place at a nearby location that has since been developed.
However, there was at least one tragic event that took place in this building. During the early 1900's, a young black man had been caught raping a toddler and was held in the courthouse while awaiting trial. An angry mob overpowered a police barricade, stormed the building and threw the man out of the third floor window. He survived the fall, but the angry crowd drug the man down the street and lynched him from an arch over a city street.
Other tragedies include the shooting death of a former Dallas Mayor and the death of a construction worker who died of a heat stroke while renovating the place. But the most famous death associated with the location was the assassination of President John F. Kennedy who was allegedly killed by lone-gunman Lee H. Oswald just behind the courthouse. Jack Ruby, the nightclub owner who killed Oswald, later stood trial at this location.
Added by: sdonley on 02/01/2015 DB#:1164
Source(s):
http://www.credibleparanormal.com/id22.html

---
Paranormal Claims
Here are the paranormal claims for this location. These have been found through Internet research, reports from members, or reports from personal interviews. To add a claim, please contact PANICd.com, and we will review and add your information.
---
| | | | |
| --- | --- | --- | --- |
| Claim # | Added | Added By | Claim |
| 1967 | 02/01/2015 | sdonley | During an investigation, motion activated displays began to operated when nobody was in the room. |
| 1968 | 02/01/2015 | sdonley | People have reported seeing shadow figures and being touched out in the courtyard where hanging took place in the past. |
| 1969 | 02/01/2015 | sdonley | Cold spots have been felt on the steps inside the courthouse. |
Paranormal Evidence
Paranormal evidence is based on claims that have been reported for this location. There can be several types of evidence; however, we have grouped them based on media type for better organization. Here you will find evidence that are logs, audio, video, or photographic.
To add evidence for a claim, you must submit it to PANICd.com for approval to be entered into the database.
---
No Evidence Reported Yet!
Additional Resources
This is a collection of Internet resources for this location. This section will house links to other websites that contain information related to history, claims, investigations, or even the location's website.
---
No Reources Yet!