Spread Eagle Tavern and Inn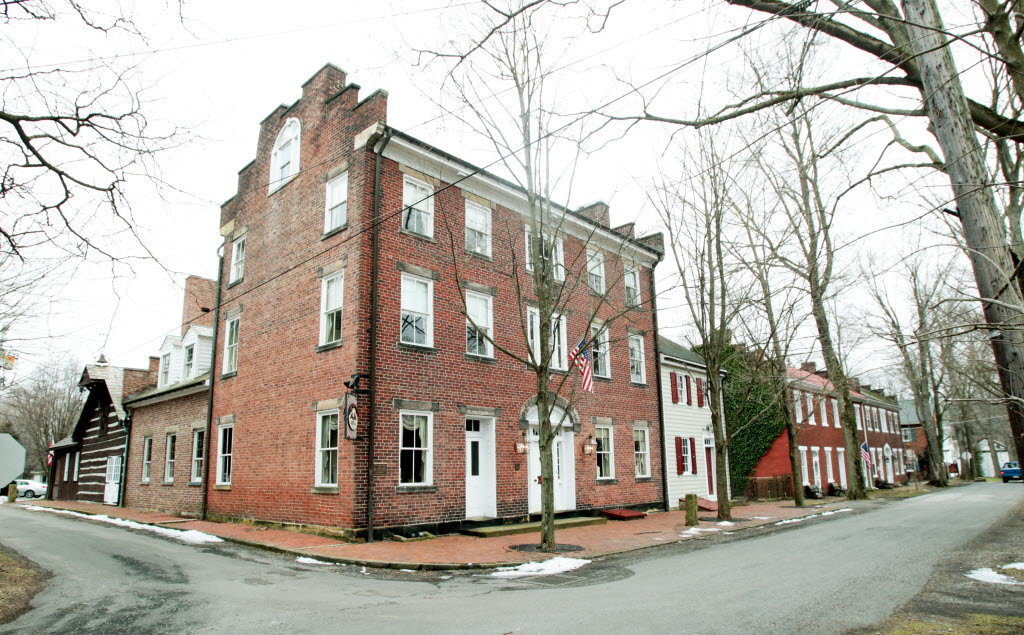 Photo by:
http://www.cleveland.com/...
Location submitted by:
sdonley
on 02/16/2015
DBA Approved: Y
Larger Map
PANICd#: 1406

Will Rhodes commissioned the historic Spread Eagle Tavern to be built along Plymouth Street in the year 1837.
10150 Plymouth Street
Hanoverton , OH 44423
Phone: (330) 223-1583
Open to the public: Yes
http://www.spreadeagletavern.com/
Lat: 40.7537173
Lon: -80.93509870000003
Database Summary:
Demographic Rank: 6
History: 1
Stories: 0
Claims: 2
Evidence: 0
Resources: 1
Retrievals: 7556
Vistor Rating: 0.0
Votes: 0
History
History information is some background and history about the location. This is meant to be a basic summary. Below the history records you will find sources in which you can click on to find out more information. There may be multiple history records per location.
---
Our story dates back to the canal boom era of the early 19th Century, an all but forgotten period in time when Hanover was a thriving port on the Sandy & Beaver Canal and an important link in the region's underground railroad.
Early Hanover played a particularly key role in the life of the Sandy & Beaver Canal which extended 73 1/2 miles from the Ohio River at Smith's Ferry to the Ohio & Erie Canal at Bolivar. Situated midway between these two points just west of the big canal tunnel, Hanover was to become a flourishing center of commerce, boasting a peak population in the late 1830's of 2,000 inhabitants.
Having been settled in 1813 by the Quaker abolitionist James Craig, early Hanover was also known as a safe-haven for runaway slaves. Evident still today are remnants of the underground passage that connected George Sloan's "Brick Row" with his brother-in-law Dr. James Robertson's home just across the street. Runaway slaves were often whisked then, to a secret upstairs hideaway in the Robertson home that was accessible only by the way of a second-story window. At nightfall it is told, the slave fugitives would board a canal boat and flee to their next safe-haven and on to freedom in Canada.
It was in this setting that Will Rhodes commissioned the historic Spread Eagle Tavern to be built along Plymouth Street in the year 1837. Said to have been erected by canal artisans that were thrown out of work by the Bank Panic of 1837, the tavern is known still today as one of the area's finest examples of Federal Period architecture. The three floors, eleven rooms and twelve fireplaces inside indeed were taken directly from the works of the renowned late 18th Century architect Asher Benjamin, whose pattern books depict many of the fine raised-wood window and door casings, fluted column frames and intricately carved mantles that are seen throughout the tavern.
In 1863, the Sandy Valley Order of Free and Accepted Masons was organized on the third floor. And, finally, there's the folklore of Abraham Lincoln's stagecoach stop, chronicled in the minds of Hanover's early residents.
The wood-framed saltbox which adjoins the Spread Eagle predates the tavern. For many years it was home to Hanover's Justice of the Peace where, no doubt, countless marriages were performed and quarrelsome claims settled.
The coming of the Cleveland & Pittsburgh Railroad in the early 1850's signaled the end of the Sandy & Beaver Canal and ultimately the demise of the once bustling village of Hanover. Today virtually all that remains of this grand and illustrious past is historic Plymouth Street, with its many fine century homes and its once venerable Spread Eagle Tavern, with a cluster of ten national historic trust buildings adjacent to the Historic Spread Eagle Tavern.
Today, more than a century and a half after the tavern was built, and after a twenty-month ground-up restoration, the Spread Eagle is again open for business. Guests are welcome to dine in any one of our seven dining rooms...whether it be the more formal and private setting of the William McKinley room or the more rugged environs of the log "barn room".
Before or after dinner, cocktails and hors d'oeuvres are available in the Patrick Henry Tavern Room or below in Gaver's Rathskeller where 12-foot high vaulted brick ceilings and hand-chiseled stone walls will offer our patrons a taste of 19th Century-style revelry and good cheer. And for that road-weary traveler, overnight accommodations (on prearranged basis only) in one of our five guest rooms on the second and third floors will assure a tranquil and sound night's rest.
Added by: sdonley on 02/16/2015 DB#:248
Source(s):
http://www.spreadeagletavern.com/index.php/history...

---
Stories
Stories are just that. Stories and personal accounts that have been reported about the location.
---
No Stories Yet!
Paranormal Claims
Here are the paranormal claims for this location. These have been found through Internet research, reports from members, or reports from personal interviews. To add a claim, please contact PANICd.com, and we will review and add your information.
---
| | | | |
| --- | --- | --- | --- |
| Claim # | Added | Added By | Claim |
| 2169 | 02/16/2015 | sdonley | Guests have heard footsteps in the hallway late at night. |
| 2170 | 02/16/2015 | sdonley | The door knobs have wiggled as if someone was trying to get in the rooms. |
Paranormal Evidence
Paranormal evidence is based on claims that have been reported for this location. There can be several types of evidence; however, we have grouped them based on media type for better organization. Here you will find evidence that are logs, audio, video, or photographic.
To add evidence for a claim, you must submit it to PANICd.com for approval to be entered into the database.
---
No Evidence Reported Yet!
Additional Resources
This is a collection of Internet resources for this location. This section will house links to other websites that contain information related to history, claims, investigations, or even the location's website.
---
Spread Eagle Tavern
Added: 02/16/2015 By: sdonley
Spread Eagle Tavern Inn provides a unique, comfortable stay and place to dine for the evening or weekend getaway. The Inn & Tavern is decorated in period memorabile with a historic tale around every corner. The Spread Eagle even has its own resident ghost. Call for reservation today.