SMC Cartage Company Site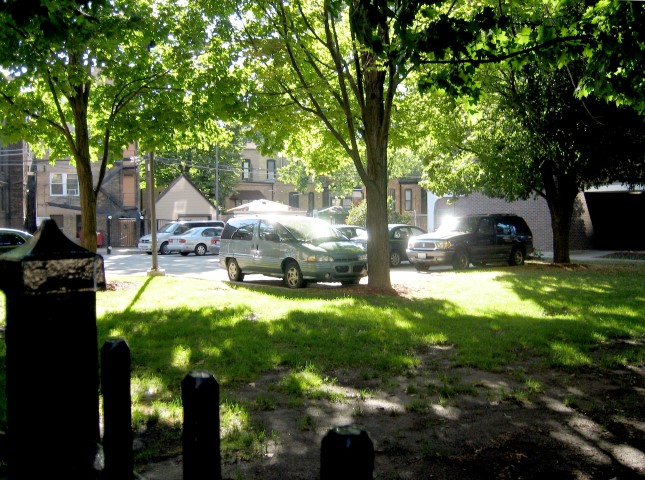 Photo by:
Wikipedia
Location submitted by:
sdonley
on 02/20/2016
DBA Approved: Y
Larger Map
PANICd#: 1867

The former site of the SMC Cartage Company garage and the St. Valentines' Day Massacre.
2122 N. Clark St.
Chicago , IL
Open to the public: Yes
Lat: 41.9207461
Lon: -87.63788979999998
Database Summary:
Demographic Rank: 4
History: 1
Stories: 0
Claims: 3
Evidence: 0
Resources: 10
Retrievals: 7763
Vistor Rating: 0.0
Votes: 0
History
History information is some background and history about the location. This is meant to be a basic summary. Below the history records you will find sources in which you can click on to find out more information. There may be multiple history records per location.
---
On February 14, 1929, seven men were lined up against the rear inside wall of the garage at 2122 North Clark Street, in the Lincoln Park neighborhood of Chicago's North Side, and murdered. They were shot by four men using weapons that included two Thompson sub machine guns ("tommy guns"). Two of the shooters were dressed as uniformed policemen, while the others wore suits, ties, overcoats and hats. Witnesses saw the "police" leading the other men at gunpoint out of the garage after the shooting.
The victims included five members of the Moran-led North Gang. Moran's second-in-command, Albert Kachellek (alias James Clark), was killed along with Adam Heyer, the gang's bookkeeper and business manager, and Albert Weinshank, who managed several cleaning and dyeing operations for Moran. Weinshank resembled Moran in appearance and the two men were wearing similar clothes on the day of the massacre. Also killed were gang enforcers Frank Gusenberg and Peter Gusenberg. Two gang collaborators were shot: Reinhardt H. Schwimmer, a former optician turned gambler and gang associate, and John May, an occasional mechanic for the Moran gang.
Inside the garage, John May's German Shepherd, Highball, was leashed to a truck. The dog began howling and barking, attracting the attention of two women who operated boarding houses across the street. One of the women, Mrs Landesman, sensed something was wrong. She sent one of her tenants to the garage to see what was upsetting the dog. The tenant, sickened at the sight, ran out of the garage. When real Chicago police officers arrived at the scene, one of the victims, Frank Gusenberg was still alive. He was rushed to the hospital, where doctors stabilized him for a short time. Police tried to question Gusenberg. Asked who shot him, Gusenberg, who had sustained fourteen bullet wounds, replied "No one shot me." He died within three hours.[4]
The massacre was allegedly planned by the organization led by Al Capone to eliminate George "Bugs" Moran, the boss of the long-established North Side Gang. The former boss of the North Side Gang, Dion O'Banion, was murdered by four gunmen in his flower shop on North State Street in 1924.[5] After the murder of O'Banion, each successive leader of the North Siders was also killed, allegedly by various members or associates of the Capone organization.
Several factors contributed to the timing of the plan to kill George "Bugs" Moran. Earlier in the year, North Sider Frank Gusenberg and his brother Peter unsuccessfully attempted to murder Jack McGurn. The North Side Gang's was complicit in the murders of Pasqualino "Patsy" Lolordo and Antonio "The Scourge" Lombardo. Both had been presidents of the Unione Siciliana, the local Mafia, and close associates of Capone. Moran and Capone had been vying for control of the lucrative Chicago bootlegging trade, and Bugs Moran had been moving in on several of Capone's enterprises. Moran was muscling in on a Capone-run dog track in the Chicago suburbs and he had taken over several saloons that were run by Capone, insisting they were in his territory.
The plan was to lure Bugs Moran to the SMC Cartage warehouse on North Clark Street on February 14, 1929. The intent was to kill Moran, and perhaps two or three of his lieutenants. It is usually assumed that the North Siders were lured to the garage with the promise of a stolen, cut-rate shipment of whiskey, supplied by Detroit's Purple Gang, which was associated with Capone. The Gusenberg brothers were supposed to drive two empty trucks to Detroit that day to pick up two loads of stolen Canadian whiskey. All of the victims, with the exception of John May, were dressed in their best clothes, as was customary for the North Siders and other gangsters at the time.
On St. Valentine's Day, most of the Moran gang had already arrived at the warehouse by approximately 10:30 AM. Moran was not there, having left his Parkway Hotel apartment late. As Moran and one of his men, Ted Newberry, approached the rear of the warehouse from a side street, they saw a police car approach the building. They immediately turned and retraced their steps, going to a nearby coffee shop. They encountered another gang member, Henry Gusenberg, on the street. Henry was warned and turned back. Willie Marks, also a North Side Gang member, spotted the police car on his way to the garage. He ducked into a doorway and jotted down the license number before leaving the neighborhood.
Capone's lookouts likely mistook one of Moran's men for Moran himself -- probably Albert Weinshank, who was the same height and build. That morning the physical similarity between the two men was enhanced by their dress: both happened to be wearing the same color overcoats and hats. Witnesses outside the garage saw a Cadillac sedan pull to a stop in front of the garage. Four men, two dressed in police uniform, emerged and walked inside. The two fake police officers, carrying shotguns, entered the rear portion of the garage and found members of Moran's gang and two gang collaborators, Reinhart Schwimmer and John May, who was fixing one of the trucks. The "police officers" then ordered the men to line up against the wall.
The two "police officers" then signaled to the pair in civilian clothes who had accompanied them. Two of the killers opened fire with Thompson sub-machine guns, one with a 20-round box magazine and the other a 50-round drum. They were thorough, spraying their victims left and right, even continuing to fire after all seven had hit the floor. The seven men were ripped apart in the volley. Two shotgun blasts afterward all but obliterated the faces of John May and James Clark, according to the coroner's report.
To give the appearance that everything was under control, the men in street clothes came out with their hands up, prodded by the two uniformed police officers. Inside the garage, the only survivors in the warehouse were Highball (May's dog) and Frank Gusenberg. Despite fourteen bullet wounds, he was still conscious, but died three hours later, refusing to utter a word about the identities of the killers. The Valentine's Massacre set off a public outcry that posed a problem for all mob bosses.
Added by: sdonley on 02/20/2016 DB#:280
Source(s):
https://en.wikipedia.org/wiki/Saint_Valentine%27s_...

---
Stories
Stories are just that. Stories and personal accounts that have been reported about the location.
---
No Stories Yet!
Paranormal Claims
Here are the paranormal claims for this location. These have been found through Internet research, reports from members, or reports from personal interviews. To add a claim, please contact PANICd.com, and we will review and add your information.
---
| | | | |
| --- | --- | --- | --- |
| Claim # | Added | Added By | Claim |
| 2319 | 02/20/2016 | sdonley | Sounds of screams and machine guns have been heard as people walk down the street past the location. |
| 2320 | 02/20/2016 | sdonley | People have reported the indescribable feeling of fear while in the area. |
| 2321 | 02/20/2016 | sdonley | Animals will not enter the area and will sometimes either bark or howl and some have even whined in fear. |
Paranormal Evidence
Paranormal evidence is based on claims that have been reported for this location. There can be several types of evidence; however, we have grouped them based on media type for better organization. Here you will find evidence that are logs, audio, video, or photographic.
To add evidence for a claim, you must submit it to PANICd.com for approval to be entered into the database.
---
No Evidence Reported Yet!
Additional Resources
This is a collection of Internet resources for this location. This section will house links to other websites that contain information related to history, claims, investigations, or even the location's website.
---
Layout of inside of building
Added: 02/21/2016 By: sdonley
A diagram showing the inside of the building the day of the massacre.
A Valentine for Bugs -- Aftermath of the Massacre
Added: 02/21/2016 By: sdonley
A VALENTINE FOR BUGS The Aftermath of the St. Valentine's Day Massacre On this date in 1929, the infamous St. Valentine's Day Massacre took place at the S-M-C Cartage Company building at 2122 North Clark Street in Chicago.
St. Valentine's Day Massacre site
Added: 02/21/2016 By: sdonley
On Clark Street near Dickens, there's a rather inconspicuous landscaped nursing home parking lot where the SMC Cartage Company once stood. There's no marker, but it's the site of the infamous St. Valentine's Day Massacre, when seven men were killed on the orders of Al Capone on February 14, 1929.
For the Complete Story of the St. Valentine's Day Massacre, the Beer Wars in Chicago & Al Capone, see Troy Taylor's
Added: 02/21/2016 By: sdonley
Through a contact in Detroit, Capone arranged for someone to call Moran and tell him that a special shipment of hijacked whiskey was going to be delivered to one of Moran's garages on the north side.
St. Valentine's Day Massacre — History.com Articles, Video, Pictures and Facts
Added: 02/21/2016 By: sdonley
From 1924 to 1930, the city of Chicago gained a widespread reputation for lawlessness and violence. Not coincidentally, this phenomenon coincided with the reign of chief crime lord Al "Scarface" Capone, who took over from his boss Johnny Torrio in 1925.
The St. Valentine's Day Massacre Wall bricks
Added: 02/21/2016 By: sdonley
Please be aware that there are some sellers who manipulate texts on their auctions to make it sound as if their bricks are bonafide Patey massacre wall bricks (Ebay and other places) They even go as far as linking their dubious auctions to my site without my consent or permission.
The St. Valentines Day Massacre
Added: 02/21/2016 By: sdonley
"This feature-length film is a riveting chronicle of the bloodiest day in the history of organized crime in America, and the end of Capone's stranglehold on ...
St Valentine's Day Site 1976
Added: 02/21/2016 By: sdonley
A home video shot on a Super 8mm in 1976 at the site of the St. Valentine's Day Massacre site. Notice the simple chain fence around the property back then as...
St. Valentine's Day Massacre
Added: 02/21/2016 By: sdonley
Posing as police officers conducting a routine raid on February 14, 1929, four men entered a warehouse at 2122 N. Clark Street, used by George "Bugs" Moran and his gang to store liquor.
St. Valentine's Day Massacre with Pictures - 1929 - Al Capone True Crime Story
Added: 02/21/2016 By: sdonley
One February evening in North Chicago, seven well-dressed men were found riddled with bullets inside the S.M.C Cartage Co. garage. They had been lined up against a wall, with their backs to their executioners and shot to death. With the exception of Dr. Reinhardt H.