Riviera Hotel and Casino Las Vegas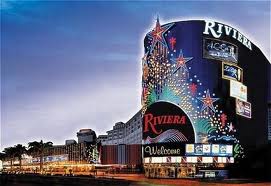 Photo by:
http://www.travelchannel....
Location submitted by:
sdonley
on 05/12/2012
DBA Approved: Y
Larger Map
PANICd#: 1089
Hotel and Casino in Las Vegas, NV
2901 Las Vegas Blvd., South
Las Vegas , NV 89109
Phone: 855-468-6748
Open to the public: Yes
Lat: 36.135258
Lon: -115.159705
Database Summary:
Demographic Rank: 6
History: 1
Stories: 1
Claims: 2
Evidence: 0
Resources: 0
Retrievals: 1970
Vistor Rating: 0.0
Votes: 0
History
History information is some background and history about the location. This is meant to be a basic summary. Below the history records you will find sources in which you can click on to find out more information. There may be multiple history records per location.
---
The Riviera opened on April 20, 1955 as the first high-rise and the ninth resort on the Las Vegas Strip. The Riviera is one of the oldest and most famous casino resorts in Las Vegas. The Riviera also broke new ground in its design: previously, Strip resorts resembled roadside motor courts.
The opening of the Riviera, along with The Dunes and the Royal Nevada casino resorts within a month were the subject of a famous issue of Life Magazine, on June 20, 1955 with a Moulin Rouge showgirl on its cover. The headline was "Las Vegas-Is Boom Overextended?" and a story about how Las Vegas had built too many hotel rooms to be profitable.
The Riviera was built by a group of investors from Miami. The resort has gone through many ownership changes over the years, including a period of control by owners linked to the Mafia-Meyer Lansky for example- (as was the case for many Vegas resorts in the 1960s and 1970s). Harpo Marx and Gummo Marx held minority interests at the opening. The Marx brothers also owned slightly under ten percent of the Hotel. It is said that Gummo talked his brother into putting money into the Hotel, for it would be a great place for him to perform. Harpo was easily sold. Dean Martin once held a minority ownership stake while he was a headliner in the showroom. Gus Greenbaum was brought in to manage the Riviera in 1955. He had successfully managed the Flamingo Hotel after the death of Bugsy Siegel. However, Greenbaum's drug and gambling addictions led to his embezzling from the casino. In December 1958, Greenbaum and his wife were murdered in their Phoenix, Arizona home, reportedly on the orders of either Meyer Lansky or Tony Accardo.
Meshulam Riklis bought the Riviera in 1973 for $56 million. The hotel/casino filed bankruptcy in 1984 and then again in 1991, at which time Riklis lost ownership. Ownership was then acquired by Riviera Holdings Corp.
Added by: lmizenko on 01/26/2015 DB#:193
Source(s):
http://en.wikipedia.org/wiki/Riviera_(hotel_and_ca...

---
Stories
Stories are just that. Stories and personal accounts that have been reported about the location.
---
One of the oldest still-standing casinos on the Las Vegas Strip, the Riviera Hotel & Casino is notorious for its connection to the Mafia -- it's believed to have been the site of numerous mob-related murders. Today, hotel workers routinely hear voices in the stairwells and feel the presence of the no-longer-living when cleaning the top-floor suites.
Added by: lmizenko on 01/26/2015 DB#:1148
Source(s):
http://www.travelchannel.com/interests/haunted/art...

---
Paranormal Claims
Here are the paranormal claims for this location. These have been found through Internet research, reports from members, or reports from personal interviews. To add a claim, please contact PANICd.com, and we will review and add your information.
---
| | | | |
| --- | --- | --- | --- |
| Claim # | Added | Added By | Claim |
| 1866 | 01/26/2015 | lmizenko | On the ninth floor, voices are heard |
| 1867 | 01/26/2015 | lmizenko | Evps in "Frank Sinatra" room |
Paranormal Evidence
Paranormal evidence is based on claims that have been reported for this location. There can be several types of evidence; however, we have grouped them based on media type for better organization. Here you will find evidence that are logs, audio, video, or photographic.
To add evidence for a claim, you must submit it to PANICd.com for approval to be entered into the database.
---
No Evidence Reported Yet!
Additional Resources
This is a collection of Internet resources for this location. This section will house links to other websites that contain information related to history, claims, investigations, or even the location's website.
---
No Reources Yet!