Petersen House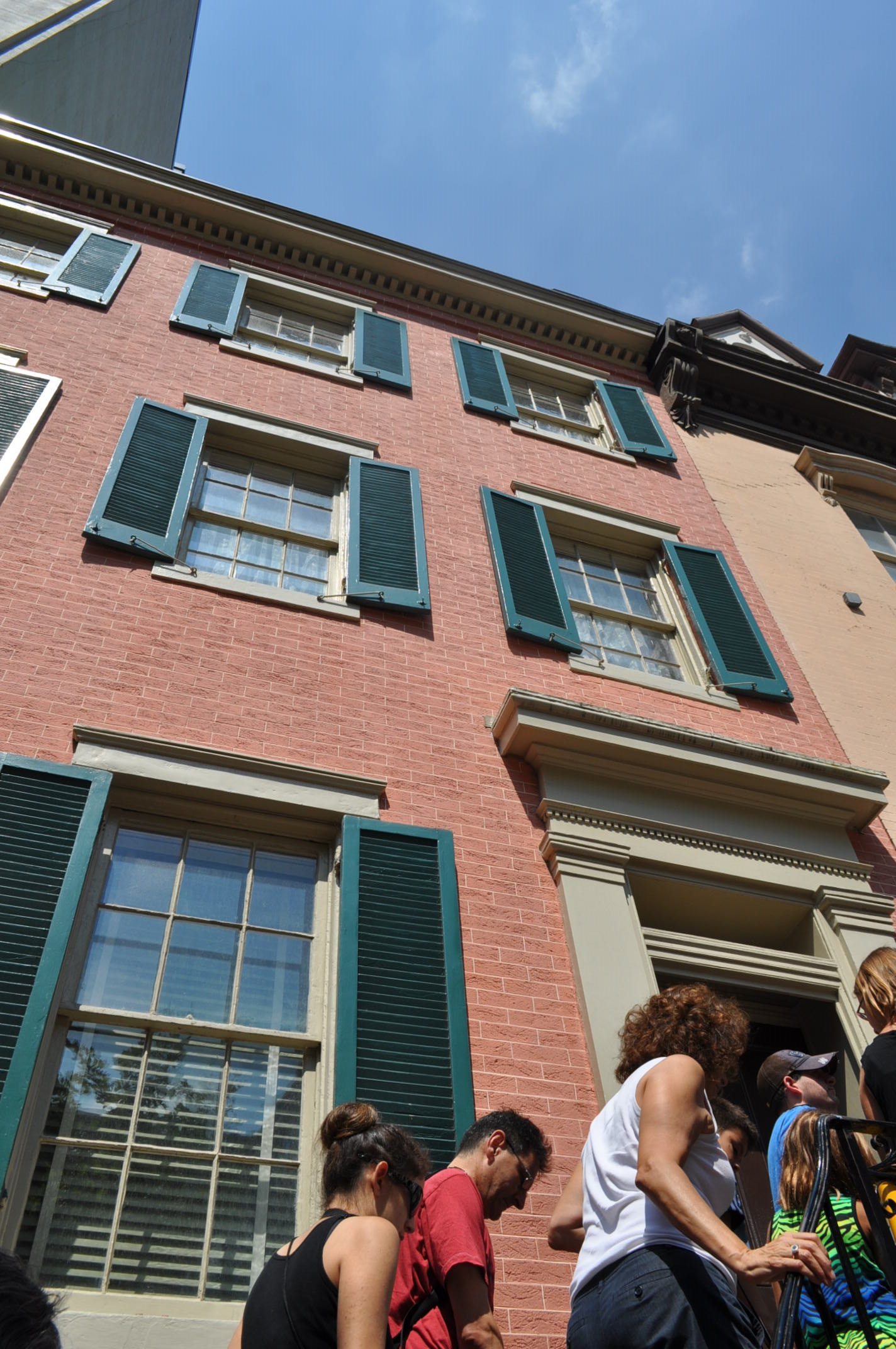 Photo by:
Marianne Donley
Location submitted by:
sdonley
on 08/03/2017
DBA Approved: Y
Larger Map
PANICd#: 1910

The Peterson House is located across the street from Ford's Theater and is the house in which President Abraham Lincoln died after being shot in the Ford's Theater.
516 10th St NW
Washington , DC 20004
Phone: (202) 347-4833
Open to the public: Yes
https://www.nps.gov/foth/the-peters...
Lat: 38.8967669
Lon: -77.02629389999998
Database Summary:
Demographic Rank: 6
History: 1
Stories: 2
Claims: 1
Evidence: 0
Resources: 3
Retrievals: 10747
Vistor Rating: 0.0
Votes: 0
History
History information is some background and history about the location. This is meant to be a basic summary. Below the history records you will find sources in which you can click on to find out more information. There may be multiple history records per location.
---
The Petersens and their Home, 1849-1865
Before the Lincoln assassination, the Petersen House was just a house-another place for boarders to stay while living in Washington City. But after President Abraham Lincoln died in one of its rooms, the building became a destination for tourists, securing its place in history. For years, it functioned as a Lincoln museum. Then demand came to restore the interior to its 1865-era appearance. Although the building is remembered as the place where Lincoln died, it now helps to keep Lincoln's legacy alive.
William Petersen, a German tailor, purchased the lot in 1849 and built a four-story house. He lived here with his family but rented extra rooms to lodgers. During the Civil War, up to 21 people at once lived in its rooms.
Born in Germany in 1816, William Petersen immigrated to the United States with his wife, Anna, on June 23, 1841. A tailor by trade, he earned a substantial fortune during the Civil War by making high-quality uniforms for officers. He and his wife remained in the house until their deaths in 1871.
Born in Germany in 1819, Anna Kloman Petersen immigrated to the United States alongside her husband when she was 23. She and William had 10 children together, five of whom survived to adulthood. She was away at the time of the assassination but returned the next morning to find that the President had died in her home. She and William died within months of each other.
On April 14, 1865, after John Wilkes Booth shot President Lincoln, Lincoln was carried out of the theatre and into a boarding house across the street. The celebratory night quickly turned into an overnight vigil as people gathered outside the house. The doctor at Lincoln's bedside updated the crowd each hour on the president's condition. His final update came at 7:22 a.m. on April 15, 1865: the president had died.
During the president's final hours, he was surrounded by his wife, Mary, and various U.S. government officials. Secretary of War Edwin Stanton turned one of the rooms into an interrogation area, interviewing witnesses about what happened inside the theatre.
Added by: sdonley on 01/26/2018 DB#:381
Source(s):
https://www.fords.org/visit/historic-site/petersen...

---
Stories
Stories are just that. Stories and personal accounts that have been reported about the location.
---
Some state Lincoln haunts Ford's Theatre but his apparition is seen more often at the Petersen House across the street where he died. His ghost is also seen at the White House.
Added by: sdonley on 01/26/2018 DB#:1379
Source(s):
https://seeksghosts.blogspot.com/2013/04/haunted-f...

---
Witnesses have reported hearing gunshots, screams, and footsteps in the theater, and sightings of Lincoln's ghostly apparition are said to happen fairly regularly at the Petersen House which lies across the street. Though shot at Ford's Theater, Lincoln actually died at the Petersen House.
Added by: sdonley on 01/26/2018 DB#:1380
Source(s):
http://realparanormalexperiences.com/ghost-sightin...

---
Paranormal Claims
Here are the paranormal claims for this location. These have been found through Internet research, reports from members, or reports from personal interviews. To add a claim, please contact PANICd.com, and we will review and add your information.
---
| | | | |
| --- | --- | --- | --- |
| Claim # | Added | Added By | Claim |
| 2724 | 01/26/2018 | sdonley | The apparition of Abraham Lincoln has been reported at this location. |
Paranormal Evidence
Paranormal evidence is based on claims that have been reported for this location. There can be several types of evidence; however, we have grouped them based on media type for better organization. Here you will find evidence that are logs, audio, video, or photographic.
To add evidence for a claim, you must submit it to PANICd.com for approval to be entered into the database.
---
No Evidence Reported Yet!
Additional Resources
This is a collection of Internet resources for this location. This section will house links to other websites that contain information related to history, claims, investigations, or even the location's website.
---
Wikipedia Entry
Added: 01/26/2018 By: sdonley
Wikipedia entry for this location.
The Petersen House - House Where Lincoln Died - 227 Photos & 50 Reviews - Museums - 516 10th St NW, Washington, DC - Phone Number - Yelp
Added: 01/26/2018 By: sdonley
50 reviews of The Petersen House - House Where Lincoln Died "Another interesting historic place. The Petersen house is the house President Lincoln was taken to after being shot across the street at the Ford's Theatre on April 14, 1865. Lincoln…
Recently opened Petersen House where Lincoln died - Review of Ford's Theatre, Washington DC, DC - TripAdvisor
Added: 01/26/2018 By: sdonley
Ford's Theatre: Recently opened Petersen House where Lincoln died - See 3,585 traveler reviews, 1,408 candid photos, and great deals for Washington DC, DC, at TripAdvisor.