Mutter Museum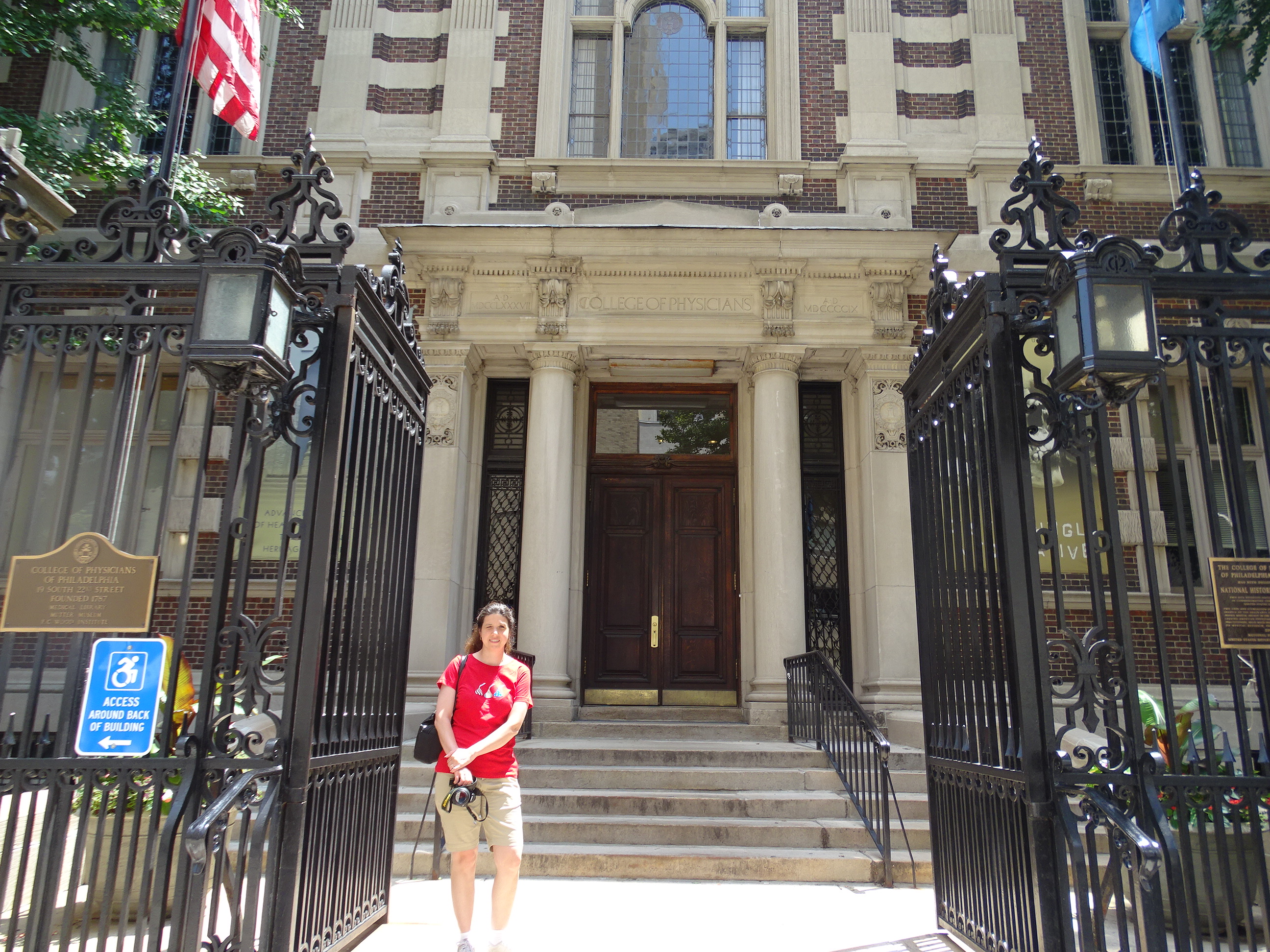 Photo by:
Shawn Donley
Location submitted by:
sdonley
on 08/03/2017
DBA Approved: Y
Larger Map
PANICd#: 1905

The Mutter Museum of The College of Physicians of Philadelphia began as a donation from American surgeon Thomas Dent Mutter, MD (1811-1859), who was determined to improve and reform medical education.
19 S 22nd St
Philadelphia , PA 19103
Phone: (215) 560-8564
Open to the public: Yes
Lat: 39.9532427
Lon: -75.1763712
Database Summary:
Demographic Rank: 6
History: 1
Stories: 2
Claims: 2
Evidence: 0
Resources: 4
Retrievals: 9114
Vistor Rating: 3.0
Votes: 1
History
History information is some background and history about the location. This is meant to be a basic summary. Below the history records you will find sources in which you can click on to find out more information. There may be multiple history records per location.
---
The Mutter Museum of The College of Physicians of Philadelphia began as a donation from American surgeon Thomas Dent Mutter, MD (1811-1859), who was determined to improve and reform medical education. Dr. Mutter stipulated that by accepting his donation of 1,700 objects and $30,000, the College must hire a curator, maintain and expand the collection, fund annual lectures, and erect a fireproof building to house the collection.
The first building to house the Museum was completed in 1863 and was located on Locust and 13th Streets. When The College of Physicians built its current home at 19 South 22nd Street in 1909, the Museum relocated with its original cases.
Since Dr. Mutter's donation, the Museum collection has grown to include more than 25,000 objects. A notable recent acquisitions have included sections of Albert Einstein;s brain.
The College has held true to its promise to Dr. Mutter since he donated his collection in 1858. Today the Museum enjoys steadily rising international popularity and has been featured in a film by the Quay Brothers, a documentary on the Discovery Channel, and two best-selling books.
Added by: sdonley on 01/08/2018 DB#:348
Source(s):
http://muttermuseum.org/about/history/

---
Stories
Stories are just that. Stories and personal accounts that have been reported about the location.
---
From a comment on our video on YouTube:
A friend and I were touring the museum and we were at the top of the main stairs. I was standing in front of the display at the top of the stairs and the door below display slowly creaked open in front of us. It was very slow and very deliberate. I closed the door and then we started to debunk the event. We tried to shift the floor around with our feet to see if it would fall open. We also opened and closed the door several times to see how easily it would open. It was not what I would call a a loose door. In the end we were unable to debunk why it came open in front of us. We were unable to get it to open by itself again.
Added by: sdonley on 07/23/2022 DB#:1564
Source(s):
YouTube video comment submitted to us.

---
According to the site VisitPhilly.com, this macabre museum has a rich history steeped in learning, "Philadelphia physician Thomas Mutter donated $30,000 and his 1,700-item personal museum of bones, plaster casts, medical illustrations and other pathological artifacts to the College of Physicians of Philadelphia. The College has continued to add to the collection since it opened as a museum in 1863. The Mutter collection moved into its current building, which boasts grand marble and oak halls, in 1908."
No doubt a dark and creepy place that invites visitors to be "disturbingly informed," some of the cool things you can check out include: The Hyrtal Skull Collection; The Soap Lady; original Siamese Twins, Chang & Eng; Civil War amputation kits; a giant colon; stillborn fetuses; and, well...lots and lots of skeletons.
Claims
The most common claims at this Museum of Scientific Oddities revolve around feelings of unease and dizziness but that could be most likely due to the contents of the museum. According to The Travel Channel, the museum ranks #7 on the list of creepiest places on Earth.
Added by: sdonley on 01/08/2018 DB#:1333
Source(s):
http://www.paranormalpopculture.com/2014/06/haunte...

---
Paranormal Claims
Here are the paranormal claims for this location. These have been found through Internet research, reports from members, or reports from personal interviews. To add a claim, please contact PANICd.com, and we will review and add your information.
---
| | | | |
| --- | --- | --- | --- |
| Claim # | Added | Added By | Claim |
| 2625 | 01/08/2018 | sdonley | People have reported feelings of unease and dizziness. |
| 3261 | 07/23/2022 | sdonley | Display cases have opened on their own. |
Paranormal Evidence
Paranormal evidence is based on claims that have been reported for this location. There can be several types of evidence; however, we have grouped them based on media type for better organization. Here you will find evidence that are logs, audio, video, or photographic.
To add evidence for a claim, you must submit it to PANICd.com for approval to be entered into the database.
---
No Evidence Reported Yet!
Additional Resources
This is a collection of Internet resources for this location. This section will house links to other websites that contain information related to history, claims, investigations, or even the location's website.
---