Jagger House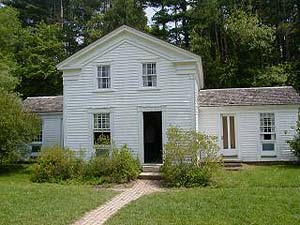 Photo by:
http://westernreservepubl...
Location submitted by:
sdonley
on 08/03/2017
DBA Approved: Y
Larger Map
PANICd#: 1947

Built in 1845 by Clement Jagger, a prosperous carriage-maker in Bath, Ohio.
2686 Oak Hill Rd
Bath , OH 44210
Phone: (330) 666-3711
Open to the public: Yes
http://westernreservepublicmedia.or...
Lat: 41.194003
Lon: -81.5895151
Database Summary:
Demographic Rank: 6
History: 1
Stories: 1
Claims: 2
Evidence: 0
Resources: 0
Retrievals: 6547
Vistor Rating: 0.0
Votes: 0
History
History information is some background and history about the location. This is meant to be a basic summary. Below the history records you will find sources in which you can click on to find out more information. There may be multiple history records per location.
---
Built in 1845 by Clement Jagger, a prosperous carriage-maker in Bath, Ohio, this Greek Revival-style home was relocated a short distance to Hale Farm in 1962. Today it is interpreted as the "Wheatfield Township" home and office of "Dr. William Tibbals" and his family.
Added by: sdonley on 08/05/2017 DB#:321
Source(s):
http://westernreservepublicmedia.org/halefarm/jagg...

---
Stories
Stories are just that. Stories and personal accounts that have been reported about the location.
---
The most frightening house at Hale by far is the Jagger house. This house itself hates. . . I hated to work in that house, even during the day. And whoever worked in there would just become hateful the entire day. If you stayed in the house for just a few minutes you just hated everything and everyone. People that worked that house together would be arguing constantly.
Added by: sdonley on 08/05/2017 DB#:1278
Source(s):
https://www.ohioexploration.com/paranormal/stories...

---
Paranormal Claims
Here are the paranormal claims for this location. These have been found through Internet research, reports from members, or reports from personal interviews. To add a claim, please contact PANICd.com, and we will review and add your information.
---
| | | | |
| --- | --- | --- | --- |
| Claim # | Added | Added By | Claim |
| 2504 | 08/05/2017 | sdonley | People have reported feeling oppressed in house. |
| 2505 | 08/05/2017 | sdonley | Moods would change for those who spent a long period of time in the house. |
Paranormal Evidence
Paranormal evidence is based on claims that have been reported for this location. There can be several types of evidence; however, we have grouped them based on media type for better organization. Here you will find evidence that are logs, audio, video, or photographic.
To add evidence for a claim, you must submit it to PANICd.com for approval to be entered into the database.
---
No Evidence Reported Yet!
Additional Resources
This is a collection of Internet resources for this location. This section will house links to other websites that contain information related to history, claims, investigations, or even the location's website.
---
No Reources Yet!