Harriet Taylor Upton House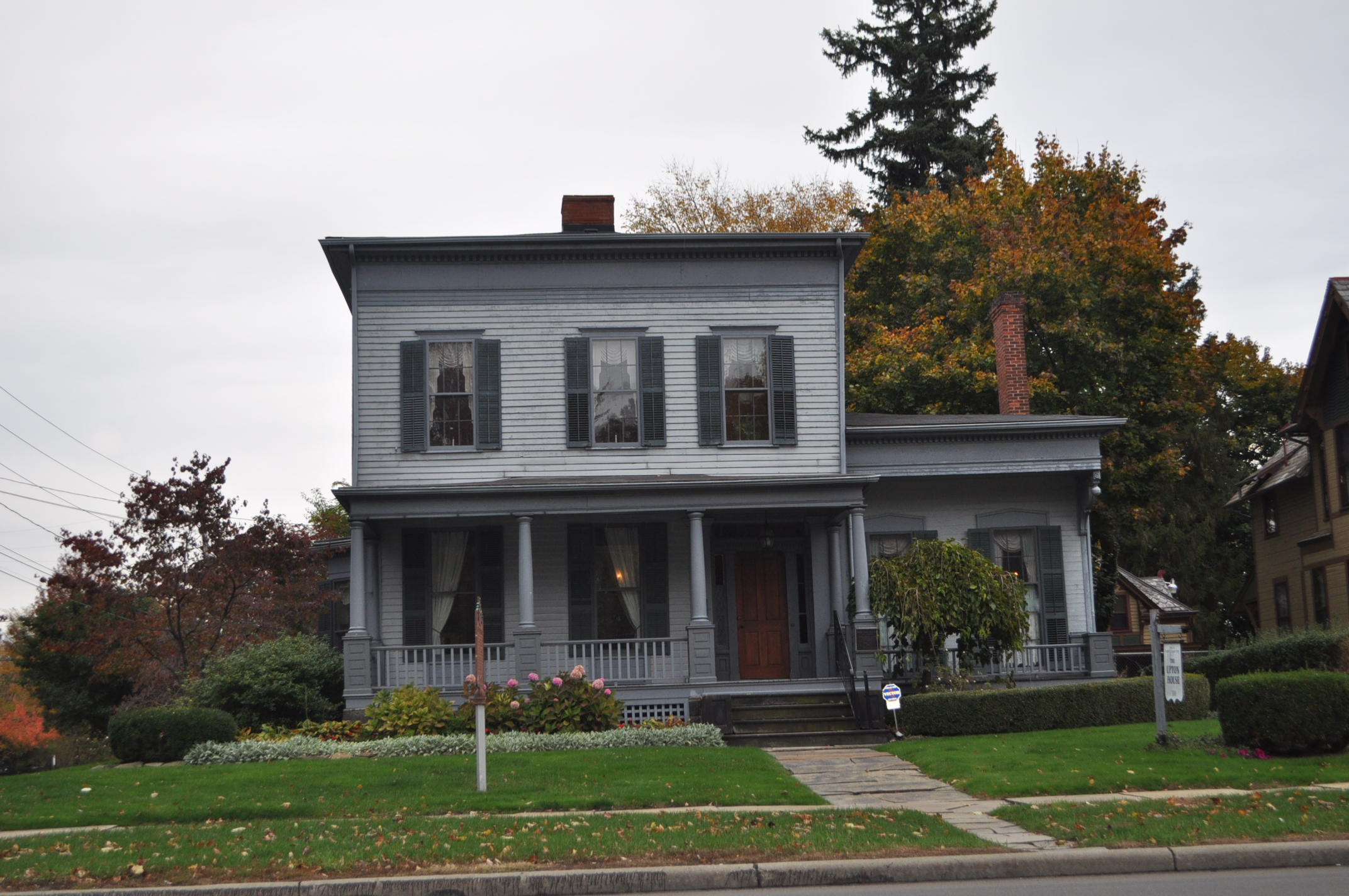 Photo by:
Marianne Donley
Location submitted by:
sdonley
on 08/03/2017
DBA Approved: Y
Larger Map
PANICd#: 1911

The Upton House, built by General Simon Perkins is the third oldest surviving house on Mahoning Avenue in Warren, Ohio.
380 Mahoning Ave
Warren , OH 44483
Phone: (330) 395-1840
Open to the public: Yes
Lat: 41.239640
Lon: -80.822130
Database Summary:
Demographic Rank: 6
History: 1
Stories: 2
Claims: 1
Evidence: 0
Resources: 19
Retrievals: 7049
Vistor Rating: 0.0
Votes: 0
History
History information is some background and history about the location. This is meant to be a basic summary. Below the history records you will find sources in which you can click on to find out more information. There may be multiple history records per location.
---
The Upton House, built by General Simon Perkins is the third oldest surviving house on Mahoning Avenue in Warren, Ohio. Tax records indicate the house was completed in 1840 in the popular Egyptian Revival style. His son, Henry Perkins, sold the house to Ezra B. Taylor 32 years later, and the Taylor family took possession in 1873.
In 1887, Congressman Taylor deeded the house to Harriet "for love and affection." It remained her home for nearly 60 years, until 1931 when, at the age of 76, she lost it in a sheriff's sale.
The Upton House became the temporary center of the National American Woman Suffrage Association in 1903, when the organization moved to Warren, Ohio by Mrs. Upton's request. In 1905 the headquarters relocated in the west wing of the new Trumbull County Courthouse and remained there until late 1909 when it was moved to New York City. Under Harriet's direction, and with the help of Elizabeth Hauser of Girard, Ohio the NWSA grew from a crusade to a strong, well integrated organization under which victory was achieved in 1920. Many celebrities visited the Upton House during this period.
In 1989, a local effort was begun to save the Upton House from possible demolition because of its prominence with the national suffrage movement. After extensive restoration, the Upton House achieved National Historic Landmark status in 1993. The restoration of the house and gardens continues today.
Added by: sdonley on 08/01/2019 DB#:481
Source(s):
http://www.uptonhouse.org/

---
Stories
Stories are just that. Stories and personal accounts that have been reported about the location.
---
We rented this location on several occasions to have our simulated Victorian wake events. This location was perfect for this event and we love the building very much. After one of the times we rented the facility and the event was over. We cleaned up and still had a few hours left before we needed to turn in the keys, so the team decided to do a little investigating in the building. During that few hour investigation, we recorded many EVPs throughout various locations within the building. Please check back later as we will be adding them in the evidence section.
Added by: sdonley on 08/01/2019 DB#:1471
Source(s):
S. Donley

---
In 1993, the Upton House achieved National Historic Landmark status after being saved from demolition and is now the home of the Upton Association. This association petitioned to have Harriet's ashes brought home from California and on October 8, 2011, an interment ceremony was held in the backyard of the Upton House. Harriet's ashes were buried in her garden and original grave marker placed there.
Added by: sdonley on 08/01/2019 DB#:1472
Source(s):
https://www.findagrave.com/memorial/107020067/harr...

---
Paranormal Claims
Here are the paranormal claims for this location. These have been found through Internet research, reports from members, or reports from personal interviews. To add a claim, please contact PANICd.com, and we will review and add your information.
---
| | | | |
| --- | --- | --- | --- |
| Claim # | Added | Added By | Claim |
| 2995 | 08/01/2019 | sdonley | Investigators have recorded EVPs throughout the house at various locations. |
Paranormal Evidence
Paranormal evidence is based on claims that have been reported for this location. There can be several types of evidence; however, we have grouped them based on media type for better organization. Here you will find evidence that are logs, audio, video, or photographic.
To add evidence for a claim, you must submit it to PANICd.com for approval to be entered into the database.
---
No Evidence Reported Yet!
Additional Resources
This is a collection of Internet resources for this location. This section will house links to other websites that contain information related to history, claims, investigations, or even the location's website.
---
Harriet Taylor Upton - Wikipedia
Added: 08/01/2019 By: sdonley
Information about the location, see link for details.
Harriet Taylor Upton (1854-1945) - Find A Grave Memorial
Added: 08/01/2019 By: sdonley
Women's Rights Activist, Political Figure, Author. The daughter of Judge Ezra Taylor and Harriet (Frazer) Taylor, Harriet graduated from Warren High School in 1873. When her father was appointed to Congress in 1880, she traveled with him to Washington, D.C., and immediately became a society favorite. While there, she...
Harriet T. Upton - Ohio History Central
Added: 08/01/2019 By: sdonley
Information about the location, see link for details.
The Harriet Taylor Upton House (circa 1840)
Added: 08/01/2019 By: sdonley
Information about the location, see link for details.
Facebook Page
Added: 08/01/2019 By: sdonley
Facebook Page for this location.
Harriet Taylor Upton House - Google Arts & Culture
Added: 08/01/2019 By: sdonley
The Harriet Taylor Upton House is a historic house museum at 380 Mahoning Avenue NW in Warren, Ohio.
The Harriet Taylor Upton House - Ohio. Find It Here.
Added: 08/01/2019 By: sdonley
Information about the location, see link for details.
Upton House showcases legacy of Harriet Taylor Upton | vindy.com
Added: 08/01/2019 By: sdonley
Youngstown, Ohio | breaking news, local news, sports, classifieds, jobs, real estate, cars, Warren, Austintown, Boardman, Canfield, Poland.
Trumbull County / 15-78 Harriet Taylor Upton | Remarkable Ohio
Added: 08/01/2019 By: sdonley
Trumbull County / 15-78 Harriet Taylor Upton
Harriet Taylor Upton House, Warren | Roadtrippers
Added: 08/01/2019 By: sdonley
Harriet Taylor Upton House is a Building in Warren. Plan your road trip to Harriet Taylor Upton House in OH with Roadtrippers.
Trip Advisor
Added: 08/01/2019 By: sdonley
Information about the location, see link for details.
TheClio.com
Added: 08/01/2019 By: sdonley
Information about the location, see link for details.
Wikipedia Entry
Added: 08/01/2019 By: sdonley
Wikipedia entry for this location.
Lesser-known women's suffragist pitched ideas to presidents in Warren home
Added: 08/09/2019 By: mdonley
Toward the end of the late 1800s, the women's suffrage movement was catching steam with well-known figures like Susan B. Anthony leading the charge. One of those suffragists who played a major role in the movement was actually from Warren.
Trumbull County, Ohio : Online Auditor : Property Data
Added: 08/09/2019 By: mdonley
Help Save This Property As: Save Property
National Register of Historical Places - OHIO (OH), Trumbull County
Added: 08/09/2019 By: mdonley
NPGallery Asset Detail
Added: 08/09/2019 By: mdonley
Title: Upton, Harriet Taylor, House National Register Information System ID: 92001884 Applicable Criteria: PERSON Architectural Styles: GREEK REVIVAL Architects: Perkins,Simon Areas Of Significance: POLITICS/GOVERNMENT SOCIAL HISTORY Periods Of Significance: 1875-1899 1900-1924 1925-1949 Sign
National Register of Historic Places Application
Added: 08/09/2019 By: sdonley
Detailed PDF for this location.
Upton Association Newsletter
Added: 08/09/2019 By: sdonley
Newsletter details on how the group obtained a railing for the front of the building. (PDF)