Ford's Theater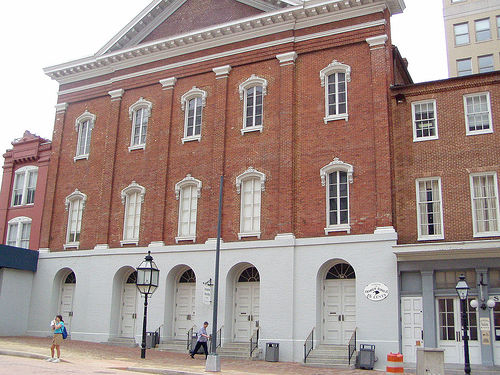 Photo by:
Marianne Donley
Location submitted by:
sdonley
on 06/10/2012
DBA Approved: Y
Larger Map
PANICd#: 1111

In 1861 theatre manager John T. Ford leased out the abandoned First Baptist Church on Tenth Street to create Ford's Theatre.
511 Tenth St, NW
Washington , DC 20004
Phone: (202) 347-4833
Open to the public: Yes
Lat: 38.8965443
Lon: -77.0258392
Database Summary:
Demographic Rank: 6
History: 3
Stories: 3
Claims: 6
Evidence: 0
Resources: 7
Retrievals: 18133
Vistor Rating: 4.0
Votes: 3
History
History information is some background and history about the location. This is meant to be a basic summary. Below the history records you will find sources in which you can click on to find out more information. There may be multiple history records per location.
---
Added by: sdonley on 07/24/2019 DB#:407
Source(s):
https://www.youtube.com/watch?v=_ZSfsrNahsc

---
Added by: sdonley on 06/10/2012 DB#:134
Source(s):
http://youtu.be/hbPtL2Vg9uE

---
Ford's Theatre celebrates the legacy of President Abraham Lincoln and explores the American experience through theatre and education. A working theatre, historical monument, world-class museum and learning center, Ford's Theatre is the premier destination in Washington, D.C., to explore and celebrate Lincoln's ideals and leadership principles: courage, integrity, tolerance, equality and creative expression.

Ford's Theatre History
In 1861 theatre manager John T. Ford leased out the abandoned First Baptist Church on Tenth Street to create Ford's Theatre. Over the next few years, the venue became a popular stage for theatrical and musical productions. On April 14, 1865, Abraham Lincoln visited Ford's for his twelfth time for a performance of Our American Cousin. At this performance, Lincoln was shot by John Wilkes Booth; he died the next morning in the Petersen House, a boarding house located across the street. Ford's Theatre remained closed for more than 100 years.
Ford's Theatre officially reopened in 1968 as a national historic site and working theatre. It is operated through a public-private partnership between Ford's Theatre Society and the National Park Service.
Ford's Theatre Today
Through its inspiring theatrical productions, live historic interpretation and engaging education programs, Ford's Theatre offers visitors the opportunity to immerse themselves in America's past while revealing meaningful connections to today.
Over the last several years, Ford's has been engaged in a dramatic expansion and renovation. In 2009, Ford's reopened a restored and renovated theatre along with a re-imagined museum, illuminating the world of Civil War Washington and the years of Lincoln's presidency. In 2012, Ford's opened the new Center for Education and Leadership, expanding the pathways for connecting with Lincoln's legacy.
As a working theatre, Ford's produces renowned plays, vibrant musicals and newly commissioned works that captivate and entertain while examining political and social issues related to Lincoln's legacy. With works from the nationally acclaimed Big River to the world premieres of Meet John Doe, The Heavens Are Hung In Black, Liberty Smith and Necessary Sacrifices, Ford's Theatre is making its mark on the American theatre landscape.
With the opening of the new Center for Education and Leadership, Ford's Theatre has become a major center for learning, where people of all ages can examine Lincoln's multi-faceted Legacy through exhibits, workshops, seminars and speakers as well as community outreach programs.
The new Ford's Theatre experience will inspire audiences from around the world to become compassionate leaders in their own communities, empowering them to live out Lincoln's principles in their own lives.
Added by: sdonley on 06/10/2012 DB#:135
Source(s):
http://www.fordstheatre.org/home/about-fords

---
Stories
Stories are just that. Stories and personal accounts that have been reported about the location.
---
Added by: sdonley on 07/24/2019 DB#:1411
Source(s):
https://www.youtube.com/watch?v=0Gs4FXBnE-0

---
Not far from the Mall where the Smithsonian Museums are located is the Ford Theatre. We planned on touring the Ford Theatre after spending most of the day in the museums seeing all the historical exhibits and paintings. You walk through the main doors and are ushered into the theatre area where you are asked to be seated. After all the tourists are seated, a man came onto the stage and gave us a brief history of the theatre.

The building was built in 1833 and was originally a house of worship. In 1861, John T. Ford bought the place and had it renovated into a theater which was originally called Ford's Athenaeum. Then in 1862 a fire destroyed the place, it was rebuilt, and then opened a year later, and was called Ford's New Theatre. On April 14, 1865, just three days after General Lee surrendered at Appomattox Court House; President Lincoln was shot while enjoying a performance with his wife Mary Todd Lincoln. President Lincoln died some hours later, across the street in an apartment. John Wilkes Booth, a famous actor in the theatre, snuck up behind Lincoln and coldly put a bullet in the back of his head at point blank range. After stabbing Henry Rathbone, who was also in the box with the Lincolns along with his fiancee Clara Harris, he jumped onto the stage and shouted, "Sic semper tyrannis", but some thought he said "The South is avenged", and then escaped out the back door of the theatre. Lincoln's body was taken to the Petersen House, a boarding house across the street, and put on a bed that wasn't long enough for him. Clara Harris and Henry Rathbone escorted Mrs. Lincoln to the boarding house where Henry passed out from the blood loss of the stab wound. All through the night and early morning the physicians worked hard to save Lincoln but with no avail. At 7:22 am on April 15, 1865, Lincoln died at the age of 56 from external and internal hemorrhaging.
After the assassination, the government took over the theater and it saw many owners since then. After a lengthy restoration period, the Ford Theatre today is an active theater presenting various types of plays and musicals, and offering tours with a bit of history thrown in.

After the history lesson, we are then ushered into the basement where the historical artifacts are exhibited. On display are many items relating to the assassination, including the Derringer pistol used to kill Lincoln, Booth's diary, the original door to Lincoln's theatre box, his coat (minus the bloodstain pieces), the blood stained pillow from his deathbed, statues of Lincoln, and several portraits of President Lincoln. This was truly a fascinating place to visit, and at times you feel like someone unseen might be watching you.
Is the Ford Theatre haunted? Many say it is haunted not only by Lincoln's ghost, but Mary Todd Lincoln and John Wilkes Booth's ghosts as well. Many of the witnesses have seen and heard the entire tragic event played out even
to this day. The sounds of disembodied footsteps rushing the
balcony
box can be heard, and then followed by a loud gunshot and screams. Some have seen Mary Todd Lincoln's ghost shortly afterwards leaning over the railing, pointing towards the stage and yelling "He killed the president". Abraham Lincoln's apparition has been seen by some in various places of the theater especially in the booth where he was killed. Others have reported seeing the ghost of Booth and feeling that he is haunting one particular part of the stage. Some of the actors that have stood on the left center of the stage have reported a
cold spot, becoming nauseous, and having uncontrollable tremors causing them to shake and mess up their lines. Booth's ghost has been seen running across the stage on numerous occasions, perhaps the exact area that he ran to make his escape.
Added by: sdonley on 07/10/2012 DB#:1090
Source(s):
http://above-the-norm.blogspot.com/2009/05/ford-th...

---
Lincoln Assassination Rocking Chair
When President Abraham Lincoln relaxed in this upholstered rocking chair on April 14, 1865, his Washington theatre box seemed like a safe and comfortable place. To his right sat his wife Mary, leaning close and laughing at the actor onstage below. Just beyond her were their guests, Major Henry Rathbone and Clara Harris. At or before 10:30 p.m., the pleasant Good Friday evening turned into a nightmare when an assassin crept into the box and shot Lincoln in the head at close range.
The assassin, John Wilkes Booth, had a thorough knowledge of Ford's Theatre because of his acting career. Even when he wasn't performing he was in and out of the theatre, picking up mail and chatting with the Ford brothers and other actors. It was easy for him to slip into the unguarded presidential box and commit his shocking crime.
Added by: sdonley on 06/10/2012 DB#:1089
Source(s):
http://showcase.netins.net/web/creative/lincoln/ed...

---
Paranormal Claims
Here are the paranormal claims for this location. These have been found through Internet research, reports from members, or reports from personal interviews. To add a claim, please contact PANICd.com, and we will review and add your information.
---
| | | | |
| --- | --- | --- | --- |
| Claim # | Added | Added By | Claim |
| 1531 | 06/10/2012 | sdonley | Footsteps have been heard rushing toward the box where Lincold sat with his wife. |
| 1532 | 06/10/2012 | sdonley | Gunshots and screams have been heard around Lincoln's box. |
| 1533 | 06/10/2012 | sdonley | The apparition of Mary Todd Lincoln has been seen at the railing of the box and pointing at the stage. |
| 1534 | 06/10/2012 | sdonley | An icy presences has been reported on a specific part of the stage. |
| 1535 | 06/10/2012 | sdonley | The apparition of Booth has been seen hurrying across the stage. |
| 1536 | 06/10/2012 | sdonley | The appartion of President Lincoln has been reported in various parts of the theater. |
Paranormal Evidence
Paranormal evidence is based on claims that have been reported for this location. There can be several types of evidence; however, we have grouped them based on media type for better organization. Here you will find evidence that are logs, audio, video, or photographic.
To add evidence for a claim, you must submit it to PANICd.com for approval to be entered into the database.
---
No Evidence Reported Yet!
Additional Resources
This is a collection of Internet resources for this location. This section will house links to other websites that contain information related to history, claims, investigations, or even the location's website.
---
About.con Information
Added: 06/10/2012 By: sdonley
Paranormal information about this location on About.com.
Wikipedia
Added: 06/10/2012 By: sdonley
Wikipedia page about this location.
Ford's Theatre
Added: 06/11/2022 By: sdonley
Ford's Theatre in Washington, D.C. on 10th Street NW, is one of the oldest stage theatres in the country. And today, as well as being a museum it still hosts popular plays for those who appreciate the dramatic arts. However, the theatre has a dark cloud that still looms over the stage.
Ford's Theatre
Added: 06/11/2022 By: sdonley
Learn about Ford's Theatre in Washington DC with our complete guide featuring historical facts, interactive map, pictures, and things to do nearby.
Ford's Theatre (Washington DC) : All You Need to Know Before You Go (with Photos)
Added: 06/11/2022 By: sdonley
Yes. The ticket for Peterson house across the street is good anytime after your ticket 11:35 time. If there is a line you can go to other places and come back later. Ford theatre is air conditioned and I don't think the...
Abraham Lincoln's Legacy Lives
Added: 06/11/2022 By: sdonley
Explore Ford's Theatre NHS, discover Abraham Lincoln's life in Washington, D.C., the struggle for a united country, and the motivation behind Lincoln's assassination. The National Park Service and the Ford's Theatre Society present a variety of programs year round.
Ford's Theatre
Added: 06/11/2022 By: sdonley
All visitors must maintain appropriate face coverings in accordance with current CDC guidelines on site. The site of Lincoln's assassination, Ford's Theatre offers museum exhibits, live theatre and immersive learning.