Eisenhower North Washington Street Residence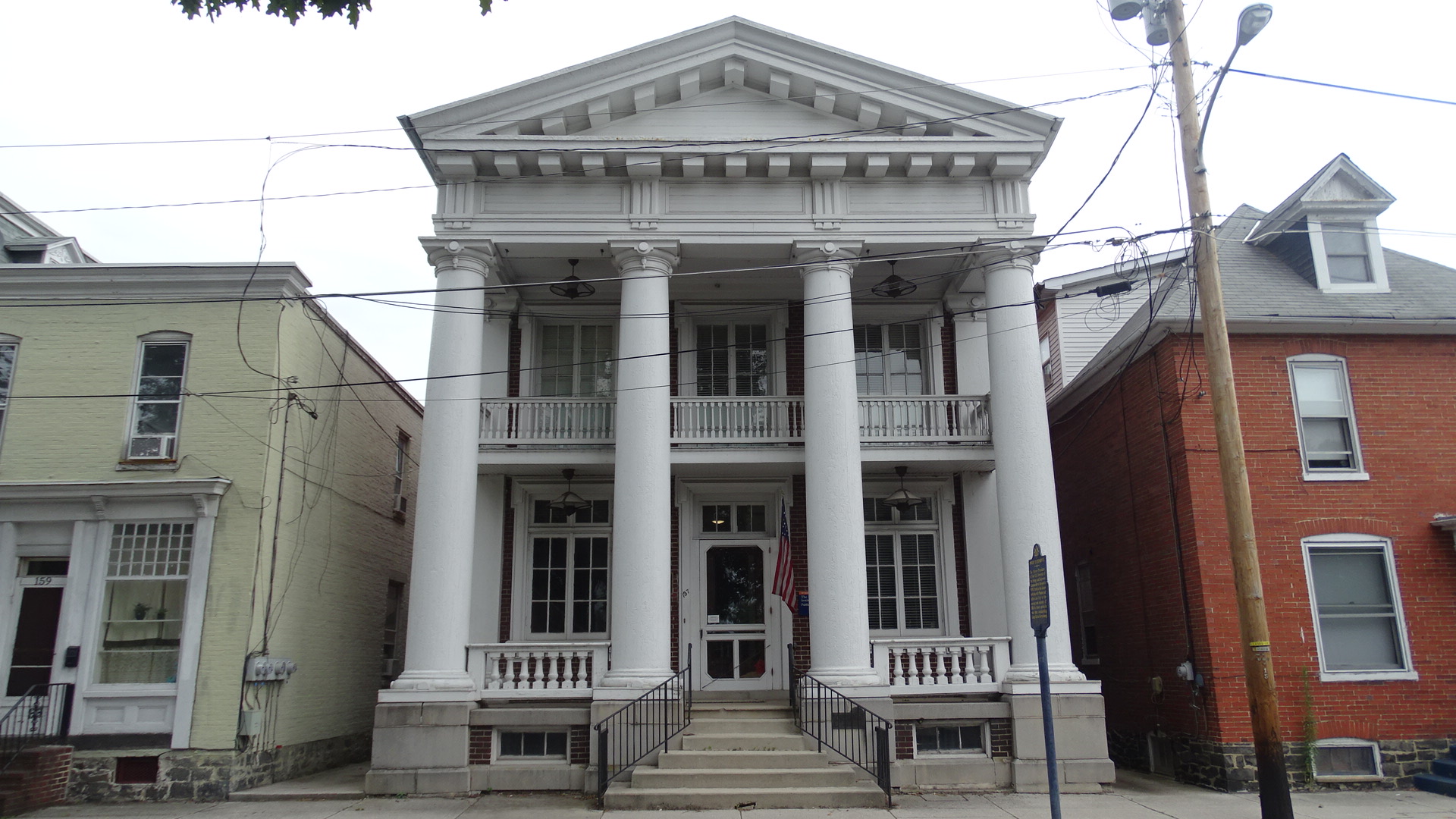 Photo by:
Marianne Donley
Location submitted by:
sdonley
on 06/11/2019
DBA Approved: Y
Larger Map
PANICd#: 2028

Originally the Alpha Tau Omega house on Gettysburg College Campus, the Eisenhower's rented and live in this building while Ike was stationed in Gettysburg in the summer of 1918.
157 N Washington St
Gettysburg , PA 17325
Open to the public: No
http://www.eisenhowerinstitute.org/
Lat: 39.833360
Lon: -77.233130
Database Summary:
Demographic Rank: 5
History: 1
Stories: 1
Claims: 0
Evidence: 0
Resources: 5
Retrievals: 9456
Vistor Rating: 1.0
Votes: 1
History
History information is some background and history about the location. This is meant to be a basic summary. Below the history records you will find sources in which you can click on to find out more information. There may be multiple history records per location.
---
Originally this building was built by the Alpha Tau Omega Fraternity in 1904. The entire structure burned to the ground on February 22, 1914, but was covered by insurance. Using the existing walls and on the same foundation, the current structure was built and dedicated on April 15, 1915.
The building was rented out to the Eisenhowers during the summer of 1918 while Eisenhower was commander of Camp Colt. A tank training camp based in Gettysburg.
The building now serves as the Eisenhower Institute Building.
It was not easy finding the history of this building, but I found a paper published by Brett Jackson in the Fall of 2006, that discusses the history of building. You can find that paper here.
Added by: sdonley on 02/04/2020 DB#:558
Source(s):
Brett Jackson Paper

---
Stories
Stories are just that. Stories and personal accounts that have been reported about the location.
---
We have not found any paranormal related stories about this location; however, if you do find some please let us know.
Added by: sdonley on 02/04/2020 DB#:1556
Source(s):
S. Donley

---
Paranormal Claims
Here are the paranormal claims for this location. These have been found through Internet research, reports from members, or reports from personal interviews. To add a claim, please contact PANICd.com, and we will review and add your information.
---
No Claims Yet!
Paranormal Evidence
Paranormal evidence is based on claims that have been reported for this location. There can be several types of evidence; however, we have grouped them based on media type for better organization. Here you will find evidence that are logs, audio, video, or photographic.
To add evidence for a claim, you must submit it to PANICd.com for approval to be entered into the database.
---
No Evidence Reported Yet!
Additional Resources
This is a collection of Internet resources for this location. This section will house links to other websites that contain information related to history, claims, investigations, or even the location's website.
---
Dwight D. Eisenhower
Added: 07/04/2022 By: sdonley
Inscription. Dwight D. Eisenhower. . The future President of the U.S., General of the Army, and Supreme Commander in Europe in world war two lived in this house with his wife Mamie and infant son Icky in the spring and summer of 1918. An Army captain, he was then commanding Camp Colt at Gettysburg.
Walk in General Eisenhower's Footsteps – 5 Spots to Visit in Gettysburg
Added: 07/04/2022 By: sdonley
General Dwight D. Eisenhower was a resident of Gettysburg not only during his later years, but also early in his military career as the commander of Camp Colt, a tank training camp on the fields of Pickett's Charge, during World War I.
Eisenhower Institute
Added: 07/04/2022 By: sdonley
Grounded in President Dwight D. Eisenhower's legacy of leadership, the Eisenhower Institute at Gettysburg College promotes nonpartisan discourse and critical analysis of issues of long-term importance through competitive fellowships, access to distinguished experts, and symposia.
Residences
Added: 07/04/2022 By: sdonley
Information from Eisenhower Presidential Library
Housing Details
Added: 07/04/2022 By: sdonley
The Eisenhower Institute residential program is a housing option located above the Eisenhower Institute (EI) at 157 N. Washington Street in a historic home once occupied by Dwight and Mamie Eisenhower.