Dunkirk Lighthouse
LOCATION CURRENTLY UNDER RESEARCH REVIEW
We are currrently in the process of researching and documenting this location.
Please check back later for updates.
Photo by:
Marianne Donley
Location submitted by:
sdonley
on 01/04/2020
DBA Approved: N
Larger Map
PANICd#: 2127

Landmark operational lighthouse with an onsite maritime museum & picturesque lake views.
1 Point Dr N
Dunkirk , NY 14048
Phone: (716) 366-5050
Open to the public: Yes
http://www.dunkirklighthouse.com/
Lat: 42.487320
Lon: -79.350520
Database Summary:
Demographic Rank: 0
History: 1
Stories: 0
Claims: 0
Evidence: 0
Resources: 1
Retrievals: 4133
Vistor Rating: 0.0
Votes: 0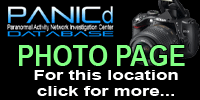 History
History information is some background and history about the location. This is meant to be a basic summary. Below the history records you will find sources in which you can click on to find out more information. There may be multiple history records per location.
---
Dunkirk Light, also known as Point Gratiot Light, is an active lighthouse located at Point Gratiot on Lake Erie in New York state.
The lighthouse was established in 1826 and the current tower was first lit in 1875. The lighthouse was automated in 1960 and is still operational. The foundation is made out of dressed stone and the lighthouse is made out of rubblestone encased in brick. The tower is square-shaped with the upper two thirds in white and the lower third left natural and the lantern housing in red. The original lens is a third order Fresnel lens installed in 1857 and is still in operation. Its being still in use makes it a rarity. Only 70 such lenses are operational in the United States, 16 being on the Great Lakes of which two are in New York. At the entrance to the park property is the South Buffalo North Side Light, formerly located in Buffalo Harbor. It was added to the National Register of Historic Places as Point Gratiot Lighthouse Complex in 1979.
Added by: sdonley on 01/04/2020 DB#:553
Source(s):
https://en.wikipedia.org/wiki/Dunkirk_Light

---
Stories
Stories are just that. Stories and personal accounts that have been reported about the location.
---
No Stories Yet!
Paranormal Claims
Here are the paranormal claims for this location. These have been found through Internet research, reports from members, or reports from personal interviews. To add a claim, please contact PANICd.com, and we will review and add your information.
---
No Claims Yet!
Paranormal Evidence
Paranormal evidence is based on claims that have been reported for this location. There can be several types of evidence; however, we have grouped them based on media type for better organization. Here you will find evidence that are logs, audio, video, or photographic.
To add evidence for a claim, you must submit it to PANICd.com for approval to be entered into the database.
---
No Evidence Reported Yet!
Additional Resources
This is a collection of Internet resources for this location. This section will house links to other websites that contain information related to history, claims, investigations, or even the location's website.
---
Wikipedia Entry
Added: 01/04/2020 By: sdonley
Wikipedia entry for this location.