Dunker Church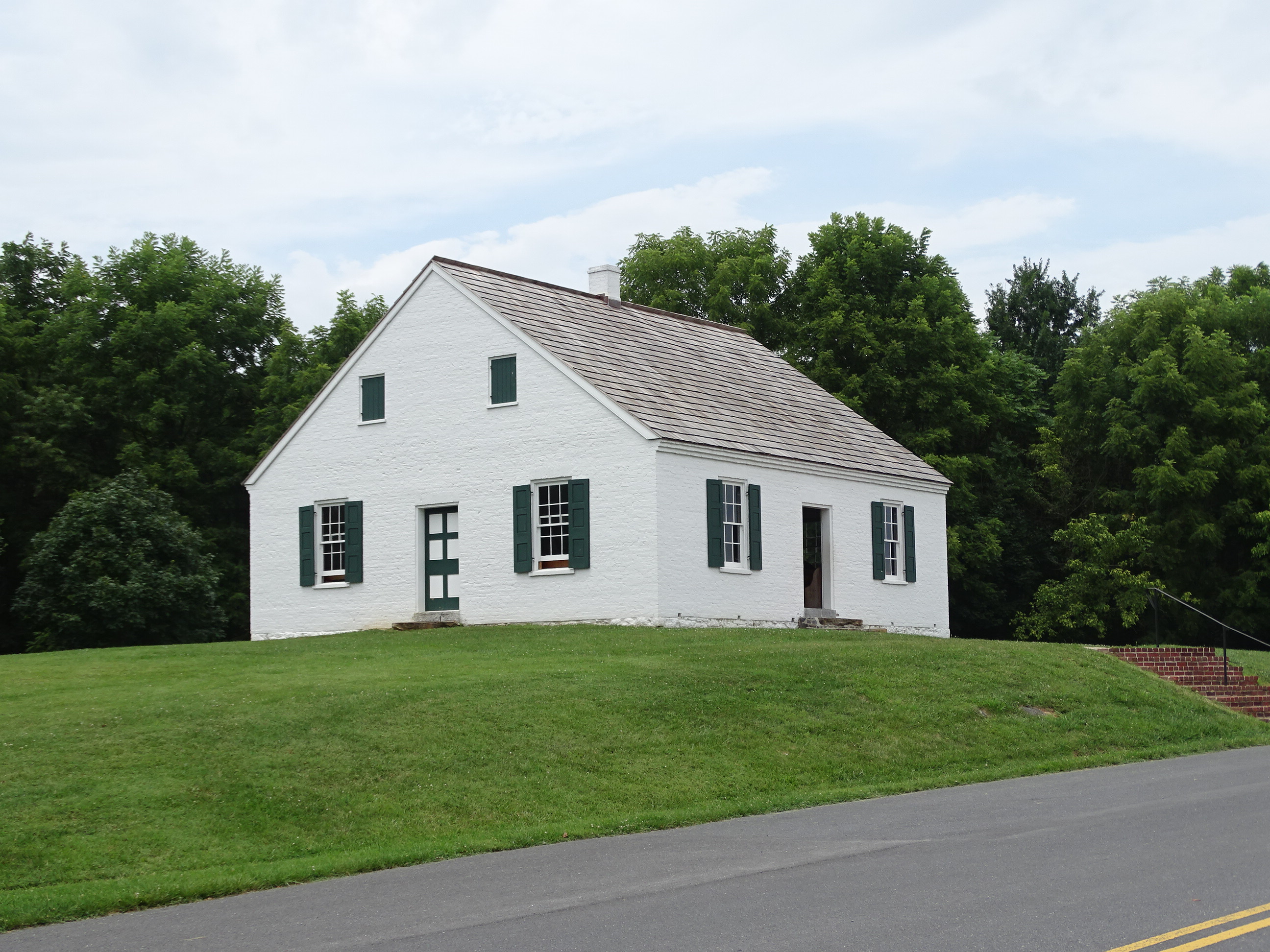 Photo by:
Marianne Donley
Location submitted by:
sdonley
on 07/30/2017
DBA Approved: Y
Larger Map
PANICd#: 1886

The Dunker Church is part of the Antietam National Battlefield in Sharpsburg, Maryland. It's right off MD-65.

Keedysville , MD 21756
Open to the public: Yes
https://www.nps.gov/anti/learn/hist...
Lat: 39.4753395
Lon: -77.7467504
Database Summary:
Demographic Rank: 5
History: 2
Stories: 2
Claims: 4
Evidence: 0
Resources: 3
Retrievals: 6763
Vistor Rating: 0.0
Votes: 0
History
History information is some background and history about the location. This is meant to be a basic summary. Below the history records you will find sources in which you can click on to find out more information. There may be multiple history records per location.
---
Dunker Church was built in 1852 on land donated by Samuel Mumma. Many of the church's members are buried at the nearby Mumma Cemetery, also part of the Mumma farm. The church was officially dedicated in 1853.
Dunker Church played an important role in the Battle of Antietam in 1862. The battle was fought all around the church, and the Confederate Army used it as a medical station to help wounded soldiers. It's also believed that the Union Army used it as an embalming station after the battle. The church wasn't used for regular services until early 1864.
In the early 1900's, a new church was built in town and the old one was no longer used. The old church wasn't maintained, and tourists often took bricks from it as souvenirs. Because of this, the church wasn't very structurally sound. In 1921 a large storm passed through and completely destroyed the church.
In 1951 the Washington County Historical Society purchased the property and donated it to he National Park Service. In 1960, the State of Maryland gave the National Park Service $35,000 to rebuild the church on the original site. Many of the materials used to reconstruct it are originals, including approximately 3,000 bricks, benches, flooring, and some window and door frames.
Added by: sdonley on 07/30/2017 DB#:305
Source(s):
http://www.graveaddiction.com/dunkerch.html

---
The Battle of Antietam, fought September 17, 1862, was one of the bloodiest battles in the history of this nation. Yet, one of the most noted landmarks on this great field of combat is a house of worship associated with peace and love. Indeed, the Dunker Church ranks as perhaps one of the most famous churches in American military history. This historic structure began as a humble country house of worship constructed by local Dunker farmers in 1852. It was Mr. Samuel Mumma, owner of the nearby farm that bears his name, who donated land in 1851 for the Dunkers to build their church. During its early history the congregation consisted of about half a dozen-farm families from the local area.
During The Battle
On the eve of the Battle of Antietam, the members of the Dunker congregation, as well as their neighbors in the surrounding community, received a portent of things to come. That Sunday, September 14, 1862, the sound of cannons booming at the Battle of South Mountain seven miles to the east was plainly heard as the Dunkers attended church. By September 16 Confederate infantry and artillery was being positioned around the church in anticipation of the battle that was fought the next day.
During the battle of Antietam the church was the focal point of a number of Union attacks against the Confederate left flank. Most after action reports by commanders of both sides, including Union General Hooker and Confederate Stonewall Jackson, make references to the church.
At battles end the Confederates used the church as a temporary medical aid station. A sketch by well known Civil War artist Alfred Waud depicts a truce between the opposing sides being held in front of the church on September 18, in order to exchange wounded and bury the dead. At least one account states that after the battle the Union Army used the Dunker Church as an embalming station. One tradition persists that Lincoln may have visited the site during his visit to the Army of the Potomac in October 1862.
As for the old church, it was heavily battle scarred with hundreds of marks from bullets in its white washed walls. Likewise artillery had rendered serious damage to the roof and walls. By 1864 the Church was repaired, rededicated and regular services were held there until the turn of the century.
Added by: sdonley on 07/30/2017 DB#:306
Source(s):
https://www.nps.gov/anti/learn/historyculture/dunk...

---
Stories
Stories are just that. Stories and personal accounts that have been reported about the location.
---
Some claim the Dunker Church is haunted. Many have seen ghostly soldiers, and it's very common to capture strange lights and orbs on film. I've also heard that it's a good place to record EVP.
Added by: sdonley on 07/30/2017 DB#:1257
Source(s):
http://www.graveaddiction.com/dunkerch.html

---
There are a number of places on the battlefield often associated with ghosts including the Dunker Church where initially the first shots were fired from. Many EVPs have been captured and shadowy figures have been seen in the far left-hand corner of this building built in 1852. Numerous reports circulate about Bloody Lane from disembodied voices, cold spots, EVPs, the sounds of cries and gunfire, strange photographs to many personal experiences from battlefield visitors.
Added by: sdonley on 07/30/2017 DB#:1258
Source(s):
http://www.ghostresearch.org/Investigations/antiet...

---
Paranormal Claims
Here are the paranormal claims for this location. These have been found through Internet research, reports from members, or reports from personal interviews. To add a claim, please contact PANICd.com, and we will review and add your information.
---
| | | | |
| --- | --- | --- | --- |
| Claim # | Added | Added By | Claim |
| 2450 | 07/30/2017 | sdonley | Apparitions of soldiers have been seen. |
| 2451 | 07/30/2017 | sdonley | Strange lights and orbs have been captured in photos. |
| 2452 | 07/30/2017 | sdonley | EVPs have been recorded in and around the building. |
| 2453 | 07/30/2017 | sdonley | Shadow figures have been reported. |
Paranormal Evidence
Paranormal evidence is based on claims that have been reported for this location. There can be several types of evidence; however, we have grouped them based on media type for better organization. Here you will find evidence that are logs, audio, video, or photographic.
To add evidence for a claim, you must submit it to PANICd.com for approval to be entered into the database.
---
No Evidence Reported Yet!
Additional Resources
This is a collection of Internet resources for this location. This section will house links to other websites that contain information related to history, claims, investigations, or even the location's website.
---