Casa Casuarina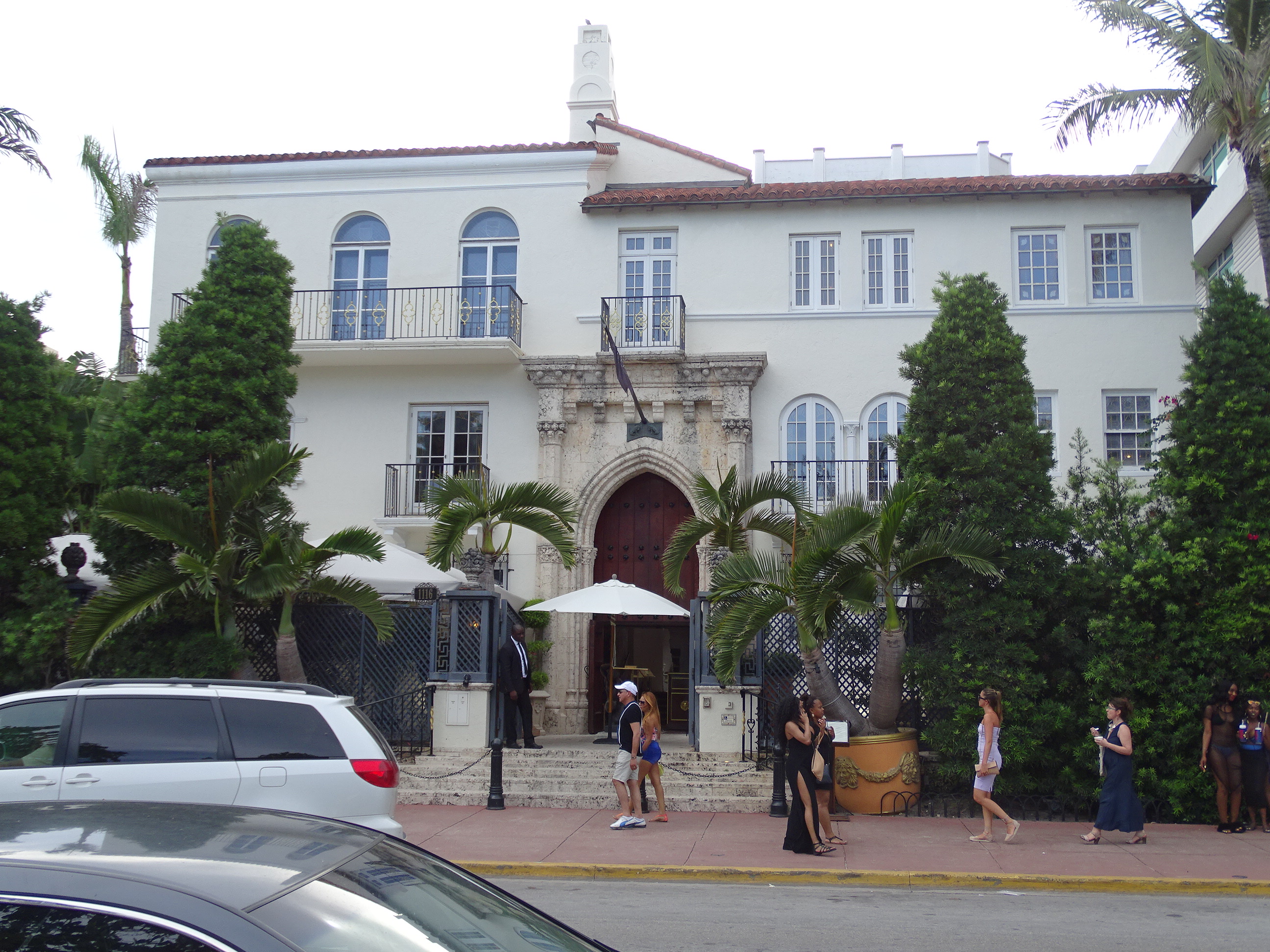 Photo by:
Marianne Donley
Location submitted by:
sdonley
on 08/04/2017
DBA Approved: Y
Larger Map
PANICd#: 1967

The Villa, Casa Casuarina, (also known as Versace Mansion) is a property previously owned by Italian fashion impresario Gianni Versace at Ocean Drive in the Miami Beach Architectural District, Florida.
1116 Ocean Dr
Miami Beach , FL 33139
Phone: (786) 485-2200
Open to the public: Yes
Lat: 25.7819046
Lon: -80.13063290000002
Database Summary:
Demographic Rank: 6
History: 1
Stories: 1
Claims: 2
Evidence: 0
Resources: 8
Retrievals: 11749
Vistor Rating: 0.0
Votes: 0
History
History information is some background and history about the location. This is meant to be a basic summary. Below the history records you will find sources in which you can click on to find out more information. There may be multiple history records per location.
---
Alden Freeman
The Villa Casa Casuarina was built in 1930 in Mediterranean Revival style, commissioned by architect Alden Freeman. There is a rumor that during construction a time capsule was hidden in one of the walls.
Freeman said the structure was modeled on the Alcazar de Colon with its Coralline rock blocks. One of the blocks from the Alcazar structure sits on the right side of the main entrance. Addison Mizner designed the interior including the use of key lime coral flooring.
The name translates to "house of the Australian pine" and speculation about its origin centers on a W. Somerset Maugham novel, "Under the Casuarina Tree" or maybe a reference to a tree on the lot that survived the 1926 Miami hurricane.
Major architecture features included an observatory and a small replica of the Homage Tower from the Fortaleza Ozama in the Dominican Republic. About 100 medallions of famous people including Lenin, Mussolini and Julius Caesar are on the walls.
Freeman was the son of Joel Freeman who was treasurer of the Standard Oil Company. He lived in the house with his adopted son Charles Boulton and Boulton's family. He died at the house on December 29, 1937.
Amsterdam Palace
Jacques Amsterdam acquired the house for $100,000 and converted it to a 24 unit apartment building naming it The Amsterdam Palace It would change hands several times and be renamed the Christopher Columbus Apartments in commemoration of its Columbus connected architecture features.
Versace
In 1992 Versace bought the house for $2.95 million and renamed it back to its original name. He converted the building from 24 apartments to 8 bedrooms, 2 kitchens, 3 sitting rooms, 10 bathrooms, a bar, a library, 4 living rooms and central air conditioning. In 1993 Versace bought the adjoining Revere Hotel (built in 1950) to the south for $3.7 million and tore it down to make a pool and garden area. The English art historian and landscape gardener Roy Strong worked on the grounds of the villa for Versace. Strong had also created gardens at Versace's Villa Fontanelle on Lake Como.
On July 15, 1997 Versace was shot dead in front of this house by Andrew Cunanan.
Post Versace
The mansion was purchased by Peter Loftin for $19 million in 2000; he renovated the property to be used as a boutique hotel, restaurant and luxury event space. The restaurant was Il Sole at The Villa Casa Casuarina. The mansion was bought by VM South Beach, LLC for $41.5 million in 2013. Since 2015, the Villa Casa Casuarina has been a luxury hotel with 10 unique suites and the renowned gourmet restaurant Gianni's.
Added by: sdonley on 03/18/2018 DB#:388
Source(s):
https://en.wikipedia.org/wiki/Casa_Casuarina

---
Stories
Stories are just that. Stories and personal accounts that have been reported about the location.
---
The mansion already had other tragic incidents much before the death of Versace, which contributed to be the most haunted mansion in all of South Beach, Miami. Originally built in 1930 by architect, author and philanthropist Alden Freeman based on the oldest House in the Western Hemisphere, the "Alcazar de Colon", in Santo Domingo, built in 1510 by Diego Colon, the son of the discoverer Cristobal Colon. Freeman used this old house bricks for the construction of the Casa Casuarina. When Freeman died in 1937, the property was acquired by Jacques Amsterdam and renamed "The Palace of Amsterdam"which was used as an apartment complex. Great artists resided there, attracted by the architecture and the beauty of the mansion, but in that moment many tenants claimed witnessing phenomena that challenged any logical explanation.
Records speak of the terrifying apparition of a man with white hair wearing a black suit and top hat. Paranormal phenomena forced the owner to hire the services of a medium, which said that it was the spirit of a former soldier. And in 1969, various skeptical journalists volunteered a night at the complex to write an article above the supernatural phenomena. After a whole night, present witnesses claimed that journalists fled in the middle of the night terrified by everything they saw.
But it was not until the death of Versace mansion received the nickname of "the cursed mansion". On July 16, 1997, at the age of 50, Versace was murdered on the steps of the mansion by the serial murderer Andrew Cunanan, after returning home from a walk along Ocean Drive. Cunanan had already killed 4 others during the last 3 months, and then committed suicide just a week after murder of Versace. The reason why Cunanan killed Versace remains a mystery.
After the death of Versace, the mansion was auctioned and bought in 2000 by telecommunications mogul Peter Loftin. The mansion became a club private in September 2000. But in December 2009, the restaurateur Barton G. Weiss reopened it as a luxury hotel. It seems that the mansion is doomed to forever change owners.
"The ghost of Gianni is still round the halls of Casa Casuarina, which is really one of the most beautiful homes in the world", said several experts in old House. "Gianni has invested $30 million in the renovation of the estate to bring back the original glory of architect Alden Freeman, who also believed that his spirit frequents the House.
Added by: sdonley on 03/18/2018 DB#:1388
Source(s):
https://www.facebook.com/historyhaunted/photos/a.5...

---
Paranormal Claims
Here are the paranormal claims for this location. These have been found through Internet research, reports from members, or reports from personal interviews. To add a claim, please contact PANICd.com, and we will review and add your information.
---
| | | | |
| --- | --- | --- | --- |
| Claim # | Added | Added By | Claim |
| 2747 | 03/18/2018 | sdonley | An apparition of a man with white hair and wearing a black suit and top hat has been seen. |
| 2748 | 03/18/2018 | sdonley | The apparition of Versace has been reported. |
Paranormal Evidence
Paranormal evidence is based on claims that have been reported for this location. There can be several types of evidence; however, we have grouped them based on media type for better organization. Here you will find evidence that are logs, audio, video, or photographic.
To add evidence for a claim, you must submit it to PANICd.com for approval to be entered into the database.
---
No Evidence Reported Yet!
Additional Resources
This is a collection of Internet resources for this location. This section will house links to other websites that contain information related to history, claims, investigations, or even the location's website.
---
Wikipedia Entry
Added: 08/04/2017 By: sdonley
Wikipedia entry for this location.
Trip Advisor
Added: 03/18/2018 By: sdonley
The Villa Casa Casuarina, Miami Beach. See 123 traveler reviews, 144 candid photos, and great deals for The Villa Casa Casuarina, ranked #17 of 90 specialty lodging in Miami Beach and rated 4 of 5 at TripAdvisor.
Sleeping With Versace: The Notorious Villa's Hidden Tunnel And Other Decadent Secrets In Miami
Added: 03/18/2018 By: sdonley
Article about the location.
Versace Mansion: Inside South Beach's sensational hotel | CNN Travel
Added: 03/18/2018 By: sdonley
The mansion where Gianni Versace was murdered in 1997 is now one of South Beach's most opulent hotels, formally called Villa Casa Casuarina.
The True Story of the Versace Mansion | Vanity Fair
Added: 03/18/2018 By: sdonley
Built by a possibly closeted oil heir, and almost owned by Donald Trump, the Casa Casuarina has a history nearly as colorful as that of the man who made it famous.
Casa Casuarina - Versace's Miami mansion - Pictures - CBS News
Added: 03/18/2018 By: sdonley
A look inside Casa Casuarina, the opulent estate where Italian fashion designer Gianni Versace lived and was murdered
The Versace Mansion: Before, During, and After Gianni (and American Crime Story) - Vogue
Added: 03/18/2018 By: sdonley
The history of Miami's famous Versace Mansion and how American Crime Story couldn't have been made without it.
7 Haunting Secrets About The Versace Mansion
Added: 03/18/2018 By: sdonley
Article about the location.