Calvin Center Hall and Adtrm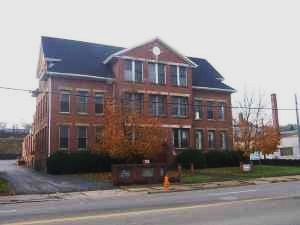 Photo by:
http://www.thrilltheworld...
Location submitted by:
sdonley
on 12/15/2013
DBA Approved: Y
Larger Map
PANICd#: 1311

Built as an annex, recreation center, and school for the Hungarian Presbyterian church that sits to the left of this building.
755 Mahoning Ave
Youngstown , OH 44502
Phone: 330-747-8760
Open to the public: Yes
Lat: 41.101344
Lon: -80.66373099999998
Database Summary:
Demographic Rank: 5
History: 1
Stories: 1
Claims: 4
Evidence: 0
Resources: 6
Retrievals: 11581
Vistor Rating: 0.5
Votes: 2
History
History information is some background and history about the location. This is meant to be a basic summary. Below the history records you will find sources in which you can click on to find out more information. There may be multiple history records per location.
---
No "official" history for this location has been found yet; however, we do know it was built circa 1902 for the Hungarian Presbyterian Church that sits to the left of this building. The "Calvin" center served as an Annex, School, And Recreation Center for the church. This building was one of the first schools in the Youngstown, Area.
Added by: sdonley on 03/30/2014 DB#:174
Source(s):


---
Stories
Stories are just that. Stories and personal accounts that have been reported about the location.
---
The Calvin Center is THE most haunted locations I've ever been to. Everything from physical attacks on the living, to yelling, and throwing things. You name it.. it will probably happen here. Myself and a fellow investigator were scratched within an hour of each other in the same room, and I was also made physically ill to the point of almost vomiting. If you want to have a very active investigation, I highly suggest you go here. It's been dubbed the "Bobby Mackey's of the North".
Added by: sdonley on 03/30/2014 DB#:1130
Source(s):
http://my.travelchannel.com/your-favorite-haunts/H...

---
Paranormal Claims
Here are the paranormal claims for this location. These have been found through Internet research, reports from members, or reports from personal interviews. To add a claim, please contact PANICd.com, and we will review and add your information.
---
| | | | |
| --- | --- | --- | --- |
| Claim # | Added | Added By | Claim |
| 1753 | 03/30/2014 | sdonley | People have reported a sense of oppression when walking through the building. |
| 1754 | 03/30/2014 | sdonley | Strange noises and sounds have been reported. |
| 1755 | 03/30/2014 | sdonley | Some investigators have been scratched during investigations. |
| 1756 | 03/30/2014 | sdonley | An apparition has been seen and photographed in the upper windows of the building. |
Paranormal Evidence
Paranormal evidence is based on claims that have been reported for this location. There can be several types of evidence; however, we have grouped them based on media type for better organization. Here you will find evidence that are logs, audio, video, or photographic.
To add evidence for a claim, you must submit it to PANICd.com for approval to be entered into the database.
---
No Evidence Reported Yet!
Additional Resources
This is a collection of Internet resources for this location. This section will house links to other websites that contain information related to history, claims, investigations, or even the location's website.
---