Bayfront Marin House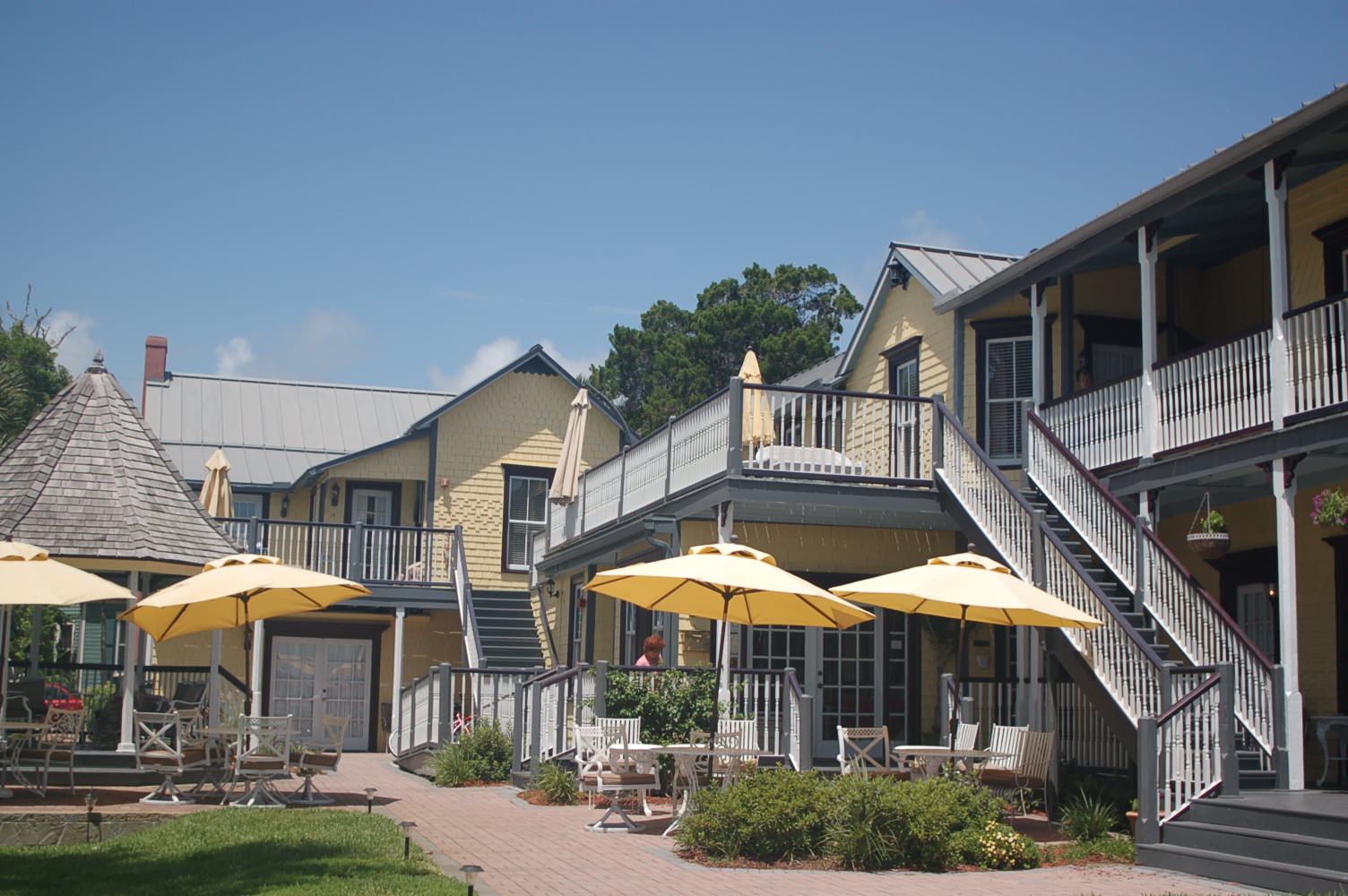 Photo by:
Marianne Donley
Location submitted by:
sdonley
on 08/03/2017
DBA Approved: Y
Larger Map
PANICd#: 1891

The first notice of a house on the property that is now home to The Bayfront Marin House, is in the Roque map of 1788, which shows a wooden building in bad condition.
142 Avenida Menendez
St. Augustine , FL 32084
Phone: (904) 824-4301
Open to the public: Yes
http://www.bayfrontmarinhouse.com/
Lat: 29.89000249999999
Lon: -81.3098311
Database Summary:
Demographic Rank: 6
History: 2
Stories: 1
Claims: 2
Evidence: 0
Resources: 5
Retrievals: 10048
Vistor Rating: 0.0
Votes: 0
History
History information is some background and history about the location. This is meant to be a basic summary. Below the history records you will find sources in which you can click on to find out more information. There may be multiple history records per location.
---
The first notice of a house on the property that is now home to The Bayfront Marin House, is in the Roque map of 1788, which shows a wooden building in bad condition. Francisco Marin, one of the members of the Minorcan colony who had taken refuge in St Augustine, acquired the house and lot in the 1780's. The conditions finally being met, Governor White gave the title of the lot to Francisco Marin, Jr. in 1806.
The colonial house at 47 Marine Street (the rear section of the front lot at 142 Avenida Memendez) dates from the Second Spanish Period. It clearly shows the effects of the early regulations laid out by a royal ordinance issued by the King of Spain in 1573. It decreed that in hot climates, the streets should be narrow, and that: "All town houses are to be so planned that they can serve as a defense or fortress against those who might attempt to create disturbances or occupy the town."
The house at 47 Marine Street is built right to the street line, with masonry walls extending north and south from the facade, as if to enclose a compound. Entry is not from the street, but rather through a door on the south side (which is now the entrance to The Francisco Marin Room).
Captain Henry Belknap came to St Augustine as guests of the Alcazar, but fell so in love with the town that he bought the Victorian Cottage that stood at 142 Bay Street (now Avenida Menendez). This beautiful home was once named the Hopkins Cottage for its prior owners. Captain Henry also purchased a cottage owned by Andrew Burgess in 1893, that was located just north of the Marin house, moved it east on the lot, and attached it to the back of his own home.
Quickly thereafter, he bought the remodeled coquina Marin house and began to make wooden additions to it. Thus three houses, ranging in time from the colonial period to the Flagler era, combine to make the current rambling structure, long a St Augustine landmark.
After the death of Captain Henry in 1909, the rambling building was sold to John Cambell, who transformed the once single-family residence into modern apartments or flats.
In 1932, the building was sold to Beulah Robinson Lewis of Virginia, who kept it in her family until it was purchased by the Graubard and Stacklum families in 1988.
The apartment building was remodeled and operated as The Villas de Marin, a collection of short-term rental units for 14 years.
The house was most recently converted into the magnificent Bayfront Marin House: Bed and Breakfast Inn, which was fully restored and open for business in July of 2003.
Added by: sdonley on 03/10/2018 DB#:386
Source(s):
https://www.bayfrontmarinhouse.com/st-augustine-hi...

---
Added by: sdonley on 03/10/2018 DB#:387
Source(s):
https://www.youtube.com/watch?v=57mbaXIIwUg

---
Stories
Stories are just that. Stories and personal accounts that have been reported about the location.
---
Former New York lawyer Robert Graubard owns the Bayfront Westcott House and the Bayfront Marin House, two of St. Augustine's luxury inns located on the Matanzas Bay. There is a rich history here that makes your stay a wonderful walk in the past, however, where there's history, there's usually a ghost. The Bayfront Marin House has at least one ghost - most certainly the most dominant one. He is believed to be the spirit of Francisco Marin, after whom the inn is named. The innkeepers say Francisco seems to be a light-hearted soul, quite the partier and prankster. Their favorite story of Francisco happened last year when a guest in one of the first floor rooms came down in the morning to complain of the experience he had the night before. He said that around 2:00 a.m., the room above his was partying so loud that he finally went up the stairs and knocked loudly on the door. He said that no one came to the door, but that the noise stopped completely and he went back to his first floor room satisfied that he had gotten his message across. Thirty minutes later, the noise had risen back to its original decibel level and the guest was starting to get annoyed. He went back up to the room above his and knocked loudly and yelled that the revelers were disturbing him and his wife and that he would need to call the police if they didn't knock it off. Again, the party guests failed to answer the door, but again it became immediately silent behind the door. The guest returned to his room and slept soundly with no further disturbance.
When the innkeepers informed him that there were no other guests in any of the rooms above his, he insisted that he see the party room because there must have been a mess left behind. The innkeepers opened the door to a spotless room left exactly as the housekeepers had left it the day before. The guest turned a few shades of pale when he realized that, indeed, no living person had been in that room the night before. Then he brightened and got very animated, thinking of all the ways he was going to describe this experience to his friends and family.
The innkeepers went on to say "Francisco doesn't show up very often, but when he does, it is always in the spirit of fun. This last week we had trouble with one of the telephone lines in the inn. An expert with thirty four years experience in the telephone business came to trouble shoot. When he tapped into the line, which was completely dead from some problem at the street, there was a catchy tune playing that only came into his receiver. We asked him if in his vast experience in St. Augustine phone business, if he often encountered such ghost activity. His answer was... more than you can imagine."
Added by: sdonley on 03/10/2018 DB#:1387
Source(s):
http://www.ghosthaunts.com/st_augustine.html

---
Paranormal Claims
Here are the paranormal claims for this location. These have been found through Internet research, reports from members, or reports from personal interviews. To add a claim, please contact PANICd.com, and we will review and add your information.
---
| | | | |
| --- | --- | --- | --- |
| Claim # | Added | Added By | Claim |
| 2745 | 03/10/2018 | sdonley | Parties have been heard late into the night when nobody is checked into the room. |
| 2746 | 03/10/2018 | sdonley | Music has been heard on dead telephone lines. |
Paranormal Evidence
Paranormal evidence is based on claims that have been reported for this location. There can be several types of evidence; however, we have grouped them based on media type for better organization. Here you will find evidence that are logs, audio, video, or photographic.
To add evidence for a claim, you must submit it to PANICd.com for approval to be entered into the database.
---
No Evidence Reported Yet!
Additional Resources
This is a collection of Internet resources for this location. This section will house links to other websites that contain information related to history, claims, investigations, or even the location's website.
---
Facebook Page
Added: 03/10/2018 By: sdonley
Facebook Page for this location.
Bayfront Marin House in Saint Augustine, Florida | B&B Rental
Added: 03/10/2018 By: sdonley
Explore Bayfront Marin House, a Saint Augustine, Florida bed and breakfast. View photos, reviews and book your stay now!
Trip Advisor
Added: 03/10/2018 By: sdonley
Book Bayfront Marin House Historic Inn, St. Augustine on TripAdvisor: See 1,363 traveler reviews, 900 candid photos, and great deals for Bayfront Marin House Historic Inn, ranked #1 of 79 hotels in St. Augustine and rated 5 of 5 at TripAdvisor.
Yelp Listing
Added: 03/10/2018 By: sdonley
52 reviews of Bayfront Marin House "The hotel looks simple from the outside and perhaps a little bit run out but the rooms are beautiful and elegant. The antique furniture gives that Victorian look that I love. From the front desk to the happy…
Visit St. Augustine
Added: 03/10/2018 By: sdonley
Located on the historic bayfront in the heart of St. Augustine, the Bayfront Marin House offers 15 delightful private rooms, with a distinctive decor and congenial atmosphere throughout the inn. There's a courtyard, a gazebo, and several porches and patios just right for gathering or lounging.