1863 Inn Of Gettysburg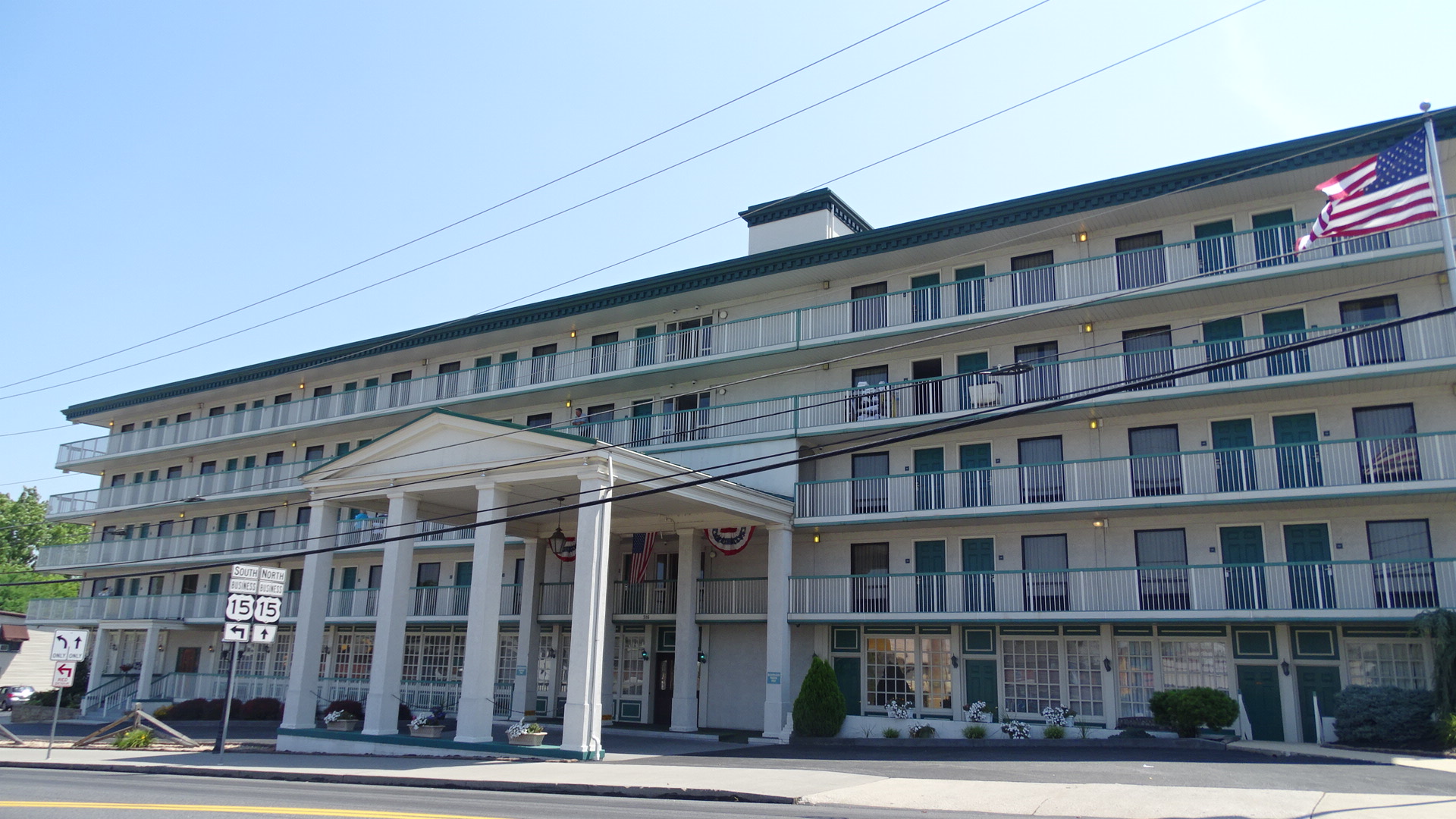 Photo by:
Marianne Donley
Location submitted by:
sdonley
on 06/11/2019
DBA Approved: Y
Larger Map
PANICd#: 2015

This low-key, traditional hotel in downtown Gettysburg is adjacent to the Jennie Wade House museum and a mile from Gettysburg National Military Park.
516 Baltimore St
Gettysburg , PA 17325
Phone: (717) 334-6211
Open to the public: Yes
https://www.1863innofgettysburg.com...
Lat: 39.823710
Lon: -77.230750
Database Summary:
Demographic Rank: 6
History: 1
Stories: 1
Claims: 4
Evidence: 0
Resources: 3
Retrievals: 15380
Vistor Rating: 1.0
Votes: 1
History
History information is some background and history about the location. This is meant to be a basic summary. Below the history records you will find sources in which you can click on to find out more information. There may be multiple history records per location.
---
Centrally located in Historic Gettysburg; the turning point of the Civil War.
The 1863 Inn is within walking distance to most major attractions and museums, such as: American Civil War Wax Museum, the David Wills House where Lincoln finished the Gettysburg Address, and the Historic Shriver House. The Gettysburg Bus Tour Center and Jennie Wade House are located adjacent to the hotel. Tours to the Eisenhower National Historic site are available from the Gettysburg National Military Park Museum & Visitors Center, which is located one mile south of the hotel. Also within walking distance are several restaurants and taverns.
The 1863 Inn of Gettysburg offers 110 smoke free rooms. The five story Colonial style hotel has exterior entrances. Offering rooms with two double beds or a king size bed. Wheel chair accessible rooms are available. Our adjoining Annex building, with interior corridors, offers upgraded rooms with king size beds and 2 king Feature rooms with a whirlpool Jacuzzi tub. All rooms located in our Annex building are equipped with a microwave and refrigerator. Ask about our "1863 Room," uniquely decorated with Cobble Hill furniture in a rich black finish with a traditional flair. The bathroom features an antique style vanity, oversized tiled shower, and a Jacuzzi tub.
Added by: sdonley on 08/11/2019 DB#:544
Source(s):
https://www.destinationgettysburg.com/members/1863...

---
Stories
Stories are just that. Stories and personal accounts that have been reported about the location.
---
While we were on a guest tour, we learned about the spirit that is said to haunt the 1863 Inn. The spirit is believed to be a former employee and handyman named George who likes to play pranks on the staff at the hotel as well as some of the guests. The tour guide whet on to say that he was most active on the fifth floor. Some have reported that he likes to move things in their room, turn lights on/off, turn on the TVs in the middle of the night, and even lock them out of their rooms.
Added by: sdonley on 08/11/2019 DB#:1539
Source(s):
Tour Guide Interview

---
Paranormal Claims
Here are the paranormal claims for this location. These have been found through Internet research, reports from members, or reports from personal interviews. To add a claim, please contact PANICd.com, and we will review and add your information.
---
| | | | |
| --- | --- | --- | --- |
| Claim # | Added | Added By | Claim |
| 3205 | 08/11/2019 | sdonley | Items have moved on their own. |
| 3206 | 08/11/2019 | sdonley | Lights turn on/off by themselves. |
| 3207 | 08/11/2019 | sdonley | TVs have turned on in the middle of the night. |
| 3208 | 08/11/2019 | sdonley | People have been locked out of their room on the fifth floor. |
Paranormal Evidence
Paranormal evidence is based on claims that have been reported for this location. There can be several types of evidence; however, we have grouped them based on media type for better organization. Here you will find evidence that are logs, audio, video, or photographic.
To add evidence for a claim, you must submit it to PANICd.com for approval to be entered into the database.
---
No Evidence Reported Yet!
Additional Resources
This is a collection of Internet resources for this location. This section will house links to other websites that contain information related to history, claims, investigations, or even the location's website.
---
Destination Gettysburg
Added: 08/11/2019 By: sdonley
Information about the location, see link for details.
Facebook Page
Added: 08/11/2019 By: sdonley
Information about the location, see link for details.
Trip Advisor
Added: 08/11/2019 By: sdonley
1863 Inn of Gettysburg: An enjoyable experience with George - See 1,048 traveler reviews, 247 candid photos, and great deals for 1863 Inn of Gettysburg at TripAdvisor.