Tomb of Abraham Lincoln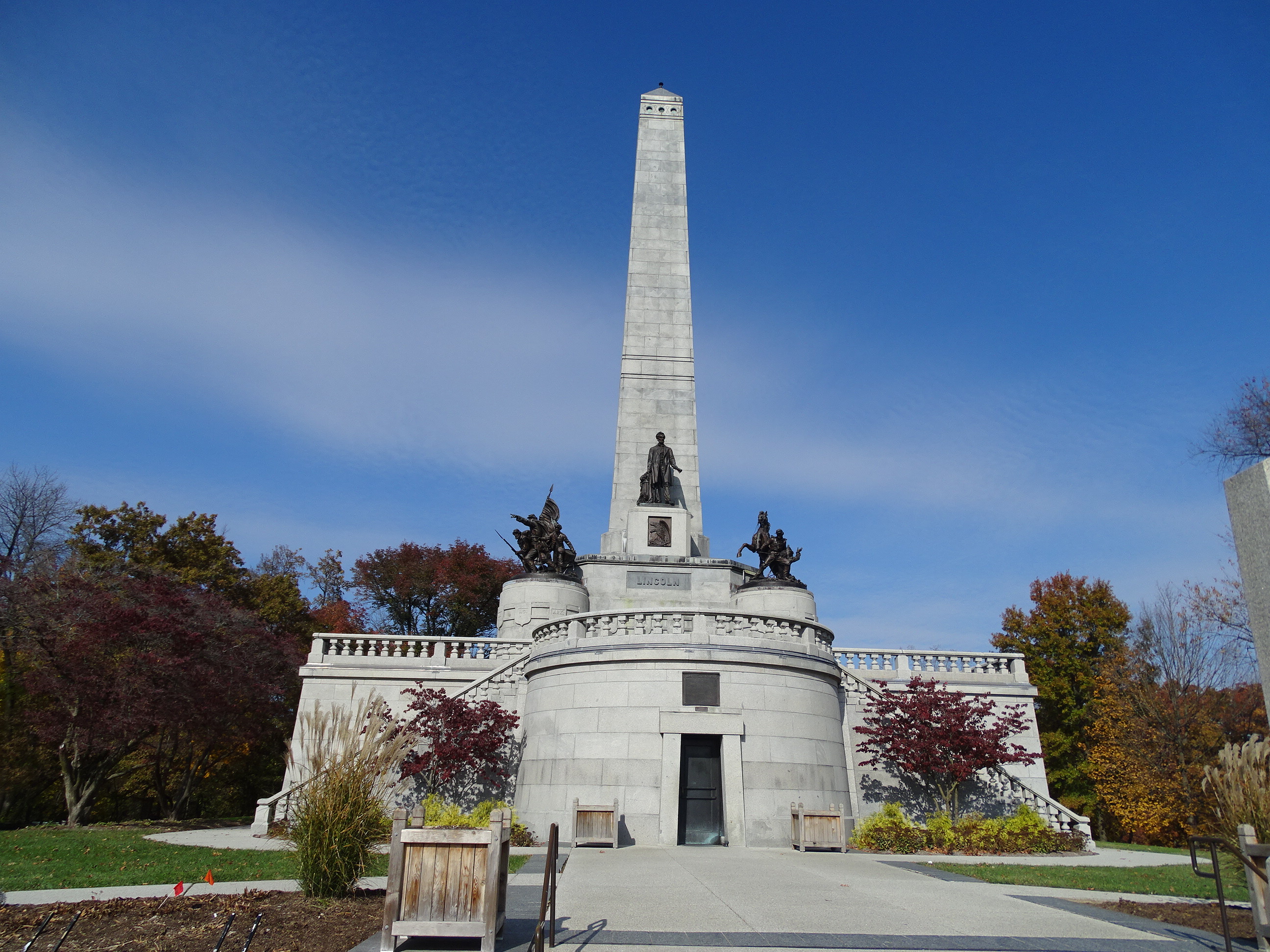 Photo by:
Marianne Donley
Location submitted by:
sdonley
on 11/11/2017
DBA Approved: Y
Larger Map
PANICd#: 1973

The final resting place of the 16th President, Abraham Lincoln.
1500 Monument Ave.
Springfield , IL 62702
Open to the public: Yes
Lat: 39.8231988
Lon: -89.65570980000001
Database Summary:
Demographic Rank: 5
History: 1
Stories: 1
Claims: 5
Evidence: 0
Resources: 3
Retrievals: 9536
Vistor Rating: 0.0
Votes: 0
History
History information is some background and history about the location. This is meant to be a basic summary. Below the history records you will find sources in which you can click on to find out more information. There may be multiple history records per location.
---
The Lincoln Tomb State Historic Site is the final resting place of Abraham Lincoln, his wife Mary, and three of their four sons: Edward, William, and Thomas (known as "Tad"). Their eldest son, Robert Lincoln, is buried at Arlington National Cemetery. Also on the site is the public receiving vault, where final funeral services were held for President Lincoln on May 4, 1865. Constructed about 1860, the vault is at the base of a hill north of the Tomb. The Lincoln Tomb was designated a National Historic Landmark in 1960; it was placed on the National Register of Historic Places in 1966. The Tomb is operated by the Illinois Historic Preservation Agency. The Tomb, designed by sculptor Larkin Mead, is constructed of brick sheathed with Quincy granite. The base is 72 feet square with large semi-circular projections on the north and south sides. Double sets of stairs lead to a terrace, above which rises the 117-foot-tall obelisk. At the corners of the shaft, large pedestals serve as bases for four bronze sculpture groups, each representing one of the four Civil War military services-infantry, artillery, cavalry, and navy. A taller base on the obelisk's south side holds a heroic bronze statue of Lincoln.
In front of the Tomb is a bronze reproduction of Gutzon Borglum's marble head of Lincoln, which is displayed in the U.S. Capitol in Washington, D.C.
Interior rooms of the Tomb are finished in highly polished marble trimmed with bronze. The south entrance opens into a rotunda, where hallways lead to the burial chamber. The rotunda and corridors contain reduced-scale versions of important Lincoln statues, as well as plaques with excerpts from Lincoln's farewell address to Springfield, the Gettysburg Address, and his Second Inaugural Address.
President Lincoln's remains rest in a concrete vault ten feet below the marble floor of the burial chamber. A massive granite cenotaph marking the gravesite is flanked by the presidential flag and the flags of states in which Lincoln's ancestors and Abraham Lincoln himself resided. Crypts in the chamber's south wall hold the remains of Mary, Edward, Willie and Tad Lincoln.
The remains of President Lincoln and his son Willie were placed in the receiving vault from May 4 through December 21, 1865. From December 21, 1865 through September 19, 1871, the remains of the President and two of his sons, Eddie and Willie, were moved into a temporary above-ground tomb constructed on the northeast side of the hill where the current tomb now stands. Tad Lincoln, the President's youngest son, died on July 15, 1871. His remains were the first to be interred in today's Tomb, followed by those of his father and his two brothers on September 19, 1871.
Mary Lincoln died at her sister's home in Springfield on July 16, 1882. She was laid to rest with her martyred husband and dear sons a few days later.
Construction of the Lincoln Monument began in 1868. It was dedicated in 1874 in a ceremony attended by President U.S. Grant. Due to design and construction faults, the Tomb was extensively rebuilt in 1900-01 and again in 1930-31. Because of security concerns (thieves attempted to steal Lincoln's body in 1876), President Lincoln's remains were moved to their final resting place, below the floor of the burial chamber, after the first renovation.
The second reconstruction also involved a complete redesign of the interior of the tomb, including creation of the inside corridors, installation of the marble and bronze ornamentation, and addition of the small statues. The Borglum bust outside the Tomb was installed at the same time.
Added by: sdonley on 11/11/2017 DB#:341
Source(s):
http://www.lincolntomb.org/tomb.htm#history

---
Stories
Stories are just that. Stories and personal accounts that have been reported about the location.
---
Sightings of the former president have been told almost since the day his body arrived in Springfield in on May 3, 1865. After lying in state at the capitol for a night, the body was placed in a receiving vault at Oak Ridge Cemetery. In December Lincoln's remains were removed to a temporary vault not far from a new proposed memorial site. In 1871, three years after laborers had begun constructing the permanent tomb, the body of Lincoln and those of the three youngest of his sons were placed in crypts in the unfinished structure.
The construction of the permanent tomb lasted for years and it was at this time that the first sightings of a spectral Abraham Lincoln were reported as he wondered near the crypt. Others would report hearing the sounds of crying and footsteps near the site.
In 1874, upon completion of the memorial, Lincoln's remains were interred in a marble sarcophagus in the center of a chamber known as the "catacombs," or burial room. In 1876, however, after several Chicago criminals broke into the tomb, intending to kidnap the corpse and hold it for ransom. However, the attempt failed as one of the men in the gang was a spy for the Secret Service.
Over the years, the legends have persisted as tourists and staff members report uncomfortable feelings, phantom footsteps, whispers, muffled voices, and weeping. Along with our former president, Oakridge Cemetery also has reports that the apparitions of a small boy and a mysterious woman in a flowing red cape have been seen on the property.
Added by: sdonley on 11/11/2017 DB#:1322
Source(s):
https://www.legendsofamerica.com/il-hauntedspringf...

---
Paranormal Claims
Here are the paranormal claims for this location. These have been found through Internet research, reports from members, or reports from personal interviews. To add a claim, please contact PANICd.com, and we will review and add your information.
---
| | | | |
| --- | --- | --- | --- |
| Claim # | Added | Added By | Claim |
| 2601 | 11/11/2017 | sdonley | People have reported uncomfortable feelings. |
| 2602 | 11/11/2017 | sdonley | People have reported phantom footsteps |
| 2603 | 11/11/2017 | sdonley | People have reported whispers and muffled voices |
| 2604 | 11/11/2017 | sdonley | People have reported hearing weeping and crying noises. |
| 2605 | 11/11/2017 | sdonley | People have reported seeing the apparition of Lincoln around his burial chamber. |
Paranormal Evidence
Paranormal evidence is based on claims that have been reported for this location. There can be several types of evidence; however, we have grouped them based on media type for better organization. Here you will find evidence that are logs, audio, video, or photographic.
To add evidence for a claim, you must submit it to PANICd.com for approval to be entered into the database.
---
No Evidence Reported Yet!
Additional Resources
This is a collection of Internet resources for this location. This section will house links to other websites that contain information related to history, claims, investigations, or even the location's website.
---