The Orpheum Theatre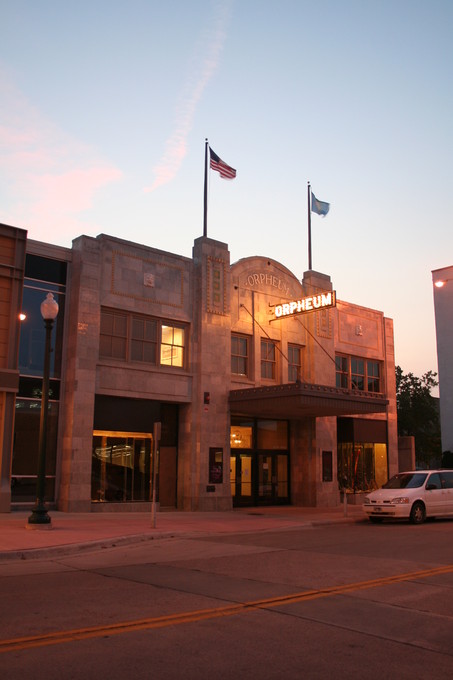 Location submitted by:
sdonley
on 05/28/2012
DBA Approved: Y
Larger Map
PANICd#: 1107
The 688 seat Orpheum Theater that was built in 1913.
315 N Phillips Avenue
Sioux Falls , SD 57104
Phone: 605-367-4616
Open to the public: Yes
Lat: 43.550134
Lon: -96.727109
Database Summary:
Demographic Rank: 6
History: 1
Stories: 1
Claims: 4
Evidence: 0
Resources: 0
Retrievals: 3995
Vistor Rating: 0.0
Votes: 0
History
History information is some background and history about the location. This is meant to be a basic summary. Below the history records you will find sources in which you can click on to find out more information. There may be multiple history records per location.
---
The Orpheum Theater Center consists of three distinct (rentable) spaces; The 688 seat Orpheum Theater that was built in 1913. The Old "Rainbow Bar" that houses the 450 seat Anne Zabel Studio Theater as well as a classroom space that will accommodate 75-100. Front and back "Link" structures join the buildings together and will create a new lobby space as well as provide new loading dock and storage.
The City of Sioux Falls bought the Theater Complex from the Sioux Falls Community Playhouse in the spring of 2002 and hired SMG to manage the property in 2003. Since taking over the venue we have been busy assisting the City with nearly $2 million in renovations and completion of the Link and Studio Theater.
A part of the renovation has been the creation of new office space for Channel 16 (City Link), the Municipal Band and the Sioux Empire Community Theatre.
The final renovations were completed late summer in 2009. A reopening celebration was held to mark the completion of the project. The final phase of the renovation included updating paint and carpeting and installing period correct seating in the main Orpheum Theater.
In the fall of 2009, two of the five original murals were re-installed. When the Orpheum Theater was purchased by the City in 2002, the murals had seen decades of neglect. As renovation and restoration projects took place at the Orpheum, the murals were identified as a key component to the theater's setting and so the Midwest Art Conservation Center, based in Minneapolis, was brought on to start work on the Orpheum Theater murals.The cost for restoring the first two murals was around $40,000. Two of the remaining murals, similar in size to the restored paintings but in better condition, will cost a considerable amount less to restore. However, the largest mural that still hangs above the Orpheum stage, needs to retouched as well.
Added by: sdonley on 05/28/2012 DB#:129
Source(s):
http://orpheum.sfarena.com/orpheum/history

---
Stories
Stories are just that. Stories and personal accounts that have been reported about the location.
---
The Orpheum Theater, located in Sioux Falls, South Dakota, was opened in 1913 as a vaudeville theater. By 1954, the theater was acquired by a local community playhouse. In 2002, the city of Sioux Falls took ownership of the aging theater, turned management over to SMG, and began the process of renovation. Today, the site hosts several plays, concerts, and cultural events each year.

And, like many theaters from this era, hosts its own resident ghost. The ghost of Larry made his first recorded appearance in 1959, when an actor named Ray was in the theater late rehearsing for an upcoming play. As he gazed towards the balcony, an act indicated in his script, he noticed a glowing blue pulsating light. In the middle of that light stood the apparition of a man, waving or pointing in Ray's direction. The sighting occurred simultaneously with the feeling of a cold blast of air enveloping Ray...causing him to leave the location immediately!

A string of bad luck followed Ray immediately preceding the sighting. The next day as Ray arrived, he noticed all the fuses, which were newly wired, had been blown. Even worse, on two separate occasions, during a dress rehearsal and again on opening night for the play he had been rehearsing for the night he saw Larry, Ray was struck with a falling sandbag, being knocked unconscious both times.

The second major run-in with Larry occurred in 1972 when a technical director by the name of Jack was alone late one night in the building, sweeping the stage in preparation for upcoming rehearsals. When Jack heard a noise behind him, he turned to find a tin-type photograph of a bearded man in his thirties...right in the path that he had just swept. Jack put the photo on the light board. No one could identify who the man was or where the photo came from, but many assumed it was the image of Larry. The photo was kept on the light board until its mysterious disappearance.

There are several theories as to who Larry was in life. Some say he was a construction worker who was killed during construction of the theater. Others say he was a stage hand who killed during an early vaudeville show. Still others say he was a gentleman who, having an affair with a married woman, was killed by her jealous husband in the theater's balcony. Many agree with this theory as the apparition WAS sighted in the balcony in 1959. However, there is a newer theory discussed in the book, Haunted Places of South Dakota. It seems as if there is reason to believe that Larry was an actor, who, distraught over not getting a lead part in the production of Romeo and Juliet, shot himself to death. It is said his body was never found....

Allegedly, newspaper records for the time period were destroyed by fire, making it nearly impossible to find the true identity of Larry.
Added by: sdonley on 05/28/2012 DB#:1083
Source(s):
http://www.forgottenus.com/index.php?p=place.view&...

---
Paranormal Claims
Here are the paranormal claims for this location. These have been found through Internet research, reports from members, or reports from personal interviews. To add a claim, please contact PANICd.com, and we will review and add your information.
---
| | | | |
| --- | --- | --- | --- |
| Claim # | Added | Added By | Claim |
| 1517 | 05/28/2012 | sdonley | Faucets have turned on by themselves. |
| 1518 | 05/28/2012 | sdonley | Voices and footsteps have been heard during the night with the building was empty. |
| 1519 | 05/28/2012 | sdonley | An apparition of a man has been see in the balcony with a glowing blue pulsating light. |
| 1520 | 05/28/2012 | sdonley | A tin-type photograph of a bearded man in his thirties appeared one night when a janitor was cleaning up. It later mysteriously disappeared. |
Paranormal Evidence
Paranormal evidence is based on claims that have been reported for this location. There can be several types of evidence; however, we have grouped them based on media type for better organization. Here you will find evidence that are logs, audio, video, or photographic.
To add evidence for a claim, you must submit it to PANICd.com for approval to be entered into the database.
---
No Evidence Reported Yet!
Additional Resources
This is a collection of Internet resources for this location. This section will house links to other websites that contain information related to history, claims, investigations, or even the location's website.
---
No Reources Yet!