The Jerome Grand Hotel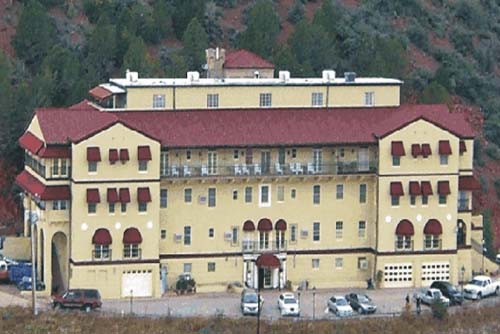 Photo by:
http://www.jeromegrandhot...
Location submitted by:
sdonley
on 04/24/2013
DBA Approved: Y
Larger Map
PANICd#: 1277
This Spanish Mission style building, constructed in 1926, started out as the United Verde Hospital, opening January, 1927.
200 Hill Street
Jerome , AZ 86331
Phone: (928) 634-8200
Open to the public: Yes
http://www.jeromegrandhotel.com/
Lat: 34.7477359
Lon: -112.1150996
Database Summary:
Demographic Rank: 6
History: 1
Stories: 1
Claims: 7
Evidence: 0
Resources: 3
Retrievals: 2501
Vistor Rating: 0.0
Votes: 0
History
History information is some background and history about the location. This is meant to be a basic summary. Below the history records you will find sources in which you can click on to find out more information. There may be multiple history records per location.
---
A visit to the Jerome Grand Hotel, like the Town of Jerome, is an experience in the past. The colorful history of this building, that dominates the top of Jerome is full of surprises and mysteries.
This Spanish Mission style building, constructed in 1926, started out as the United Verde Hospital, opening January, 1927. In 1930, it was written up as the most modern and well equipped hospital in Arizona and possible the Western States. The Hospital was closed in 1950 as the mine operation was being phased out. The building stood unused for the next 44 years until the rehabilitation plans started in 1994.
The building is one of the highest public structures in the Verde Valley, (5240 Ft.). As the last major building constructed in Jerome, the building was not only to boost the pride of the town in its classic design, but was built fire proof and able to withstand the blasts of up to 260,000 pounds of dynamite set off by the mine and sometimes felt as far away as Camp Verde, a distance of 20 miles. How this 30,000 sq. ft., five level building of poured in place, reinforced concrete, was constructed on a 50 degree slope is an engineering marvel even by today's standards!
A time Capsule! Purchased by the Altherr Family in 1994, from the Phelps Dodge Mining Corp, the restoration and rehabilitation was started. Having been closed for 44 years, there had been no changes to the original building except for the enclosure of the roof top deck in 1929, The building has withstood the tests of blasting as well as the tests of time. This has to be one of the best preserved buildings in Arizona and extreme measures have been used to protect the interior and exterior integrity.
Added by: sdonley on 11/08/2013 DB#:153
Source(s):
http://www.jeromegrandhotel.com/Jerome_Hotel_histo...

---
Stories
Stories are just that. Stories and personal accounts that have been reported about the location.
---
After the United Verde Hospital became the Jerome Grand Hotel, many alleged hauntings began to occur. According to ghostlyfavorites.com. "Due to the high level of activity in the hotel, it is a quite popular destination for amateur ghost hunters". Guests that have stayed at the hotel reported to hear coughing, labored breathing, and even voices coming from empty rooms. Guests also reported smells coming from rooms, such as flowers, dust, cigar smoke, and whiskey. Others report light anomalies and the television sets turning themselves on with no explanation. Two guests have also reported seeing the apparitions of two ladies, one in a white gown, and another one in a nurses outfit. Many deaths have been reported at the site, including the death of Claude Harvey, who was crushed to death by an elevator, the suicides of two maintenance people, both by hanging, and the deaths of many patients during the United Verde Hospital stage of the hotel. The hotel was featured on TV shows, such as Ghost Adventures and Paranormal Challenge.
Added by: sdonley on 11/09/2013 DB#:1109
Source(s):
http://en.wikipedia.org/wiki/Jerome_Grand_Hotel

---
Paranormal Claims
Here are the paranormal claims for this location. These have been found through Internet research, reports from members, or reports from personal interviews. To add a claim, please contact PANICd.com, and we will review and add your information.
---
| | | | |
| --- | --- | --- | --- |
| Claim # | Added | Added By | Claim |
| 1639 | 11/08/2013 | sdonley | Strange noises emanate from the elevator shaft where the maintenance man Claude Harvey died. |
| 1640 | 11/08/2013 | sdonley | Lights are reported to turn on and off by themselves. |
| 1641 | 11/08/2013 | sdonley | A lady in white has been reported being seen by waking guests at night. |
| 1642 | 11/08/2013 | sdonley | Footsteps have been reported. |
| 1643 | 11/08/2013 | sdonley | Moaning sounds have been reported. |
| 1644 | 11/08/2013 | sdonley | Doors have opened and closed by themselves. |
| 1645 | 11/08/2013 | sdonley | Heavy breathing sounds have been heard and recorded. |
Paranormal Evidence
Paranormal evidence is based on claims that have been reported for this location. There can be several types of evidence; however, we have grouped them based on media type for better organization. Here you will find evidence that are logs, audio, video, or photographic.
To add evidence for a claim, you must submit it to PANICd.com for approval to be entered into the database.
---
No Evidence Reported Yet!
Additional Resources
This is a collection of Internet resources for this location. This section will house links to other websites that contain information related to history, claims, investigations, or even the location's website.
---
Los Angeles Times Article
Added: 11/08/2013 By: sdonley
Article from the Los Angels Times about paranormal activity at this location.
Wikipedia Entry
Added: 11/08/2013 By: sdonley
Wikipedia entry for this location.
Ghost Adventures Episode
Added: 11/08/2013 By: sdonley
Ghost Adventures Episode S04E20 for this location.