Rough Riders Hotel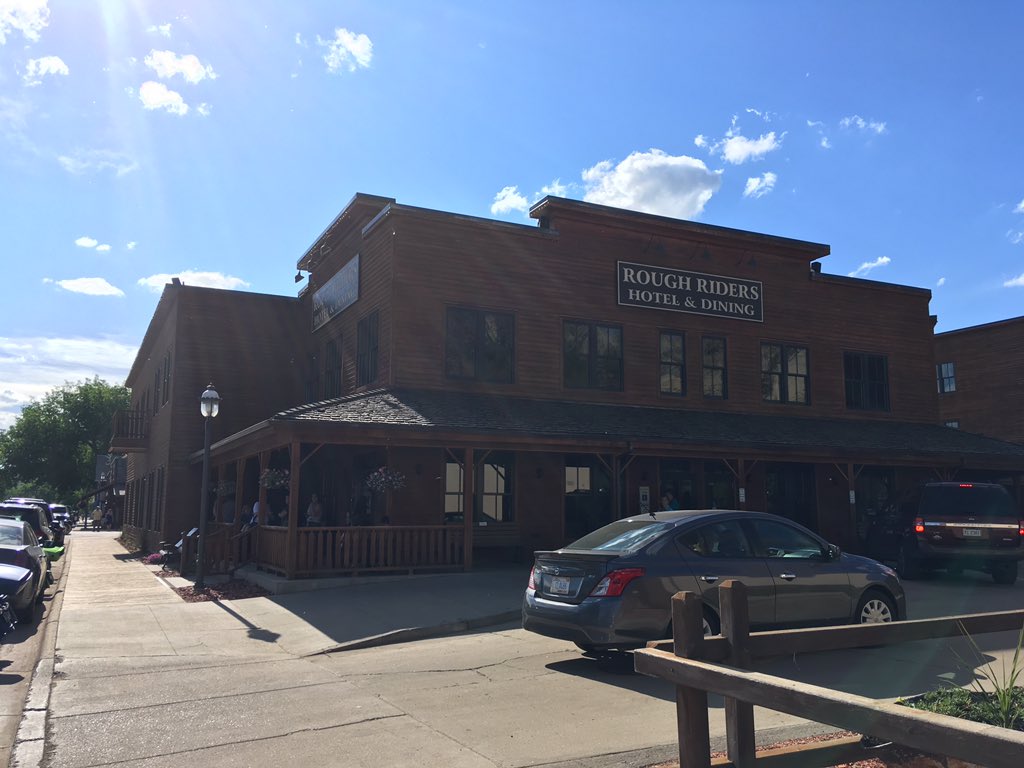 Photo by:
Kay Johnson - Happy Trail...
Location submitted by:
sdonley
on 06/14/2019
DBA Approved: Y
Larger Map
PANICd#: 2062
Named for the volunteer cavalry unit led by America's 26th President, Theodore Roosevelt, you'll fall in love the moment you arrive and see the immense hearth reaching to the tin-tiled ceiling, with walls housing one of the largest private (yet availabl
301 3rd Ave
Medora , ND 58645
Phone: (701) 623-4444
Open to the public: Yes
https://medora.com/stay/hotel/rough...
Lat: 46.915100
Lon: -103.524198
Database Summary:
Demographic Rank: 6
History: 1
Stories: 1
Claims: 3
Evidence: 0
Resources: 5
Retrievals: 1433
Vistor Rating: 0.0
Votes: 0
History
History information is some background and history about the location. This is meant to be a basic summary. Below the history records you will find sources in which you can click on to find out more information. There may be multiple history records per location.
---
13 Things about the Rough Rider Hotel
1. The Rough Riders Hotel was originally named the Metropolitan Hotel when it was built in 1884.
2. The Metropolitan (now Rough Riders Hotel) was built by George Fitzgerald as an exact copy of the Merrill House Hotel in Glendive, Montana Territory.
3. In 1905, the Rough Riders Hotel was named in honor of President Theodore Roosevelt and the local cowboys who had served under him during the Spanish-American War.
4. Harold Schafer purchased the hotel in 1962; he then dismantled the old structure and rebuilt it using as much of the original lumber as possible to restore the hotel rather than recreate it.
5. In 2010 the Rough Riders Hotel underwent a major renovation, including the addition of Theodore's Dining Room, TR's Taver, 68 new guest rooms, a tower suite and a full conference center facility.
6. The fireplace in Medora's cozy and relaxed fine dining restaurant, Theodore's Dining Room, is constructed of bricks that Harold Schafer saved from the original North Dakota State Capital after it burned in 1930.
7. Theodore Roosevelt gave a speech off of the balcony that still is attached to the front of the Rough Riders Hotel.
8. The three most popular dishes in Theodore's Dining Room are the Slow Roasted Prime Rib, the delicious Canadian Walleye, and the Braised Buffalo Osso Bucco. We recommend sampling them all - as well as the Lamb Chops, and and the Vanilla Brined Pork Chop, and the Lobster Bisque, and - well, its all so delicious you'll have to try the whole menu to decide your favorite!
9. The large stained glass windows that are now in Theodore's Dining Room and TR's Tavern are from The Church of the Redeemer, an Episcopal Church, in Superior, Wisconsin. The windows were installed in the church in 1891. In 1960, the windows were removed and their religious center circles were replaced. The windows were a gift to the Theodore Roosevelt Medora Foundation.
10. The tiles that you see through out the bathrooms in the Rough Riders Hotel have three different brands on them. These brands were Theodore Roosevelt's, the Elkhorn, the Maltese Cross, and the Triangle.
11. There are 76 historical plaques throughout the Rough Riders Hotel, one in each room. They all tell a different story about Historic Medora and all of the famous cowboys and cowgirls who have once called Medora home.
12. The Rough Riders Hotel lobby houses the Wilkinson Roosevelt Library which consists of 1,100 volumes of Theodore Roosevelt works and western lore. The library was donated in August of 1955 by James Wilkinson, a Los Angeles teacher and film writer who lived his early years in Trenton and Fargo, ND.
13. The Rough Riders Hotel is open year round in Medora! You can call to make lodging reservations at 1-800-MEDORA-1.
Added by: sdonley on 06/14/2019 DB#:399
Source(s):
http://blog.medora.com/13-things-you-didnt-know-ab...

---
Stories
Stories are just that. Stories and personal accounts that have been reported about the location.
---
The Rough Riders Hotel has been around since 1884 and it is one of the most haunted hotels in North Dakota.
It was originally christened "The Metropolitan", but when the community of Medora failed to grow as expected the name no longer seemed appropriate and in 1903 it was changed to The Rough Riders Hotel, in honor of Theodore Roosevelt's Rough Riders who served in the Spanish-American war. This seems fitting given that Theodore Roosevelt was the very first United States President to pay a visit to Medora!
It is said that there is the restless spirit of a little boy haunting one of the rooms on the uppermost floor of the hotel. Many guests have reported hearing his disembodied laughter and he is also said to enjoy flushing toilets when nobody is around as well! There has been no luck in identifying this little ghost boy or explaining why he is hanging around the hotel.
Added by: sdonley on 06/14/2019 DB#:1404
Source(s):
https://www.hauntedrooms.com/4-haunted-hotels-in-n...

---
Paranormal Claims
Here are the paranormal claims for this location. These have been found through Internet research, reports from members, or reports from personal interviews. To add a claim, please contact PANICd.com, and we will review and add your information.
---
| | | | |
| --- | --- | --- | --- |
| Claim # | Added | Added By | Claim |
| 2786 | 06/14/2019 | sdonley | The ghost of a little boy has been reported haunting one of the rooms on the upper floor. |
| 2787 | 06/14/2019 | sdonley | Disembodied laughter has been heard. |
| 2788 | 06/14/2019 | sdonley | Toilets have been known to flush by themselves. |
Paranormal Evidence
Paranormal evidence is based on claims that have been reported for this location. There can be several types of evidence; however, we have grouped them based on media type for better organization. Here you will find evidence that are logs, audio, video, or photographic.
To add evidence for a claim, you must submit it to PANICd.com for approval to be entered into the database.
---
No Evidence Reported Yet!
Additional Resources
This is a collection of Internet resources for this location. This section will house links to other websites that contain information related to history, claims, investigations, or even the location's website.
---
Rough Riders Hotel & Conference Center
Added: 06/14/2019 By: sdonley
Official North Dakota Travel & Tourism Guide
Yelp Page
Added: 06/14/2019 By: sdonley
18 reviews of Rough Riders Hotel And Convention Center "A great place in the center of Medora and PERFECT for access to Theodore Roosevelt NP. Staff at the front desk were really friendly and gave us a choice of room. The room itself was bigger…
Facebook Page
Added: 06/14/2019 By: sdonley
Facebook Page for this location.
TripAdvisor
Added: 06/14/2019 By: sdonley
Rough Riders Hotel: roughrider hotel medora n.d - See 462 traveler reviews, 200 candid photos, and great deals for Rough Riders Hotel at TripAdvisor.
Rough Riders Hotel, Medora | Roadtrippers
Added: 06/14/2019 By: sdonley
Rough Riders Hotel is a Historic Site in Medora. Plan your road trip to Rough Riders Hotel in ND with Roadtrippers.