Powel House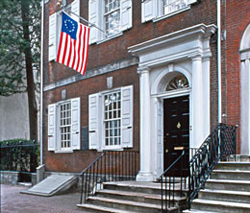 Photo by:
http://drphysick.com/samu...
Location submitted by:
cwormley
on 02/16/2015
DBA Approved: Y
Larger Map
PANICd#: 1366
Powel House is a historic mansion/museum located at 244 South 3rd Street between Willings Alley and Spruce Street in the Society Hill neighborhood.
244 South 3rd Street
Philadelphia , PA 19106
Phone: (215) 627-0364
Open to the public: Yes
http://www.philalandmarks.org/powel...
Lat: 39.9457592
Lon: -75.1469267
Database Summary:
Demographic Rank: 6
History: 2
Stories: 2
Claims: 4
Evidence: 0
Resources: 1
Retrievals: 2581
Vistor Rating: 0.0
Votes: 0
History
History information is some background and history about the location. This is meant to be a basic summary. Below the history records you will find sources in which you can click on to find out more information. There may be multiple history records per location.
---
This three story grand Georgian Colonial townhouse museum is built along 3rd street known as "Millionaires Row." It is a house museum which has a lovely 18th century garden area as well. The rooms contain old artifacts and authentic reproductions of furnishings which existed during the time which Samuel Powel lived here. The original property was much larger in the 18th and 19th century, as the grounds extended to 4th street. The first floor's dining room and parlor are found on either side of the main paneled and columned entrance hallway, which also features the original glorious colonial, Santo Domingo mahogany staircase. The second floor highlights include the rococo ballroom, with bas-relief plaster work, where George and Martha Washington celebrated their anniversary in 1779. Also, worth admiring is the adjacent withdrawing parlor, which was used then and now as an elegant room for cocktails, conversations, and dining. The beautiful mahogany wainscoting throughout the mansion give the place its reputation as perhaps America's finest existing Georgian Colonial townhouse. Admission: Adults $5.00, Students and Seniors $4.00, Family $12.00, Children 6 and under FREE. Group Tours (10 or more people with appointment): $3.00 per person.
Added by: cwormley on 03/19/2015 DB#:261
Source(s):
http://www.hauntedhouses.com/states/pa/powel_house...

---
The Powel House was built in 1765-1766 by a real estate owner, Charles Stedman, who wound up having to sell it to try to keep out of debtor's prison. Samuel Powel, who bought this glorious home from Stedman in 1769, has the distinction of being the last colonial mayor of Philadelphia before the Revolution, and the first mayor after the Revolution. Samuel Powel was personal friends with George Washington and many of the signers of the Declaration of Independence, as well as the Marquis de Lafayette. He and his wife entertained them all in their home. Samuel Powel died from yellow fever in 1793. During the early 1900s, the house was owned by Wolf Klebansky, who used it as a warehouse and office for his import/export business featuring Russian and Siberian horse hair and bristles. By 1917, Wolf Klebansky, the dolt, had sold much of the interior architectural detail, designed by Robert Smith to the Philadelphia Museum of Art and the Metropolitan Museum. In 1931, the Powel House was little more than a shell of its former self, and nearly torn down to make way for an open-air garage and parking lot... YIKES!!! What were they thinking? People came to their senses in the nick of time! The Landmarks Society was founded by Frances Anne Wister in 1931 to specifically save the Powel House from the wrecking ball, by raising the money to buy the property. The Landmarks Society continued in its work of saving and then restoring, furnishing, and presenting to the public its distinguished house museums, holding events and renting out space in these homes to help with the expenses. Weddings, receptions, special events are held here, which would've made the Powels very happy as they loved to entertain!
Added by: cwormley on 03/19/2015 DB#:262
Source(s):
http://www.hauntedhouses.com/states/pa/powel_house...

---
Stories
Stories are just that. Stories and personal accounts that have been reported about the location.
---
The apparition of Marquis de Lafayette and some ghostly Continental Army Officers have been seen entering the front door of the Powel House without having to open the door, as they simply walked right through!
Added by: cwormley on 03/19/2015 DB#:1212
Source(s):
http://www.hauntedhouses.com/states/pa/powel_house...

---
The apparition of a young, beautiful woman dressed in a beige and lavender dress has made the second floor her home. She has been seen sitting in the withdrawing room (found just off the second floor ballroom), fanning herself. When spotted by the living, she smiles graciously before melting into the air. A man on a tour had to use the rest room on the second floor, when the lights went out. It was pitch black and he couldn't see his hand in front of his face. He found the hallway by following the side wall of the restroom... Then He felt a cold wind surround him. A cold hand firmly took his hand and led him to the stairs. Just then, the lights went on and for an instant he saw his benefactress, a beautiful woman, who smiled at him as she faded away!
Added by: cwormley on 03/19/2015 DB#:1213
Source(s):
http://www.hauntedhouses.com/states/pa/powel_house...

---
Paranormal Claims
Here are the paranormal claims for this location. These have been found through Internet research, reports from members, or reports from personal interviews. To add a claim, please contact PANICd.com, and we will review and add your information.
---
| | | | |
| --- | --- | --- | --- |
| Claim # | Added | Added By | Claim |
| 2200 | 03/19/2015 | cwormley | Apparition of Marquis de Lafayette |
| 2201 | 03/19/2015 | cwormley | Apparitions of Continental Army Officers |
| 2202 | 03/19/2015 | cwormley | Apparition of a young, beautiful woman |
| 2203 | 03/19/2015 | cwormley | Entity of Benedict Arnold |
Paranormal Evidence
Paranormal evidence is based on claims that have been reported for this location. There can be several types of evidence; however, we have grouped them based on media type for better organization. Here you will find evidence that are logs, audio, video, or photographic.
To add evidence for a claim, you must submit it to PANICd.com for approval to be entered into the database.
---
No Evidence Reported Yet!
Additional Resources
This is a collection of Internet resources for this location. This section will house links to other websites that contain information related to history, claims, investigations, or even the location's website.
---