Paso Robles Inn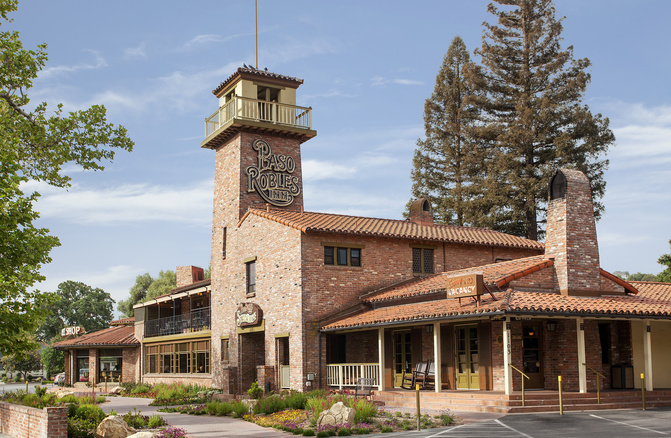 Photo by:
http://www.pasoroblesinn....
Location submitted by:
sdonley
on 12/08/2012
DBA Approved: Y
PANICd#: 1273
In 1889, the same year that Paso Robles incorporated as a city, construction began on a magnificent new hotel. The hotel required over one million bricks and cost a princely $160,000. The new El Paso de Robles Hotel opened for business in 1891.
1103 Spring Street
Paso Robles , CA 93446
Phone: 805-238-2660
Open to the public: Unknown
Lat: 35.625599
Lon: -120.692184
Database Summary:
Demographic Rank: 6
History: 1
Stories: 1
Claims: 4
Evidence: 0
Resources: 1
Retrievals: 974
Vistor Rating: 0.0
Votes: 0
History
History information is some background and history about the location. This is meant to be a basic summary. Below the history records you will find sources in which you can click on to find out more information. There may be multiple history records per location.
---
1857 - James and Daniel Blackburn purchase "El Paso de Robles"
El Paso de Robles, or "Pass of the Oaks," was originally part of a 25,000-acre Spanish land grant that was purchased by James and Daniel Blackburn in 1857. The land was a rest stop for travelers of the Camino Real trail, and was known for its mineral hot springs.
In fact, Franciscan priests from neighboring Mission San Miguel constructed the first mineral baths in the area. At this point in Paso Robles history pioneer settlers began to be attracted to the area and would become the founding members of the community. They would later establish cattle ranches, apple and almond orchards, dairy farms, and vineyards. In 1864 the first El Paso de Robles Hotel was constructed and featured a hot mineral springs bath house.
Click the source link for a complete timeline history of this location.
Added by: sdonley on 02/12/2015 DB#:246
Source(s):
http://www.pasoroblesinn.com/history-en.html

---
Stories
Stories are just that. Stories and personal accounts that have been reported about the location.
---
After rereading a San Francisco Examiner article about the 1940 fire that destroyed the original hotel, Wallace began to theorize about who the ghost caller might be.
According to the article, night clerk J.H. Emsley discovered the fire on the second floor of the hotel on Dec. 19, 1940. Emsley rushed downstairs to the first floor, sounded the alarm, then died of a heart attack on the spot.
Wallace said the Thursday 911 call went out close to 9:05 p.m., the time Emsley sounded the alarm the night of the fire. Police records show the 911 call came in closer to 9:30, but Wallace stands by his theory.
Thanks to Emsley, all of the hotel's guests were evacuated safely. But Wallace said he thinks the ghostly clerk doesn't know that.
"I think it's unfinished business, " Wallace said. "He has no idea that the 200 guests were escorted out safely."
Police are skeptical about the ghost theory.
Added by: sdonley on 02/12/2015 DB#:1199
Source(s):
http://www.sanluisobispo.com/2013/10/21/2744326/gh...

---
Paranormal Claims
Here are the paranormal claims for this location. These have been found through Internet research, reports from members, or reports from personal interviews. To add a claim, please contact PANICd.com, and we will review and add your information.
---
| | | | |
| --- | --- | --- | --- |
| Claim # | Added | Added By | Claim |
| 2160 | 02/12/2015 | sdonley | Room 107 is supposedly haunted by the night auditor that died in a fire. |
| 2161 | 02/12/2015 | sdonley | The phone will call the front desk or 911 by spirits. |
| 2162 | 02/12/2015 | sdonley | The ballroom is haunted by a little girl that runs up and down the hallway. |
| 2163 | 02/12/2015 | sdonley | An apparition of a woman has been seen in the courtyard. |
Paranormal Evidence
Paranormal evidence is based on claims that have been reported for this location. There can be several types of evidence; however, we have grouped them based on media type for better organization. Here you will find evidence that are logs, audio, video, or photographic.
To add evidence for a claim, you must submit it to PANICd.com for approval to be entered into the database.
---
No Evidence Reported Yet!
Additional Resources
This is a collection of Internet resources for this location. This section will house links to other websites that contain information related to history, claims, investigations, or even the location's website.
---
Trip Advisor
Added: 02/12/2015 By: sdonley
TripAdvisor listing for this location.