Muhlenberg College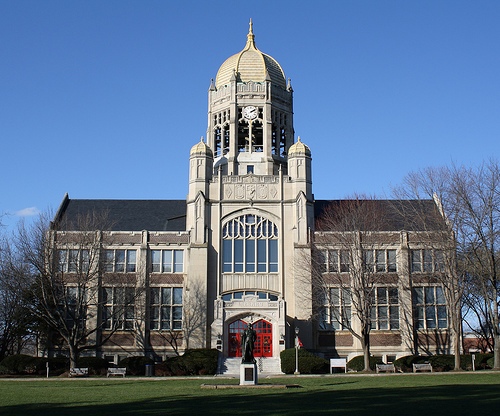 Photo by:
http://inlikeme.com/muhle...
Location submitted by:
cowrmley
on 02/16/2015
DBA Approved: Y
Larger Map
PANICd#: 1364
Muhlenberg College is a private liberal arts college located in Allentown, PA.
2400 W Chew St
Allentown , PA 18104
Phone: (484) 664-3100
Open to the public: No
Lat: 40.5961591
Lon: -75.5095713
Database Summary:
Demographic Rank: 6
History: 1
Stories: 2
Claims: 1
Evidence: 0
Resources: 1
Retrievals: 3904
Vistor Rating: 0.0
Votes: 0
History
History information is some background and history about the location. This is meant to be a basic summary. Below the history records you will find sources in which you can click on to find out more information. There may be multiple history records per location.
---
Muhlenberg College was founded in 1848. It was renamed in 1867, to honor Henry Melchior Muhlenberg, patriarch of the Lutheran Church in the American Colonies. Though it started off as a Lutheran school, it now embraces all faiths and celebrates its diversity. 33% of the student population is Jewish. Their philosophy of education can be found in their introductory statement on their website: "Muhlenberg aims to help students become independent critical thinkers who are intellectually agile, characterized by a zest for reasoned and civil debate, knowledgeable about the achievements and traditions of diverse civilizations and cultures, able to express ideas with clarity and grace, committed to life-long learning, equipped with ethical and civic values and prepared for lives of leadership and service." The College offers 40 majors in the humanities, fine arts, social sciences and natural sciences, in addition to strong pre-professional programs in such areas as pre-health, pre-law, pre-theology, business and education. As the decades passed, the college grew in size, and homes and dorms were built for its students, faculty and others who worked closely with the school. Some folks, like Oscar Bernheim, who was a registrar or treasurer of the college, built their homes on or near school land. Some of the on campus homes, such as the Gabriel House, located on the northeast edge of the front grassy college greens area, were donated to the college, and are still used for educational purposes. The Gabriel House is located on the front lawn of the college, and is home to the Wescoe Program, that offers studies and hands-on experience in the college's continuing education efforts in liberal arts program, offering accelerated degrees, and summer study opportunities. Recent construction of needed housing and other structures in the decade of 2000-2010, also provides more modern buildings that please the younger generation, as well as the older generation. Sometimes other buildings/homes on campus had to be torn down, to make way for the new structures that meet the needs of students and faculty.
Added by: cwormley on 03/19/2015 DB#:260
Source(s):
http://www.hauntedhouses.com/states/pa/muhlenberg-...

---
Stories
Stories are just that. Stories and personal accounts that have been reported about the location.
---
During the time period when Oscar's house and garden were still in existence, his apparition was seen: puttering around his beloved garden in the back of his house, hanging around in the third floor bedroom where he died an being busy in the attic and in the basement area.
Added by: cwormley on 03/19/2015 DB#:1210
Source(s):
http://www.hauntedhouses.com/states/pa/muhlenberg-...

---
After his house and garden were destroyed, Oscar made himself known in South Hall, in a playful way, as he always liked students. Reports of activity have been reported in South Hall, especially in one suite. The TV of one student would turn itself off and on. Items would move themselves around the suite.
Added by: cwormley on 03/19/2015 DB#:1211
Source(s):
http://www.hauntedhouses.com/states/pa/muhlenberg-...

---
Paranormal Claims
Here are the paranormal claims for this location. These have been found through Internet research, reports from members, or reports from personal interviews. To add a claim, please contact PANICd.com, and we will review and add your information.
---
| | | | |
| --- | --- | --- | --- |
| Claim # | Added | Added By | Claim |
| 2199 | 03/19/2015 | cwormley | The entity of Oscar Bernheim |
Paranormal Evidence
Paranormal evidence is based on claims that have been reported for this location. There can be several types of evidence; however, we have grouped them based on media type for better organization. Here you will find evidence that are logs, audio, video, or photographic.
To add evidence for a claim, you must submit it to PANICd.com for approval to be entered into the database.
---
No Evidence Reported Yet!
Additional Resources
This is a collection of Internet resources for this location. This section will house links to other websites that contain information related to history, claims, investigations, or even the location's website.
---