Metropolitan Cathedral Basilica of Saint John the Baptist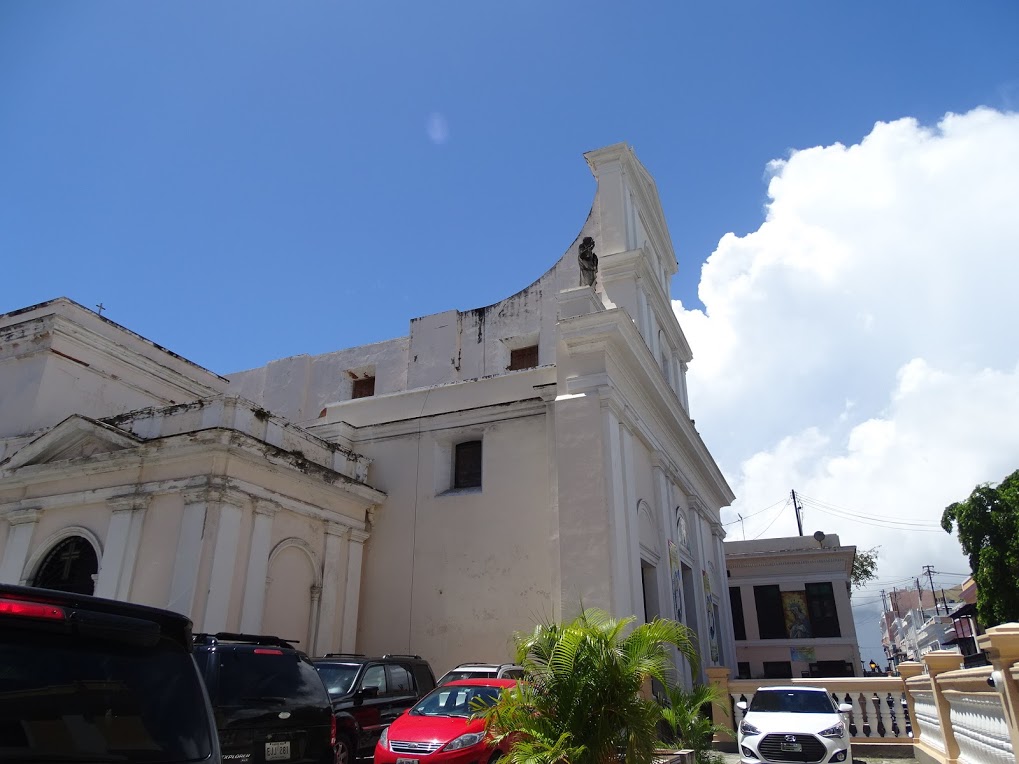 Photo by:
Marianne Donley
Location submitted by:
sdonley
on 12/20/2019
DBA Approved: Y
Larger Map
PANICd#: 2126

The original cathedral in what was the city of Puerto Rico (changed to San Juan Bautista in 1521) was constructed from wood in 1521.
1401 PR-25
San Juan , PR 00907
Open to the public: Yes
https://www.catedralepiscopalpr.org...
Lat: 18.448390
Lon: -66.071190
Database Summary:
Demographic Rank: 5
History: 1
Stories: 1
Claims: 0
Evidence: 0
Resources: 1
Retrievals: 9742
Vistor Rating: 1.0
Votes: 1
History
History information is some background and history about the location. This is meant to be a basic summary. Below the history records you will find sources in which you can click on to find out more information. There may be multiple history records per location.
---
The original cathedral in what was the city of Puerto Rico (changed to San Juan Bautista in 1521) was constructed from wood in 1521. It was destroyed by a hurricane and the current structure constructed in 1540, being reshaped in later centuries, the last time being in 1917.
The first school in Puerto Rico was the Escuela de gramática (Grammar School). The school was established by Bishop Alonso Manso in 1513, in the area where the cathedral would later be constructed. The school was free of charge and the courses taught were Latin language, literature, history, science, art, philosophy and theology.
The cathedral contains the tomb of the Spanish explorer and settlement founder Juan Ponce de León. It also has a shrine to the Blessed Carlos Manuel Rodríguez Santiago, the first Puerto Rican, the first Caribbean-born layperson in history to be beatified.
The first organist of the Cathedral of San Juan was the Canarian Domingo Crisanto Delgado Gómez who came from the island of Tenerife and managed to take this position in 1836, having been a composer in Cathedral Our Lady of Los Remedios of San Cristóbal de La Laguna in his native island
Added by: sdonley on 12/20/2019 DB#:552
Source(s):
https://en.wikipedia.org/wiki/Catedral_Metropolita...

---
Stories
Stories are just that. Stories and personal accounts that have been reported about the location.
---
As of December of 2019, we have not found any paranormal claims at this location; however, if you know of any, please let us know so that they can be added to the database.
Added by: sdonley on 12/20/2019 DB#:1552
Source(s):
S. Donley

---
Paranormal Claims
Here are the paranormal claims for this location. These have been found through Internet research, reports from members, or reports from personal interviews. To add a claim, please contact PANICd.com, and we will review and add your information.
---
No Claims Yet!
Paranormal Evidence
Paranormal evidence is based on claims that have been reported for this location. There can be several types of evidence; however, we have grouped them based on media type for better organization. Here you will find evidence that are logs, audio, video, or photographic.
To add evidence for a claim, you must submit it to PANICd.com for approval to be entered into the database.
---
No Evidence Reported Yet!
Additional Resources
This is a collection of Internet resources for this location. This section will house links to other websites that contain information related to history, claims, investigations, or even the location's website.
---
Wikipedia Entry
Added: 12/20/2019 By: sdonley
Wikipedia entry for this location.