Maplecroft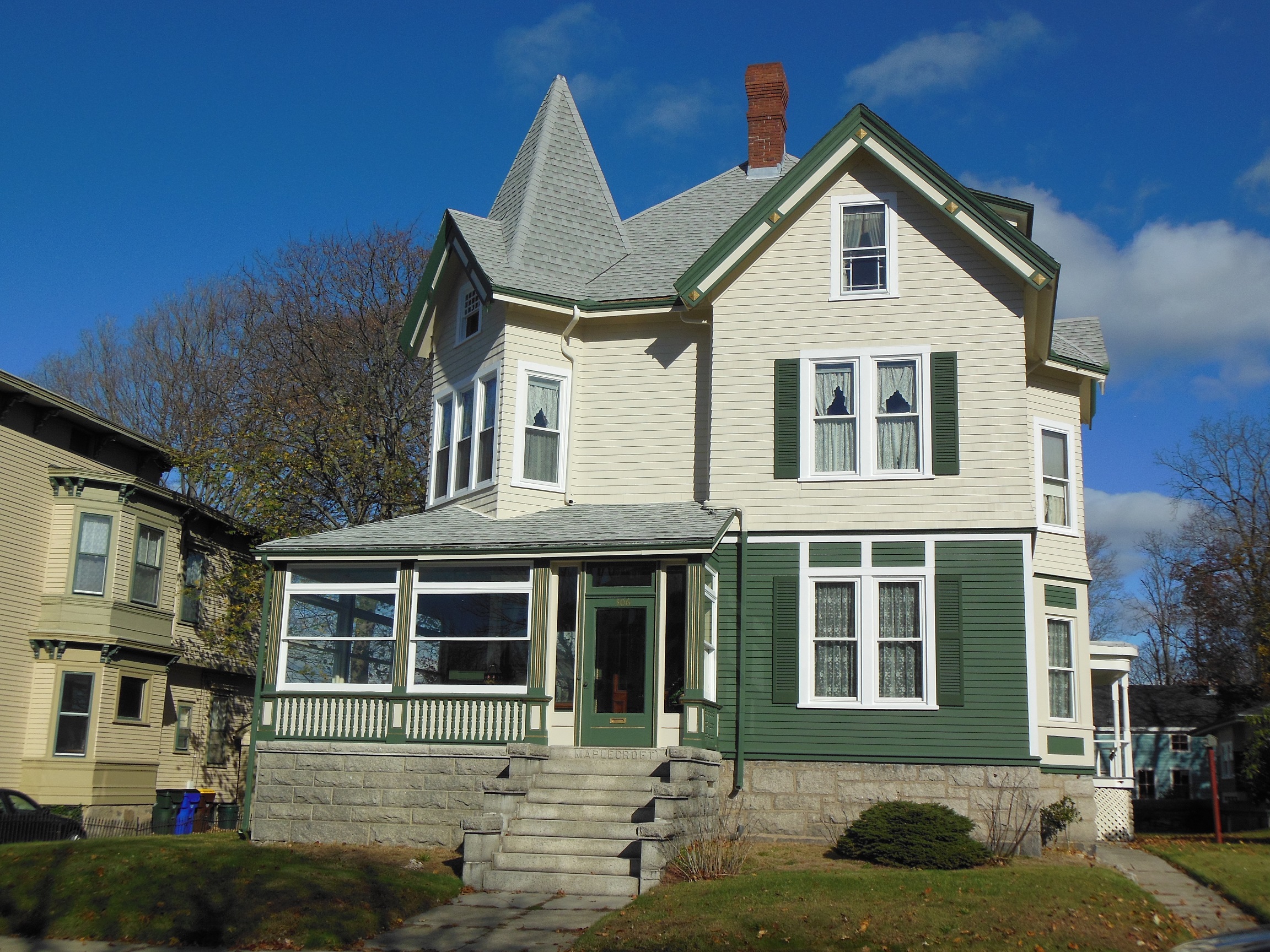 Photo by:
Marianne Donley
Location submitted by:
sdonley
on 08/03/2017
DBA Approved: Y
Larger Map
PANICd#: 1913

Maplecroft is most well known as Lizzie Borden's home on the hill. She lived there from shortly after her trial where she was acquitted of murder until her death in 1927.
306 French St
Fall River , MA 02720
Phone: 508-673-8088
Open to the public: No
https://www.facebook.com/LizzieBord...
Lat: 41.7107105
Lon: -71.14781149999999
Database Summary:
Demographic Rank: 6
History: 1
Stories: 2
Claims: 4
Evidence: 0
Resources: 10
Retrievals: 7181
Vistor Rating: 0.0
Votes: 0
History
History information is some background and history about the location. This is meant to be a basic summary. Below the history records you will find sources in which you can click on to find out more information. There may be multiple history records per location.
---
Maplecroft is most well known as Lizzie Borden's home on the hill. She lived there from shortly after her trial where she was acquitted of murder until her death in 1927.
Most people do not know though that she is the only owner that died in the house and her wake was held there as well, in the parlor.
The house is also known as the Charles M. Allen House as Maplecroft was built in 1889, for Charles Allen, who lived in the house until he sold it to the Borden sisters in 1893.
The building is at 306 French St. (formerly 7 French street). It is 17860 sq. ft. and sits on just under a half acre and is identified by its name etched in the top step.
It is a 2 1/2 story clapboard Queen Anne with a 4 sided steep turret that is angled toward the street and a stone foundation. It has a gable topped bay window, cor-belled chimney caps, barge-boards, stained glass windows, and flat dormers. It has 8 bedrooms, 3 1/2 baths, 6 fireplaces, 2 sun rooms, a kitchen, a dining room, Parlor, a grand staircase and a wrap-around porch. It features walnut wainscoting, parquet floors, coffer ceilings in the parlor, a tin ceiling in the kitchen, and the floral wallpaper that Lizzie personally chose for the dining room. The mantle in the second floor bedroom previously occupied by Lizzie Borden has the inscription "My Ain Countrie" surrounded by thistles AND Lizzie's bathroom still has all of its original fixtures, including the claw-foot tub and even the mirror that dates to about 1910. There is also a cubby where milk deliveries were left each day. It is a little square door hidden on a wall of the back porch still opens.The estate also has a carriage house.
The original building permit is from 1889 and identifies it as a wood tenement that would be 39 x 48 1/2 x 35 with a stone foundation with a cost of $7000.
Lizzie and Emma Borden purchased the house for $11,000 just after Lizzie's trial was over (the deed was recorded Aug 10, 1893)and they moved in Sept. 2, 1893. They owned the house from 1893 to 1927 the year that both of them died. Though Emma only lived there until 1905. It was actually Lizzie who hired a mason to etch the term maplecroft into the front step and also replaced all the mantles. In 1909, Lizzie also had two additions added to the building. Aug 15, she had a 14x15 two story addition for $1000 and Sept 18 she added a one story wood addition for $1100. Both were completed by D. A. Moore and added an extra bedroom, kitchen, and wraparound porch. She also had the Carriage house built in 1911.
After Lizzie's death, Maplecroft remained vacant (estate proceedings) from 1927 to 1933 and was in the care of Laffetette Bank.
From 1933 to 1948, Maplecroft was owned by Herman and Fannie David.
From 1948 to 1980, the house was owned by Judge Frank M. Silvia, Jr.
From 1980 to November of 2014, Maplecroft was owned by Robert J. Dube. who purchased the home for $60,000. During the time that Dube owned the home, he briefly ran it as a B&B and gave tours of the building. These reportedly ended in 1992 though.
From November of 2014 to February of 2018, Maplecroft was owned by Kristee Bates of Twilight Enterprises who purchased the building for $495,000. After zoning issues stonewalled her plans for the building she decided to cut her losses and put the building up for sale.
February 2018 Leann Wilbur and Donald Woods of Lizzie Borden Bed and Breakfast LLC purchased the building for $600,000 and are completing finishing touches to open it up as a B&B. Current restorations are bringing the building up to code, including adding a sprinkler system, and likely a chair lift on the main staircase to meet requirements, but the restorations do intend to keep the kitchen's tin ceiling and Lizzie's dining room wallpaper.
Added by: sdonley on 07/29/2019 DB#:435
Source(s):
Multiple, see resrouces below.

---
Stories
Stories are just that. Stories and personal accounts that have been reported about the location.
---
The opulent mansion in Fall River, Mass., looks quaint and peaceful on the outside, but the paranormal activity inflicting the home is growing more intense as the current owners look to open the property up to visitors. Employees have reported being physically attacked and hearing disembodied voices (the voice of Borden herself, maybe?). Borden, one of history's most notorious women, hasn't lived at Maplecroft for almost 100 years, and she's clearly not ready to give up her home just yet.
Borden lived at Maplecroft for 34 years, having purchased the home after she was acquitted of her parents' murders. She lived in the house with her sister, Emma, for 12 years, then alone until her death in 1927. She died there, though the exact location is unknown (fun fact: she had not one, but two bedrooms). Her wake even took place in the parlor, which Chip Coffey might have picked up on right away.
Added by: sdonley on 07/29/2019 DB#:1437
Source(s):
https://www.travelchannel.com/shows/kindred-spirit...

---
In the early spring of 2018, The new owners of Maplecroft, which are also the owners of the Lizzie Borden Bed and Breakfast, brought in a psychic, clairvoyant, medium to see what he sensed at the building. Immediately he was surprised by the activity that he sensed when through the threshold.
Just some of the things that he picked up on was balls of energy lights moving across the front parlor areas and the images of a party that was still going on from more than a century ago. He sensed several spirits at the party and especially two men that were in the corner of the room and did not like his presence there.
He went on the explain that the party was some type of Easter celebration and he even picked up on the presence of Lizzy herself describing her as being dressed in a deep satin purple dress and looking like she did at the time when Emma and her first purchased the home.
He sensed a pianist in the corner entertaining the guests as they mingled and chatted and children were outside in the yard participating in an Easter Egg Hunt.
He said Lizzie had "striking eyes," a shade of gray that looked almost lavender near her dress, and was wearing "little brown glasses. She smiled. It was a very pleasant smile."
Emma was also at the party, dating the event between 1893 and 1905, the year Emma moved away from Maplecroft and became estranged from her sister.
"When Emma saw me, she left the room," he said. "Emma wasn't a friendly character."
Upstairs in a small room on the third floor, thought to have been used for s'ances in Lizzie's time, he found two more spirits: an "older gentleman" and a woman, both mediums.
The gentleman, he said, "stood up" and looked "upset" to have been interrupted. "That gave him the willies," he said.
Could these visions that he experienced be a residual type haunting that takes place at Maplecroft as if it was a record repeating the same party over and over? Of course my friends, as we know, more investigations need to be performed at the location.
A tour guide who is also a paranormal investigator from the Lizzie Board and Breakfast conducted a preliminary investigation in the home as well.
She was able to get intelligent responses from an entity who she believes is Lizzie herself, with responses on a spirit box of "hello" and "Nance" when she was asking questions about Lizzie's close friend and actress, Nance O'Neil, she truly believes that Lizzie's spirit still roams the halls of Maplecroft although she passed away back in 1927.
Added by: sdonley on 07/29/2019 DB#:1438
Source(s):
Video Script - Shawn Donley

---
Paranormal Claims
Here are the paranormal claims for this location. These have been found through Internet research, reports from members, or reports from personal interviews. To add a claim, please contact PANICd.com, and we will review and add your information.
---
| | | | |
| --- | --- | --- | --- |
| Claim # | Added | Added By | Claim |
| 2899 | 07/29/2019 | sdonley | Employees working on the house have reported the feeling of being grabbed. |
| 2900 | 07/29/2019 | sdonley | Doors have slammed shut on their own. |
| 2901 | 07/29/2019 | sdonley | Disembodied voices have been heard and recorded. |
| 2902 | 07/29/2019 | sdonley | Footsteps have been heard throughout the house. |
Paranormal Evidence
Paranormal evidence is based on claims that have been reported for this location. There can be several types of evidence; however, we have grouped them based on media type for better organization. Here you will find evidence that are logs, audio, video, or photographic.
To add evidence for a claim, you must submit it to PANICd.com for approval to be entered into the database.
---
No Evidence Reported Yet!
Additional Resources
This is a collection of Internet resources for this location. This section will house links to other websites that contain information related to history, claims, investigations, or even the location's website.
---
An Exclusive 'Kindred Spirits' Look Inside Lizzie Borden's Maplecroft Home | Kindred Spirits | Travel Channel
Added: 07/29/2019 By: sdonley
Adam Berry and Amy Bruni are the first-ever paranormal investigators to enter Maplecroft, Lizzie Borden's final residence.
Facebook
Added: 07/29/2019 By: sdonley
Facebook Page for this location.
Maplecroft Bed & Breakfast | Tattered Fabric: Fall River's Lizzie Borden
Added: 07/29/2019 By: sdonley
Posts about Maplecroft Bed & Breakfast written by phayemuss
Trip Advisor
Added: 07/29/2019 By: sdonley
Trip Advisor Information.
Matt & Chase Realty Page - Virtual Tour
Added: 07/29/2019 By: sdonley
This website contains a virtual tour of the inside of the location.
Lizzie Borden's Maplecroft, once home to a monkey, to operate as vacation rental
Added: 07/29/2019 By: sdonley
Information about the location, see link for details.
While maintaining historical touches, Lizzie Borden's Maplecroft gets modern upgrades
Added: 07/29/2019 By: sdonley
Information about the location, see link for details.
Maplecroft – Through the Years | Tattered Fabric: Fall River's Lizzie Borden
Added: 07/29/2019 By: sdonley
Maplecroft, aka 306 French Street, Fall River, was the much loved and prideful residence of Lizzie Borden.  She lived there the entire second half of her life. The interior is well preserved by its current owner, Robert Dube. The Mass. Historical Commission has incorrect information.  The document states the Borden sisters moved there in 1894.
Maplecroft officially sold to owners of Lizzie Borden B&B
Added: 07/29/2019 By: sdonley
Information about the location, see link for details.
Lizzie Borden's Maplecroft Mansion in Fall River sells for $600K
Added: 07/29/2019 By: sdonley
Information about the location, see link for details.