Lucille Ball's Former Home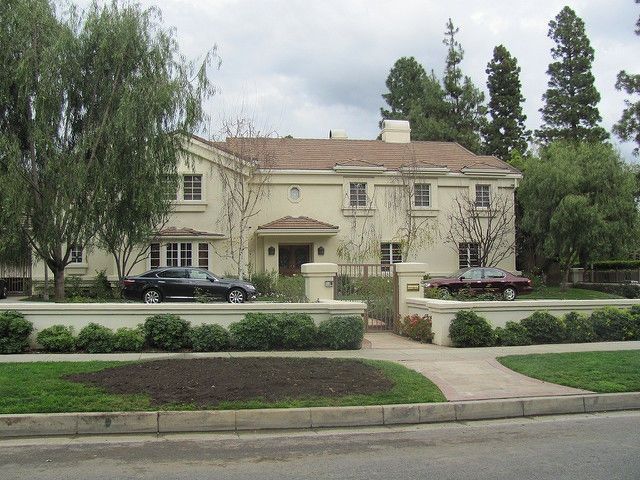 Photo by:
Loren Javier via Flickr /...
Location submitted by:
sdonley
on 01/04/2018
DBA Approved: Y
Larger Map
PANICd#: 1976
The former mansion of Lucille Ball, now has reports of paranormal claims.
1000 N Roxbury Dr
Beverly Hills , CA 90210
Open to the public: No
Lat: 34.0811142
Lon: -118.42048879999999
Database Summary:
Demographic Rank: 4
History: 1
Stories: 2
Claims: 4
Evidence: 0
Resources: 4
Retrievals: 7768
Vistor Rating: 5.0
Votes: 4
Videos for this location on PANICd Video:

History
History information is some background and history about the location. This is meant to be a basic summary. Below the history records you will find sources in which you can click on to find out more information. There may be multiple history records per location.
---
Lucille Ball and her then husband, Desi Arnaz purchased this mansion in Beverly Hills in 1954. Lucy loved this home since it was close to the Desilu studios, yet she could still have some seclusion at home with her family. They even filmed a couple episodes of "I Love Lucy" in the back yard.
All though she owned other homes, Lucy lived here most of the time even up to her death in 1989. She kept this home for 35 years.
A few years after her death, her husband of 27 years, Gary Morton, sold the home in what was considered to be a very low real estate market. Now, there are reports out there that the original house was tour down, but there are also reports that there was extensive renovation done on the home. Even a large portion of the right side of the house was removed.
Added by: sdonley on 01/04/2018 DB#:347
Source(s):
S. Donley

---
Stories
Stories are just that. Stories and personal accounts that have been reported about the location.
---
A friend of Lucille's drove past the property to see the home one last time. Walls were missing and he could see Lucille's old bedroom. He then noticed a tall, slim redhead peering through the fence at the what was left.
She turned toward him and he realized it was Lucy. She looked upset and confused. She then walked around the south corner of the house and disappeared.
Despite the fact Lucille's home was destroyed there still have been reports of a number of strange happenings. It is felt Lucille Ball's ghost haunts the new home that replaced hers.
Most of the activity occurs in the attic.
Lucille's ghost is said to be playful but seldom intrusive. It appears she hangs around because she loves her old neighborhood.
Her ghost is sometimes impulsive. One recent owner of the Roxbury home stated that her ghost spends a lot of time rearranging furniture and boxes that are stored in the attic.
She has never physically damaged anything but a variety of noises have been reported emulating from the attic. One witness claimed she heard the sounds of a party going on upstairs.
Another witness, a family member of the new owners stated she heard the I Love Lucy theme song playing softly in the attic--she heard this song on more than one occasion.
Ball's presence has always been accepted as being a natural part of the home. When it was suggested to the owner that an exorcism should be performed he stated he could never do that to "Lucy."
Added by: sdonley on 01/04/2018 DB#:1331
Source(s):
https://seeksghosts.blogspot.com/2014/09/lucille-b...

---
Lucille Ball's former 6 bedroom, 8 bathroom mansion in Beverly Hills is estimated to be worth upwards of 15 million if sold today. But buyers may want to beware. The star died in 1989 and subsequent owners have reported mysterious broken windows, voices heard from the attic, and furniture moving around the house. Prospective buyers should also take note though that Lucy's a busy gal and travels frequently in death as she did in life. Mystics believe that because Lucy did not die in the Roxbury Drive home her soul is free to wander: her ghost has been seen elsewhere - the Hart building on the Paramount Studios back lot where "I Love Lucy" was produced and the Jamestown Cemetery in New York where she was buried.
Added by: sdonley on 01/04/2018 DB#:1332
Source(s):
http://thehollywoodhome.com/buyer-beware-these-hol...

---
Paranormal Claims
Here are the paranormal claims for this location. These have been found through Internet research, reports from members, or reports from personal interviews. To add a claim, please contact PANICd.com, and we will review and add your information.
---
| | | | |
| --- | --- | --- | --- |
| Claim # | Added | Added By | Claim |
| 2621 | 01/04/2018 | sdonley | The apparition of Lucy has been seen standing on the grounds. |
| 2622 | 01/04/2018 | sdonley | Noises, conversations, and strange sounds have been heard form the attic. |
| 2623 | 01/04/2018 | sdonley | Boxes and furniture have been moved around in the attic. |
| 2624 | 01/04/2018 | sdonley | The "I Love Lucy" theme song has been heard coming form the attic. |
Paranormal Evidence
Paranormal evidence is based on claims that have been reported for this location. There can be several types of evidence; however, we have grouped them based on media type for better organization. Here you will find evidence that are logs, audio, video, or photographic.
To add evidence for a claim, you must submit it to PANICd.com for approval to be entered into the database.
---
No Evidence Reported Yet!
Additional Resources
This is a collection of Internet resources for this location. This section will house links to other websites that contain information related to history, claims, investigations, or even the location's website.
---