Liar's Club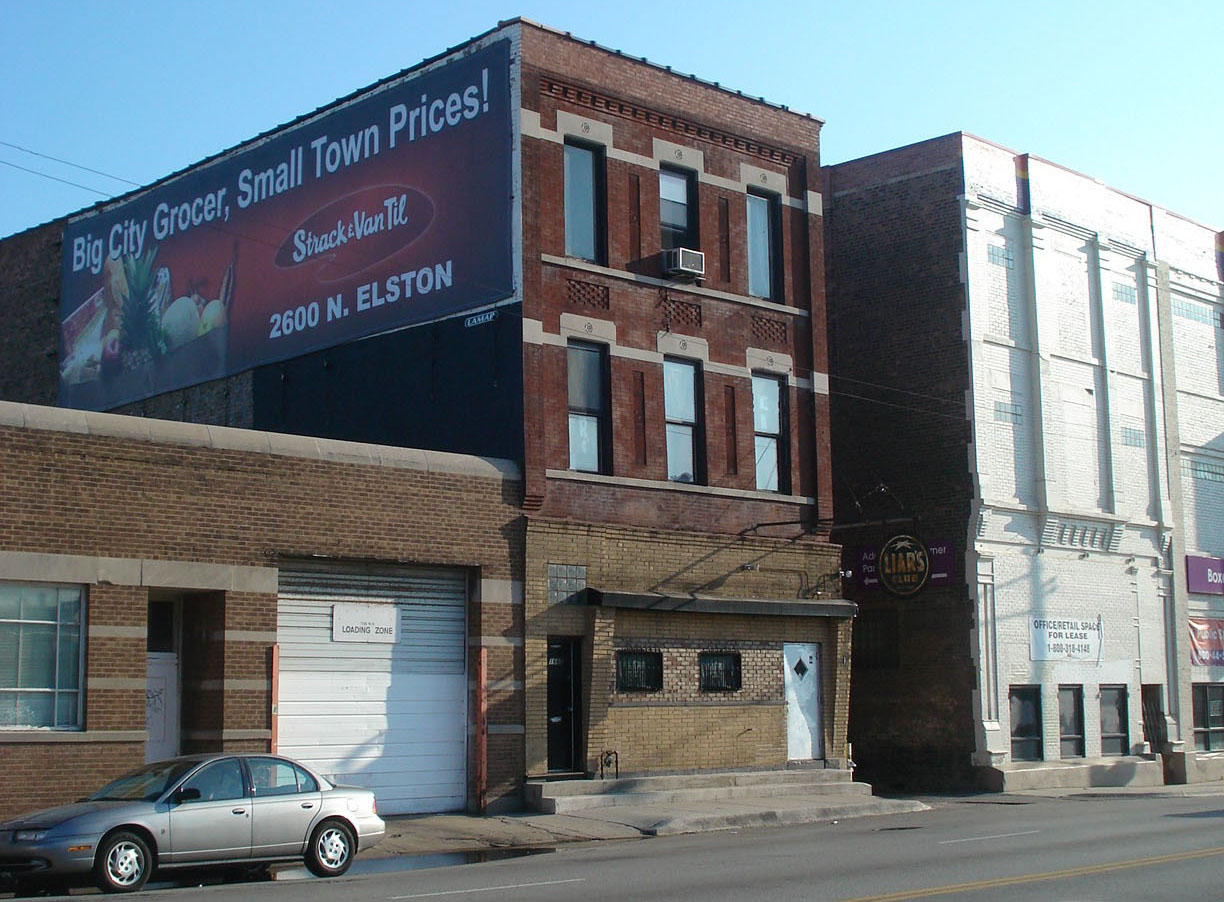 Photo by:
http://www.chibarproject....
Location submitted by:
whougonnacall
on 10/12/2012
DBA Approved: Y
Larger Map
PANICd#: 1251
Current nite club that was the scene of several murders.
1665 West Fullerton Avenue
Chicago , IL 60614
Phone: (773) 665-1110
Open to the public: Unknown
https://www.facebook.com/fezstar?fr...
Lat: 41.9248706
Lon: -87.67062629999998
Database Summary:
Demographic Rank: 6
History: 1
Stories: 1
Claims: 2
Evidence: 0
Resources: 4
Retrievals: 2477
Vistor Rating: 0.0
Votes: 0
History
History information is some background and history about the location. This is meant to be a basic summary. Below the history records you will find sources in which you can click on to find out more information. There may be multiple history records per location.
---
This two-story bar has a sordid history of people meeting their end. In 1968, when it was a homeless men's shelter, two guys got into a scuffle over a pair of pants. One wound up beaten to death with a Coca-Cola bottle in a corner on the second floor.
It turns out that particular corner is rife with negative energy. Two more murders took place in the same spot. In '58 an abusive husband met his end, and in '86 it happened again, just with the tables turned. "The wife was a large woman, and her tiny husband killed her after she made fun of his size all the time. He got pissed off and dismembered her," Melvoin-Berg explains.
The killings have left their imprint. Customers claim to see Julia Hansen, the large wife, hanging around the deadly corner. A man has also been spotted wandering up and down the stairs. We were not able to confirm whether or not he was wearing pants.
Added by: sdonley on 02/11/2015 DB#:238
Source(s):
http://www.timeout.com/chicago/clubs/we-explore-ch...

---
Stories
Stories are just that. Stories and personal accounts that have been reported about the location.
---
Liar's club, located at 1665 W Fullerton Avenue in Chicago, is too eccentric to be just another dive bar. A great place for punk rockers and metal heads, yet inviting to anyone who wants to enjoy that perfect combination of music, mingling, and booze. It is just intimate enough to feel the presence of great company around you, even the paranormal kind.
This location has had a long history of being called haunted. The upstairs in particular has had many people testify to creepy feelings and experiences. It is there, a ghost is said to appear who's life ended with an ax by her husband. Years later a woman killed her boyfriend with a hatchet. To make these brutalities even more ironic, they both happened in the same corner. The corner with a wall that has a faint remembrance of a pentagram which was painted over after some vandal put it there.
Added by: sdonley on 02/11/2015 DB#:1193
Source(s):
http://www.examiner.com/article/liar-s-club-verifi...

---
Paranormal Claims
Here are the paranormal claims for this location. These have been found through Internet research, reports from members, or reports from personal interviews. To add a claim, please contact PANICd.com, and we will review and add your information.
---
| | | | |
| --- | --- | --- | --- |
| Claim # | Added | Added By | Claim |
| 2115 | 02/11/2015 | sdonley | People have reported feeling uneasy at a corner in the building where murders have taken place. |
| 2116 | 02/11/2015 | sdonley | Investigators have captured an image in a mirror. |
Paranormal Evidence
Paranormal evidence is based on claims that have been reported for this location. There can be several types of evidence; however, we have grouped them based on media type for better organization. Here you will find evidence that are logs, audio, video, or photographic.
To add evidence for a claim, you must submit it to PANICd.com for approval to be entered into the database.
---
No Evidence Reported Yet!
Additional Resources
This is a collection of Internet resources for this location. This section will house links to other websites that contain information related to history, claims, investigations, or even the location's website.
---