Jefferson Jr. High School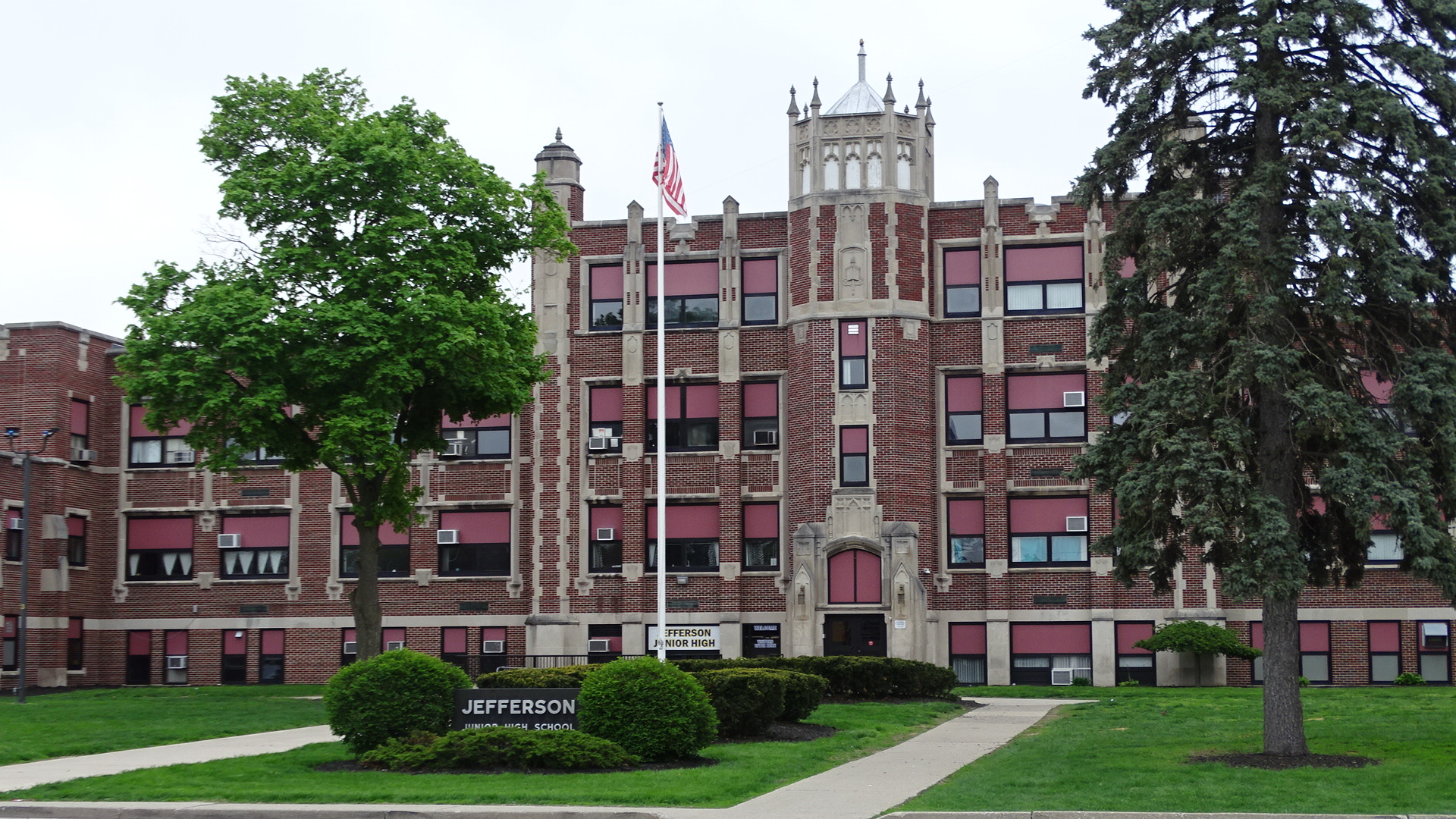 Photo by:
Marianne Donley
Location submitted by:
sdonley
on 05/29/2019
DBA Approved: Y
Larger Map
PANICd#: 1993

Whitmer Senior High School opened in 1924 in the Jefferson building.
5530 Whitmer Dr
Toledo , OH 43613
Phone: (419) 473-8482
Open to the public: Yes
Lat: 41.716710
Lon: -83.613070
Database Summary:
Demographic Rank: 6
History: 1
Stories: 1
Claims: 2
Evidence: 0
Resources: 2
Retrievals: 8255
Vistor Rating: 4.3
Votes: 10
History
History information is some background and history about the location. This is meant to be a basic summary. Below the history records you will find sources in which you can click on to find out more information. There may be multiple history records per location.
---
Whitmer High School is a public high school in Toledo, Ohio, United States, named for John Wallace Whitmer, an educator who helped organize high school classes for the area. It is the only high school in the Washington Local School District in Lucas County, Ohio, serving the northwest section of Toledo up to the Michigan state line.
Whitmer Senior High School opened in 1924 in the Jefferson building. In 1960, the Whitmer building opened. In 1974, the Whitmer Vocational Building, now the Career and Technology Center (CTC), opened.
Added by: sdonley on 08/04/2019 DB#:513
Source(s):
https://en.wikipedia.org/wiki/Whitmer_High_School

---
Stories
Stories are just that. Stories and personal accounts that have been reported about the location.
---
Previously known as Whitmer High School, the sounds of a bell tolling can be heard in the middle of the night. The bell has been removed from the belfry for many years. A lifetime janitor of the school known as Oscar is said to watch every school play from the balcony in his afterlife. The seat is reserved for him and he becomes angered whenever someone sits in his seat. He also gets upset when he hears people say they don't believe in him.
Added by: sdonley on 08/04/2019 DB#:1508
Source(s):
https://www.ohioexploration.com/paranormal/hauntin...

---
Paranormal Claims
Here are the paranormal claims for this location. These have been found through Internet research, reports from members, or reports from personal interviews. To add a claim, please contact PANICd.com, and we will review and add your information.
---
| | | | |
| --- | --- | --- | --- |
| Claim # | Added | Added By | Claim |
| 3113 | 08/04/2019 | sdonley | People have claimed to here the bell ring from the tower, but the bell does not exist anymore. |
| 3114 | 08/04/2019 | sdonley | There are reports of the apparition of a former janitor who has been seen throughout the building, especially in the auditorium. |
Paranormal Evidence
Paranormal evidence is based on claims that have been reported for this location. There can be several types of evidence; however, we have grouped them based on media type for better organization. Here you will find evidence that are logs, audio, video, or photographic.
To add evidence for a claim, you must submit it to PANICd.com for approval to be entered into the database.
---
No Evidence Reported Yet!
Additional Resources
This is a collection of Internet resources for this location. This section will house links to other websites that contain information related to history, claims, investigations, or even the location's website.
---
Wikipedia Entry
Added: 08/04/2019 By: sdonley
Wikipedia entry for this location.
Lucas County Hauntings & Legends
Added: 06/24/2022 By: sdonley
On this page you will find haunted locations and legends of Lucas County. Many of these are genuine and documented haunts, but others may be legend or hearsay. Remember, we do not condone trespassing. Always seek permission before entering private property.