Harper House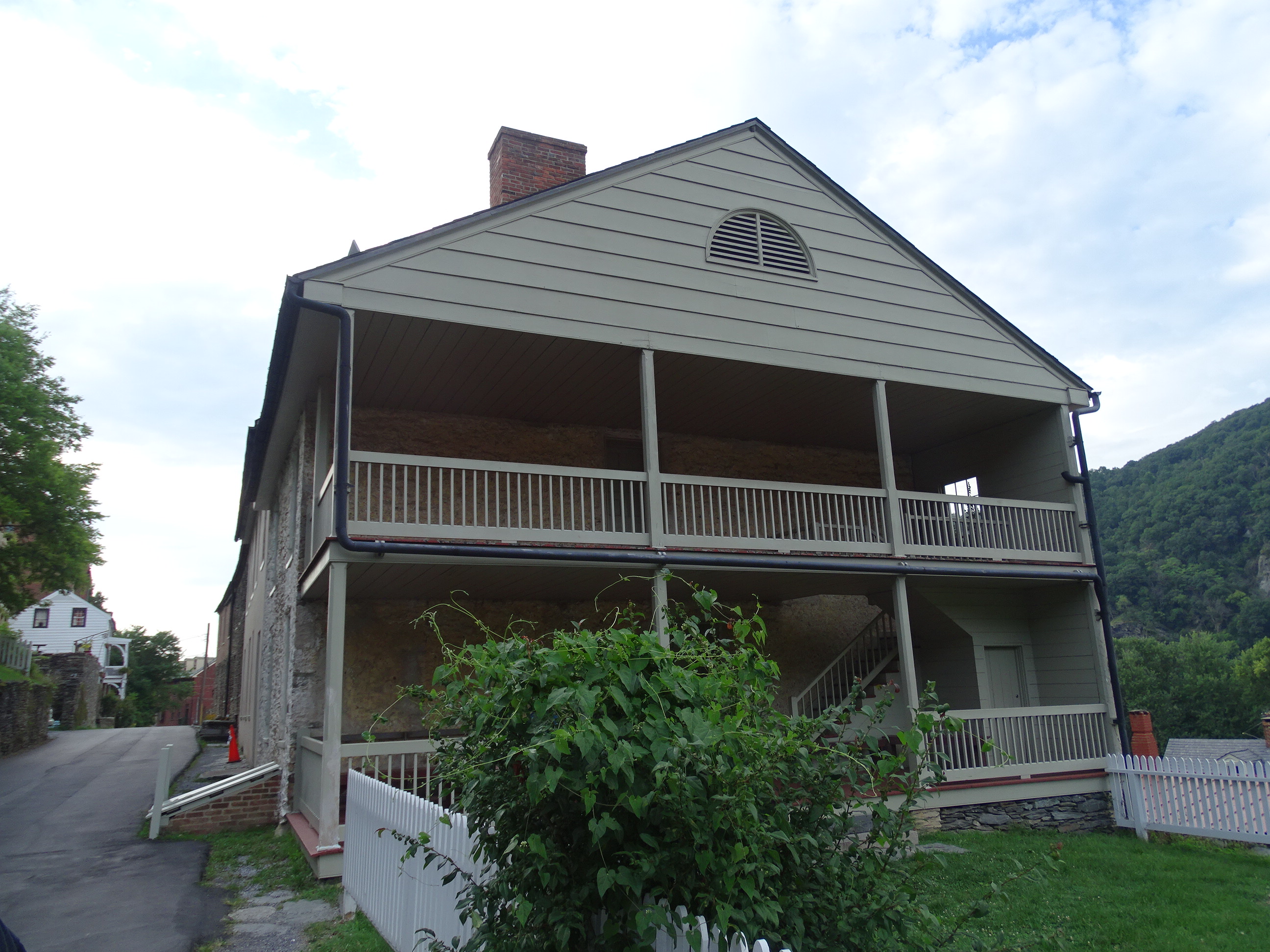 Photo by:
Marianne Donley
Location submitted by:
sdonley
on 07/27/2017
DBA Approved: Y
Larger Map
PANICd#: 1877

This oldest surviving structure in Harpers Ferry is interpreted as an 1850s Armory worker house — demonstrating crowded conditions and lack of housing during the town's industrial heyday.
100 Public Way
Harpers Ferry , WV 25425
Open to the public: Yes
Lat: 39.3230563
Lon: -77.73097369999999
Database Summary:
Demographic Rank: 4
History: 1
Stories: 1
Claims: 2
Evidence: 0
Resources: 4
Retrievals: 5901
Vistor Rating: 3.0
Votes: 1
History
History information is some background and history about the location. This is meant to be a basic summary. Below the history records you will find sources in which you can click on to find out more information. There may be multiple history records per location.
---
In 1775, Robert Harper chose this location for his house because it was well above the flood line, and he had already been driven from three houses because of floods. The location also has a most spectacular view. Mr. Harper (and his wife) died before the building was completed.
The Harper House was used as a tavern for about 20 years after the death of Mr. Harper. It is very possible that Meriwether Lewis stayed here in 1803 when he obtained supplies for the Lewis and Clark Expedition. Both George Washington and Thomas Jefferson are known to have stayed in the Harper House. U.S. Supreme Court Justice Noah Swayne definitely stayed here, since he owned the house - he married Sarah Ann Wager, one of Robert Harper's heirs.
Added by: sdonley on 07/27/2017 DB#:293
Source(s):
http://www.historicharpersferry.com/index_eecms.ph...

---
Stories
Stories are just that. Stories and personal accounts that have been reported about the location.
---
Over the years, the home has gotten a reputation for having at least one, and possibly two ghosts. A friend of Harper's named Hamilton is reported to have died in the home after an accidental fall, causing many to believe his spirit still lingers. Still, others believe that the main ghost is that of Rachel Harper, Robert's wife. Rachel allegedly died from complications after falling from a ladder. She is sometimes seen looking out from the uppermost window of the home, gazing down toward the garden. Local lore states that Robert may have buried treasure somewhere in the garden, and Rachel is looking after it.
Added by: sdonley on 07/27/2017 DB#:1247
Source(s):
http://theresashauntedhistoryofthetri-state.blogsp...

---
Paranormal Claims
Here are the paranormal claims for this location. These have been found through Internet research, reports from members, or reports from personal interviews. To add a claim, please contact PANICd.com, and we will review and add your information.
---
| | | | |
| --- | --- | --- | --- |
| Claim # | Added | Added By | Claim |
| 2405 | 07/27/2017 | sdonley | An apparition of a women is seen gazing down at the garden. |
| 2406 | 07/27/2017 | sdonley | An apparition of a man has been seen roaming the house. |
Paranormal Evidence
Paranormal evidence is based on claims that have been reported for this location. There can be several types of evidence; however, we have grouped them based on media type for better organization. Here you will find evidence that are logs, audio, video, or photographic.
To add evidence for a claim, you must submit it to PANICd.com for approval to be entered into the database.
---
No Evidence Reported Yet!
Additional Resources
This is a collection of Internet resources for this location. This section will house links to other websites that contain information related to history, claims, investigations, or even the location's website.
---
Library of Congress Photos
Added: 07/27/2017 By: sdonley
Photos of this location archived in the Library of Congress.
Trip Advisor
Added: 07/27/2017 By: sdonley
Trip Advisor entry for this location.
Trip Advisor
Added: 07/27/2017 By: sdonley
Trip Advisor entry for this location.
Waymarker Information
Added: 07/27/2017 By: sdonley
Information about the waymarker outside this location.