Fallingwater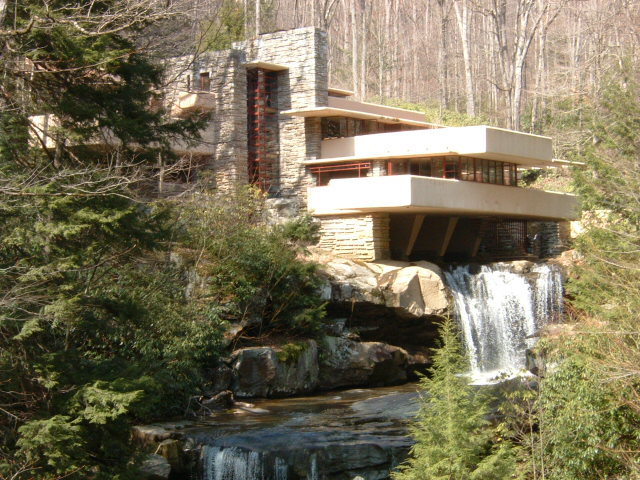 Photo by:
Marianne Donley
Location submitted by:
sdonley
on 01/10/2018
DBA Approved: Y
Larger Map
PANICd#: 1977

Frank Lloyd Wright's architectural masterpiece sits in Mill Run, PA. Finished in 1939 for Kaufmann's Department Store president Edgar J. Kaufmann.
1491 Mill Run Road
Mill Run , PA 15465
Phone: 724-329-8501
Open to the public: Yes
Lat: 39.906248
Lon: -79.4679458
Database Summary:
Demographic Rank: 6
History: 1
Stories: 1
Claims: 1
Evidence: 0
Resources: 3
Retrievals: 7616
Vistor Rating: 0.0
Votes: 0
History
History information is some background and history about the location. This is meant to be a basic summary. Below the history records you will find sources in which you can click on to find out more information. There may be multiple history records per location.
---
Edgar Jonas Kaufmann was the patriarch of a prominent Pittsburgh family known for their distinctive sense of style and taste. A highly respected business man and owner of Kaufmann's Department Store, Edgar and his wife Liliane traveled in international circles and sought out the company of artists, architects, and other creative souls throughout their lives. Their only child, Edgar Kaufmann, jr. (the lowercase "jr." was his preferred abbreviation) was an equally sensitive and artistic man who would become the catalyst for his father's relationship with Frank Lloyd Wright.
Fallingwater's landscape has been transformed by water and rock. When the continental plate containing North and South America collided with the continental plate containing Africa, about 300 million years ago, it had a big impact on what would become the Bear Run landscape - multiple layers of sandstone (now known as Pottsville sandstone), shale, and limestone were forced up into long parallel ridges. Since then, moving water has gradually eroded the softer limestone and shale, creating the stream we know as Bear Run, which cascades from more resistant sandstone ledges to create a series of waterfalls.
Bear Run-and indeed almost all of southwestern Pennsylvania-lies within the Appalachian Plateaus and Mountains. This long and relatively narrow physiographic region stretches from northern Georgia to southern portions of New England. The terrain consists of ridges, plateaus, steep slopes, and dramatic gorges - landform variations that provide a vast range of orientation, elevation, and moisture that, in turn, dictates the various expressions of the forest.
The partnership between Edgar Kaufmann and Frank Lloyd Wright was a fruitful one, founded upon a mutual respect and a shared affinity for new ideas and challenging boundaries. Introduced to Wright by his son, Edgar jr., who had studied with Wright at Taliesin, Kaufmann was intrigued by the image of the aging architectural genius who, at age 67, was thought to be in the twilight of his career. After receiving the commission for Edgar Kaufmann's corner office interior on the tenth floor of Kaufmann's Department Store, Frank Lloyd Wright visited Pittsburgh, and ultimately Bear Run, in December 1934.
The Kaufmanns' love for Bear Run's rushing waterfalls inspired their architect to imagine a residence placed - not as the Kaufmanns were expecting - across from the falls where they could be enjoyed from afar, but cantilevered directly over them. It was a daring move that permitted the Kaufmanns to not only simply view nature, but actually live in its midst..
Frank Lloyd Wright chose the most dramatic of these falls when siting the Kaufmanns' house. Perhaps unknowingly, Wright exhibited the best of his art, tempered by experience and stimulated by the opportunity to unite man with nature - one of his core beliefs. His clients' openness to new ideas and their promotion of modern design through Kaufmann's Department Store challenged Wright, yet this particular architect-client relationship produced a design unrivaled by contemporary American architects at the time.
Added by: sdonley on 01/10/2018 DB#:349
Source(s):
https://www.fallingwater.org/history/about-falling...

---
Stories
Stories are just that. Stories and personal accounts that have been reported about the location.
---
Frank Lloyd Wright's architectural masterpiece sits in Mill Run, PA. Finished in 1939 for Kaufmann's Department Store president Edgar J. Kaufmann, the massive mansion is possibly still home to his wife.
Liliane Kaufmann, Edgar's first cousin and first wife, died in the master bedroom of the home in 1952 of a drug overdose. It was ruled accidental, but many suspected it was suicide due to Edgar's constant cheating. At the time of her death, the couple were separated and Liliane slept in the master bedroom alone. Many years after her death, a night watchman reported seeing a woman in a white nightgown standing at the window of the master bedroom. No one was in the house at the time.
Added by: sdonley on 01/10/2018 DB#:1334
Source(s):
http://pennsylvaniaparanormal.tumblr.com/post/1518...

---
Paranormal Claims
Here are the paranormal claims for this location. These have been found through Internet research, reports from members, or reports from personal interviews. To add a claim, please contact PANICd.com, and we will review and add your information.
---
| | | | |
| --- | --- | --- | --- |
| Claim # | Added | Added By | Claim |
| 2627 | 01/10/2018 | sdonley | An apparition of a women in white has been reported looking out the window of the master bedroom. |
Paranormal Evidence
Paranormal evidence is based on claims that have been reported for this location. There can be several types of evidence; however, we have grouped them based on media type for better organization. Here you will find evidence that are logs, audio, video, or photographic.
To add evidence for a claim, you must submit it to PANICd.com for approval to be entered into the database.
---
No Evidence Reported Yet!
Additional Resources
This is a collection of Internet resources for this location. This section will house links to other websites that contain information related to history, claims, investigations, or even the location's website.
---
Fallingwater rolls out welcome mat for celebrities
Added: 01/10/2018 By: sdonley
Articles about celebrities who have visited this location.
Wikipedia Entry
Added: 01/10/2018 By: sdonley
Wikipedia entry for this location.
Modern Gothic - The New York Times
Added: 03/11/2018 By: sdonley
Article on late department-store magnate Edgar Kaufmann and wife, Liliane; focuses on Fallingwater, weekend home designed in 1936 by Frank Lloyd Wright and one designed by Richard Neutra, former Wright apprentice, in Palm Springs; photos (L) (special section, Men's Fashions of The Times) (part 2 of 2-part series)